Since the outbreak of the now seven-year and still growing war in Syria, which has so far taken hundreds of thousands lives and displaced millions of others, Turkey has undertaken a leading role by taking in 3.5 million Syrian refugees and ensuring their well-being and integration into society. Gaziantep, which has a population of 2 million, is home to 500,000 Syrian refugees, accounting for nearly 15 percent of the total number of Syrian refugees in Turkey. It is the eighth-largest city in the country and makes up approximately 5 percent of Turkey's total exports.

It has accomplished numerous projects for the economic and social development and inclusion of Syrian refugees, which has earned international acknowledgment both from the U.N. and EU. The city is determined to sustain its central role in ensuring the human-oriented development of the region in after the Syrian war ends due to its infrastructure and strong industry, its mayor, Fatma Şahin, said.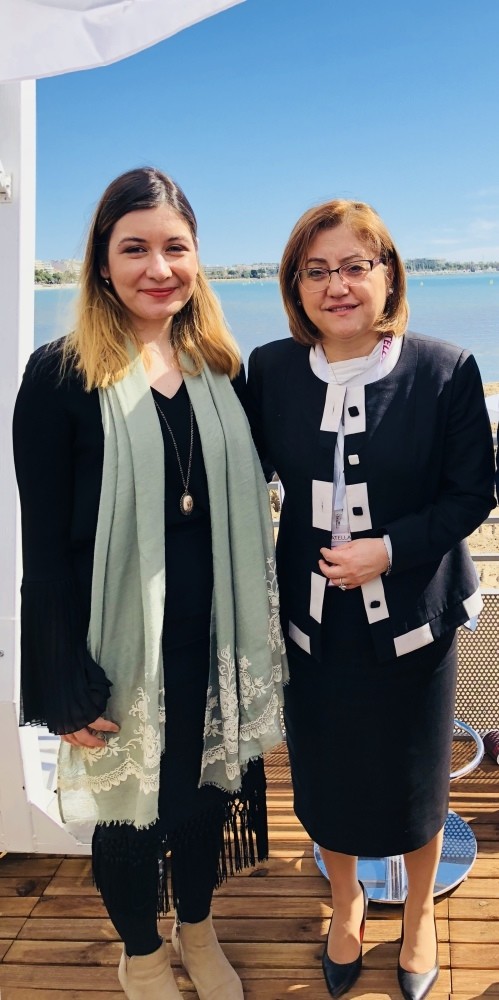 Daily Sabah Economy Editor Elif Binici (L) with Gaziantep Mayor Fatma Şahin.
"When I delivered a presentation elaborating on the municipal projects for the social and economic inclusion of Syrian refugees in the city at the European Parliament a couple of weeks ago, the parliamentarians came to me saying, we Europeans should be ashamed of ourselves while Gaziantep is able to welcome such a big number of refugees and accomplishes successful projects on its own, Europe has failed to provide humanitarian aid to the refugees, and they recognized the necessity to do the same thing Gaziantep has done so far in its refugee programs," Gaziantep Metropolitan Municipality Mayor Şahin told Daily Sabah in an exclusive interview in Cannes at MIPIM, the world's largest real estate event.
Being home to many refugees affected by one of the bloodiest wars the world has seen certainly poses challenges as it requires profound work in terms of municipal services. Well aware of the tremendous needs of the Syrian refugee community, Şahin and the Gaziantep Municipality launched many programs addressing issues such as social cohesion, employment, education, housing, health and municipal services for refugees and migrants. For the municipal administration, that meant more infrastructure, transportation, clean water and housing investments, which demand bigger budgets, Şahin said. While sustaining standards for Gaziantep residents, she added, the municipality has developed a unique model of cohabitation for the inclusion of refugees in economic and social life and the establishment of a culture of living together.
"We have developed a Gaziantep model that we describe as a cohabitation in which our children go to school with Syrian refugee children. We have included refugee women and children in all the social aid programs that we have organized at the municipality. The social support programs include teaching them Turkish and providing psychosocial counseling services," Şahin explained. The Gaziantep model employs a unique methodology for social aid, employment, education and health programs. Şahin said Gaziantep has shown how a state policy introduced and developed by President Recep Tayyip Erdoğan is adopted and implemented by a local government. "We have demonstrated how to instill a culture of living together by preventing radicalism without fostering racism and polarizing society," Şahin said.
When the operations are complete and when peace comes to Syria and refugees return to their homes, history will remember who did what and who did not, Şahin said. "Future generations will be proud of what we have done and history will crown Turkey for its help to war-stricken people." She added that some have failed an important test for humanity. In a time when the world needs stronger justice and more social peace, she said, Turkey's aid to the 3.5 million refugees over the past seven years has been a good lesson.
Şahin further said that Gaziantep will be the base of regional development due to its strong infrastructure and industrial production once operations are finalized and peace returns to Syria. The mayor said Gaziantep already sees the establishment of joint ventures and production bases. "Particularly Europeans would come to Gaziantep and inquire about what we are doing for the refugees, Şahin said. "Now, ambassadors and investors come to us asking what can be done in cooperation for regional development." Şahin said the city has been preoccupied with this positive agenda for the past couple of months. "If we manage to coordinate those relations, a new era of national and international importance will begin."
The Gaziantep Municipality's successful refugee policy led by Şahin, who is a former family and social policy minister, has been a model for developing programs that ensure the social and economic integration of refugees and defines the character of a local governance model. This political and social awareness of the municipality resulted in a Directorate of Migration Affairs, which is the first in the country at the municipal level.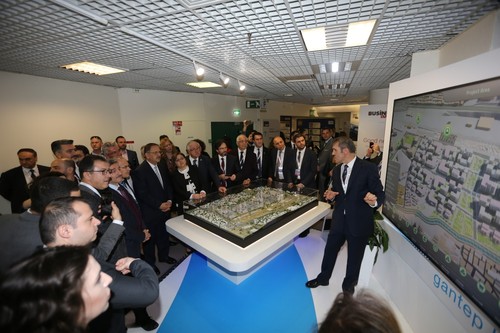 Environment and Urbanization Minister Mehmet Özhaseki, far left, and Gaziantep Mayor Fatma Şahin, first from left, examine the city's urban transformation project İstasyon at the Gaziantep booth in MIPIM.
One of the projects the municipality initiated is a school for Syrian students, founded in 2012 as the first of its kind. In addition to health care services and language classes, the municipality established industrial zones close to the border where public-private ventures can employ Syrians.
Vocational training to facilitate finding a job for refugees is also provided at the municipality's Art and Vocational Training Center (Gasmek). Turkish and English language courses are provided for social cohesion and there are several courses for both the local and refugee communities.
A project led by the Gaziantep Metropolitan Municipality, the Effective Urban Waste Management for Host Communities, has been completed by Syrian refugees living in the Kilis Öncüpınar and Elbeyli Temporary Accommodation Centers and certificates were granted to 5,500 Syrians who were trained in recycling and environment protection. Throughout the eight months of training, the trainees were taught about the effects of recycling solid waste on the environment and human health and their contribution to economic life. Furthermore, an internet-based training module combined with games was provided to nearly 1,000 children in computer labs founded with the United Nations Development Program (UNDP) support.
Silk Road city stakes claim to build global name
A 2015 report by the World Bank puts Gaziantep, located on one of the lines of the ancient Silk Road and modern Silk Road projects, among the six-most competitive cities since the city raised its gross domestic product (GDP) by 6 percent annually from 2005 to 2012 with industrial production. The city develops more projects to transform its urban structure to reinforce its claim to be a regional investment, finance and trade center of attraction and receive more foreign investment. In accordance with this goal, Gaziantep showcased its urban transformation project İstasyon at MIPIM last week.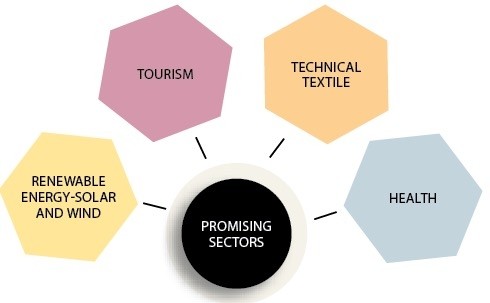 Participating in MIPIM for the first time, Gaziantep already received high interest from foreign investors from China, Japan, Hong Kong and South Korea. Şahin said the municipality is pleased with the attention it has received for the İstasyon project at MIPIM. "We want to create an urban transformation model for Turkey in Gaziantep, and we have developed models to serve that purpose accordingly. Investors from China, Japan, Hong Kong and South Korea carefully examined our projects and evaluated its feasibility and they express their willingness to provide financial support for our projects," she said.
The İstasyon urban transformation project covers 500,000 square meters and redesigns an area with 6,000 people. Its magnitude has drawn investors' attention from the Far East, Şahin said. Their interest mostly relies on the fact that the project has a profitability rate of 40 percent, which is rare.



The area of the project is currently an area for shoe production. After the renewal, shoe production will take place in another area and the area will be renewed and converted into a central business district with different functions such as commercial areas, office buildings, residential and tourist areas. "Our negotiations with investors continue at the moment. At the end of these talks and once the project is complete, we will transform this area into a trade, tourism, culture and gastronomy center," Şahin said.
Citing Gaziantep's rising competitiveness among global cities as mentioned in a World Bank report, Şahin said that the city is located at a four-hour flight distance from a market providing access to 2 billion people.
"Once peace and trust is ensured in the Middle East, Gaziantep will be the center for regional development and reconstruction. We came to MIPIM to emphasize this to the world," Şahin said. Therefore, she said, Gaziantep will ensure global investors that the city will be the center of production, the industry, and the economy as the nearest point for the reconstruction of Syrian cities when the war and violence in the country comes to an end. The municipality's attendance at MIPIM is a good showcase of the city's position in the region's future, Şahin said.
Gaziantep is also one of Turkey's top cities in exports, with a record of $6.5 billion per year to 172 destinations. The city exports machine carpets, pulses, textiles, chemical products, furniture and outerwear and the city is promising for industries such as renewable energy, tourism, textiles, and health.