Environment and Urbanization Minister Murat Kurum underscored the necessity of improving economic ties with Russia, particularly in the field of construction.
He did so in his address at a dinner organized by Daily Sabah and its sister newspaper Sabah in Moscow as part of the 12th International Real Estate Investment Forum Proestate last week.
Turkish contractors participated in the forum in the Russian capital to promote their projects in an international setting.
The dinner's agenda was primarily preoccupied by the recent amendments in Turkey's citizenship law. Last week, the government eased the limits for citizenship by investment and for foreigners who own real estate in Turkey worth a minimum $250,000, instead of the previous limit of $1 million.
The sector representatives who participated in the dinner expressed that the Russian investors are interested in the recent regulatory amendment, which will lead to an increase in housing sales to Russians.
House sales to foreigners skyrocketed by 129.6 percent to 3,866 in August, according to the Turkish Statistical Institute (TurkStat). From January to August, Russians purchased 1,180 houses in Turkey.
The Turkish environment and urbanization minister met with Russian Deputy Prime Minister Vitaly Mutko, who is charge of construction works, and the Minister of Construction and Housing Vladimir Yakushev and discussed construction projects both in Turkey and Russia.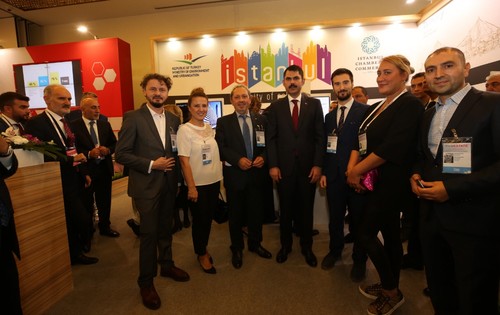 "Turkey and Russia have bilateral relations in energy, construction, tourism, and in almost every other field," Kurum said at a joint news conference with Minister Yakushev at the opening ceremony of the forum.
Kurum said the current business volume between the two countries has been growing further with each passing day.
"We will begin to put in the work we need to strengthen our relations even more as soon as possible," he said.
In his speech, the minister emphasized the success of Turkish contractors who are taking on projects abroad. He stressed that the $130 billion New Moscow Project had a booth at the Proestate fair and the Turkish contractors should look for opportunities within it.
Attending the forum dinner was Turkey's envoy to Moscow, which included Hüseyin Lazip Diriöz, ruling Justice and Development Party (AK Party) parliamentarian Çiğdem Karaaslan, Istanbul Chamber of Commerce (ICC) Chairman Şekib Avdagiç, Emlak Konut Chairman Ertan Keleş, Ant Yapı Chairman Mehmet Okay, Fuzul İnşaat Executive Board Chairman Zeki Akbal and Sinpaş board member Ahmet Çelik.