There's probably no other city in Turkey that underwent such a rapid transformation as Bursa. Only 50 years ago, this ancient Ottoman capital was known for its historic cityscape and green nature. When the automotive industry set a foothold in Bursa in the late 1960s, the transformation of the city to an industrial powerhouse began. Today, the province of Bursa has 21 organized industrial zones, in addition to two giant automotive factories, various other bus and commercial vehicle makers and spare parts producers. It accounts for 10 percent of Turkey's exports with more than $14 billion and provides a foreign trade surplus of $6 billion. But this rapid transformation also came at a price, which is unplanned urbanization and pollution. Now, the city needs to make a choice: Would it be successful in transforming its urban layout and industry to improve its quality of living and diversifying its economy?
These questions were addressed during the Bursa leg of the "Province Meetings" event organized by Daily Sabah's sister publication, the Sabah newspaper. At the event, columnists and correspondents from various publications of the Turkuvaz Media Group had the opportunity to meet the local authorities and take a glimpse into Bursa's economic conditions. Our group was kindly hosted by the Bursa Metropolitan Municipality, enjoying the local tastes and visiting its landmarks.
Bursa is one of the few cities in the world that houses 3 million people and still bears the title "green." The city owes this title to Uludağ, which literally means "Great Mountain" in Turkish and dominates Bursa's skyline. For visitors looking southwards from the fertile plain, where most of the modern city of Bursa is located, this ultra-prominent peak, the highest in Turkey's northwestern Marmara region, provides a surprising green backdrop to the city. Uludağ does not only provide the city of Bursa and the plain with water, but it also houses dozens of bottled water companies providing for the rest of the country. The mountain is one of Turkey's prominent winter sports center, attracting hundreds of thousands of tourists to its world-class facilities every year and providing Bursa with important revenue.
The modern city of Bursa seems to be cramped between the mountain and the plain, stretching for almost 40 kilometers. Located at its heart is the old city, the first major city laid siege to by the Ottoman Empire's founder Osman Ghazi in 1307 and captured by his son Orhan Bey in 1326. It started serving as the newly expanding state's capital. When the Thracian city of Edirne was captured in 1363, the Ottomans moved their capital in line with their policy of expansion towards Europe. However, Bursa continued to be the main commercial and administrative center until Istanbul was conquered in 1453. The UNESCO-listed old city, which provided a model for later Ottoman cities, still features various 14th and 15th-century landmarks and provides a glimpse into past centuries. Bursa continued to be an important administrative and commercial center for centuries to come, mainly due to its position as an important stopover on the ancient Silk Road and other caravan routes.
BURSA CONTINUES TO BE TEXTILE PRODUCTION HUB

The city also excelled in silk production and remained a prominent textile production hub, a feature that still continues today. The historic Umurbey Silk Plant was renovated by the Bursa Metropolitan Municipality to give people a chance to witness this arduous craft using centuries-old production techniques, keeping a tradition alive while offering hundreds of rural and urban families with jobs.
Another interesting museum is the Akçalar Arkeopark, where excavation is underway for an 8,500-year-old settlement known as the Aktopraklık Mound. The site also features a replicated village with old and unused wooden houses brought from a nearby village and offers camps and workshops for children. The municipality also operates nearly two dozen thematic museums, some of which specialize in the Turkish shadow play Karagöz and Hacivat, knife-making and even migration.
In addition to its Muslim and Turkish population, Bursa was home to lively Greek, Armenian and Jewish communities thanks to its place on an active trade route. This feature started to change in the late 19th and early 20th centuries when the Ottoman Empire disintegrated and the Greek population left the city during the Turkish-Greek population exchange of 1923. Many Turks and Muslims who left the Balkans and the Caucasus eventually settled in Bursa, with the latest influx coming in the late 1980s from Bulgaria.
With industrialization, Bursa started to receive migration from throughout Turkey. Some 130,000 Syrians settled in Bursa after the mass refugee influx from the Syrian civil war and the city is home to a vibrant Syrian community, in addition to being a decades-long choice for Arab tourists to visit in Turkey.
Bursa also offers a variety of other alternatives for sightseeing, such as the Gölyazı village, which is located on an island in Lake Uluabat, Cumalıkızık village, which is considered one of the best examples of Ottoman civilian architecture, or the province's clean and sparsely populated coastline on the Marmara Sea.
For a long time, the city hesitated to expand northwards into the plain, which is famous for its peaches. Starting from the 1970s, new working-class neighborhoods emerged to the north and east of the old city today located in Osmangazi and Yıldırım districts. Nilüfer district, a relatively upmarket area, began to rapidly develop in the 1990s and occupied an important portion of the plain. The city later expanded to eastern districts of Kestel and Gürsu and continues to grow north and northwest.
It is ironic that Bursa, known as Turkey's automotive capital, faces a worsening traffic problem. While the old city is not the ideal place to drive with its narrow streets and hilly terrain, motor traffic seems to be the only way to get around in the rest of the city. There are also two tram systems, one circulating around the old city core and the other serving in the east-west axis. The city has a 39-kilometer long light rail system on two lines, connecting the Uludağ University campus in the city's westernmost location to easternmost Kestel district and the city center with industrial zones in the northwest. A third line is under construction, but these rail systems were constructed on spared lanes from Izmir, Ankara and Mudanya highways, thus serving only as a mere alternative for the city's expansion focused on road traffic.
Bursa Metropolitan Mayor Alinur Aktaş, who took office in November 2017 during the ruling Justice and Development Party's (AK Party) rejuvenation bid, implemented a "smart intersection" project as an initial step to reduce traffic. But the city needs comprehensive planning and investment in transportation and commuter rail systems to plan for its future sprawl and evenly distribute the population to the larger districts of İnegöl, Orhangazi, Gemlik, Mudanya and Karacabey. However, the municipality is one of Turkey's most indebted and needs to rebalance its finances before launching any large-scale projects.
Intercity transportation is not entirely developed. The completion of Istanbul-Bursa highway and the Osmangazi Bridge across the Gulf of Izmit surely eased the traffic to Istanbul, but the city remains one of the few largest cities in Turkey without a rail link. Bursa now awaits the long-hoped-for high-speed rail connection as an extension to the Istanbul-Ankara line.
It takes around 50 minutes to travel to Bursa Yenişehir Airport from the city center, while it takes one hour and 10 minutes from Istanbul Sabiha Gökçen Airport to reach Bursa, thus reducing the number of direct flights to the city.
Air and water pollution are also among the main issues affecting the quality of life in Bursa. The province ranks among the leading provinces for air pollution, with particle levels reaching unhealthy levels in the winter, according to the Air Quality Index of the Ministry of Environment and Urbanism.
Water pollution is also an important issue, with visibly polluted streams flowing out in the open in various parts of the city. Aktaş says that water pollution is rather related to industrial waste, and they are trying to solve the problem.
The solution is simple in words: Bursa needs to transform its vast manufacturing industry to more high technology and high-value goods while receiving more revenue from its tourism and agriculture sectors. This view was voiced by the participants of Sabah's panel – attended by Governor İzzettin Küçük, Mayor Aktaş, Uludağ University Vice Rector professor Tevfik Yücedoğru and Bursa Commodity Exchange Chairman Mehmet Aydın. Another view that all attendees agreed upon was establishing another public university in addition to the two existing universities and bringing Bursa to its deserved place in higher education.
DURMAZLAR EXPORTS MACHINES TO 120 COUNTRIES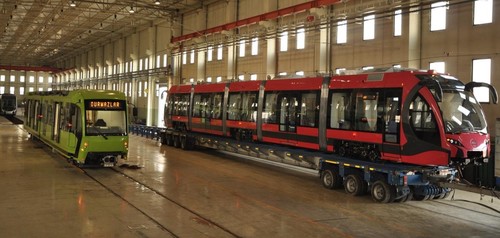 This transformation and solution to all these problems require huge investments by the private and public sectors as well as carefully implemented policies by both central and local authorities.
But there are examples in the city itself showing not everything depends on such big calculated steps. In our trip to Bursa, our group was welcomed by Durmazlar Machinery, one of the well-rooted firms in Bursa that has become the market leader in Turkey in sheet metal working machinery. Its machines sold under the Durma brand are exported to 120 countries with export products making up 80 percent of the total production. The firm uses cloud technology to monitor its online machines throughout the world, storing valuable information about their performances and how to improve it. Durmazlar is also proud of their research and development center established in 1996, which currently employs more than 100 engineers and carries out laser source production.
In 2009, the company took a bold step to be a player in tram production. Durmazlar Holding Board Vice Chairwoman Fatma Durmaz Yılbirlik said their initial estimate of 3 million euros for a tram set turned out to be 50 million in the end. "But we managed to keep our workforce in the aftermath of the 2008 crisis," she said, adding that the company can produce vehicles for half the price of German giant Siemens.
As Bursa started investing in its light rail and tram systems, the company has become the provider of the city's rail units, delivering 60 units of light rail cars and 12 trams to the municipality so far. Durmazlar trams are also being used in Samsun and Kocaeli, and this summer, the company reached a deal with Olsztyn in Poland to provide 12+12 Panorama tram sets in a 20-million euro deal. In a short while, Durmazlar trams will start serving Istanbul's Eminönü-Alibeyköy tram line currently under construction.
Durmazlar produces its light rail and tram sets with an 83 percent domestic input rate at a highly-organized and clean production site. It has now set its eyes on metro and high-speed rail production. When the current need for urban transport and rail systems are concerned in Turkey, the company has a clear road map for the future.
Their story, which puts a constant emphasis on innovation and research, is without a doubt inspiring for their home city and for Turkish companies in general. Will Bursa be able to follow in their footsteps?