The 24th MAPIC event, which started on Wednesday in Cannes, France, brings together more than 9,000 exhibitors including the most important retail brands from around the world, shopping mall investors that are movers and shakers of global investment in the retail sector, master franchises, architects, designers, cities and countries.
Turkish retailers participating in MAPIC are trying to form important collaborations in line with their overseas targets. Moreover, the synergy created by the Istanbul Apparel Exporters Association (IHKIB) and the United Brands Association (BMD) in an attempt to introduce Turkish retail brands to the international arena under a single roof is expected to make significant contributions to achieving global targets.
In addition to famous Turkish brands like adL, Aker, B&G Store, DeFacto, D'S Damat, Gönül Kahvesi, İpekyol, Kiğılı, Knitss, LC Waikiki, Network and NaraMaxx other leading brands have already initiated preparations for the meetings. Here the Galataport project is also on display for the first time.
Istanbul Apparel Exporters' Association (IHKIB) Chairman Mustafa Gültepe said that their biggest goal is to make Istanbul one of the world's trade centers, adding: "At the same time, we are making efforts to enable Istanbul to have a say in the world of fashion. To this end, our companies are our greatest helpers."
"Our brand companies, in particular, have a global presence. This increases our recognition in the world. In order to achieve this goal quickly as Turkish Brands, we have been attending MAPIC, which is the international event of the world's retail and real estate sectors, for the last two years," Gültepe said.
"Our brands are introducing themselves in the global arena. We have already started our works with the United Brands Association (BMD) to have our place with our Turkish Brands booth at the 2018 fair as well. We will try to explain our sector to the international market in the best way possible."
As the world's fifth and Europe's third-largest ready-to-wear clothing supplier in 2017, Turkey is one of the major global players.
"In 2017, we exported $17 billion worth of goods to 225 destinations. With more than 10,000 members, IHKIB has a strong production network. However, we need more diversification than ever in order to remain competitive in international markets and to protect and increase our market share. Therefore, we attach importance to being represented in international organizations. I believe that we will be successful in introducing our brands at MAPIC, an international platform that will host 9,000 visitors from 76 countries," Gültepe told.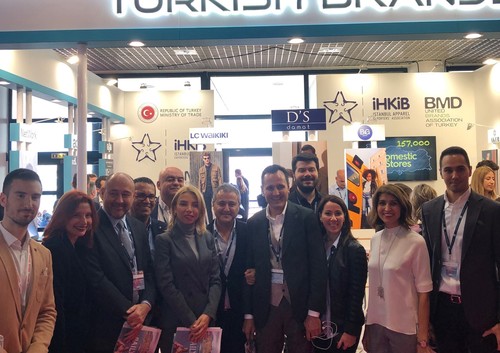 BMD's Sinan Öncel said that its members, which have 3,150 stores and 11,497 sales points in 108 countries, aim to open 20,000 stores worldwide by 2023, continuing: "To this end, every year we are one of the pioneers in MAPIC, one of the largest trade fairs where we can seize opportunities in overseas target markets and form new collaborations."
"As Turkish Brands, we have started preparations for the MAPIC fair with new excitement this year. The Turkish Brands booth, which was created for the first time in 2014 with eight BMD-member brands, will take place in cooperation with IHKIB for the second time."
"Our ready-to-wear brands will come together with international investment and franchise groups. On the international platform, we will show that our retail sector is one of the main elements and strong players of the Turkish economy with its brands and shopping malls. We will invite foreign investors to continue to invest in Turkey and tell the industry about Turkish brands' plans for international expansion and overseas investments."
"At our booth where Turkish brands will be together, we will meet with international visitors and create important networking opportunities. We will continue our representation in such organizations that carry the Turkish brands forward and enable them to open up to the global markets. MAPIC is one of these platforms," Öncel said.
According to İpekyol Board Member Nejdet Ayaydın, the Turkish women's wear giant is planning to open new stores abroad as it looks to generate more in export revenues. In order to achieve this goal, the company is participating in the 24th MAPIC, Ayaydın told.
Also, one of Turkey's prominent menswear brands Kiğılı sees MAPIC 2018 as a very important platform to expand into new markets and find new partners. As the company aims to transform and promote its presence abroad, CEO Hilal Suerdem said attending the world's largest retail fair will enable the company to showcase quality Turkish textiles on an international platform.
New culture, art and design center Galataport will be at MAPIC
The Galataport project will take place for the first time at MAPIC 2018. Underlining that Galataport goes beyond a real estate project, Galataport Istanbul Port Management and Investments Inc. General Manager Erdem Tavas said: "With its cruise port, museums, shopping malls, catering units and office spaces to be developed, Galataport will have one of the world's leading luxury hotel chains. It is an investment that will make major contributions not only to the Turkish economy but also to Turkish tourism," he said.
"We are very happy and excited to present our project, which will be the new culture, art and design center of the city, for the first time at MAPIC, one of the most important fairs in the sector. By participating in the fair which hosts nearly 9,000 exhibitors and more than 2,000 brands from 80 countries, we will have the opportunity to introduce both Istanbul and our project, and we aim to share our concepts and plans with many domestic and foreign brands."