The generations that created their own toys from crown caps, worn-out bicycles and old car wheels are familiar with the notion of creative play. However, how can today's children, born into all these technological means, design their own toys? Starting off with this question, the Toyi initiative introduces a basic play kit that addresses less fortunate children. The play kit enables children to design and create their own toys out of any object around them that are normally considered junk. Toyi's desire to realize this dream on a global platform yielded some good results. The Turkey-based social enterprise has started receiving funds on Kickstarter, the world's leading crowdfunding platform, as the enthusiasm of the Toyi team has impressed the giant platform. Toyi play kits, which are produced exclusively in Dudullu neighborhood of Ümraniye district in Istanbul, kicked off their exports by raising funds for the social project online.
Toy for every child
Being very enthusiastic about the project, Elif Atmaca and Ögeday Uçurum founded Toyi as a social enterprise in 2017 with the dream that every child can have a toy. In 2018, Toyi partnered with ATÖLYE, an Istanbul-based innovation platform. Toyi's designer Elif Atmaca describes their purpose as such: "Especially in areas with many disadvantaged children, it is hard to send them the desired toys, so we thought that we should make something that allows these children to transform the materials around them into toys." With this idea, Toyi play kits have been developed by realizing that all the children who cannot use their creativity due to the urban lifestyle, pressure for academic success, parental instructions, and the restrictions of the toy industry, can benefit from this approach and product. Toyi aims to address every child regardless of their sex, language, geographical location and socioeconomic status.
Turning trash into toys
Stating that exposing children to too many toys might cause attention deficit and an insatiable play experience, Atmaca explains how their project helps raising children as creative and productive individuals: "Since the toy industry positions children as consumers, they motivate children to consume more by constantly marketing new and readymade toys, which negatively affects children's play experience. With Toyi, we want children to create their own toys by using their imagination instead of solely consuming ready-made toys. Thanks to this, children can rethink and redefine the objects around them and use them for different purposes. This enables the creation of endless number of new toys. With Toyi, we aim to change their outlook on consumption at their early ages and help them grow up to be individuals with up-cycling skills."
With Toyi, every child is a toy designer
With the kit that includes flexible connectors, foot, hand, wheel, eye, joint and stick, children aged 6 and above can transform any object around them into toys of their own imagination. So, a water bottle can turn into a rocket, an old box into a train compartment or a pine cone to a cute monster. With Toyi, children can design their toys on their own or along with their friends, improve their creativity by making the toys they desire from everyday objects. Through this way, they become real explorers interacting with their physical and social environment as well as their inner worlds.
Every child is the hero of their own imagination
The toy industry is shaped by grown-ups whose creativity is limited, compared to children. Play rules are set by grownups, they tell children how to play and what toys to make. Even with toys composed of construction blocks, the end product is shown to children beforehand. Toyi, on the other hand, is giving priority to children's needs, and supports free play. Toyi play kit contains no instructions or rules and the entire process is left to the children's imagination. Providing an open-ended play experience, Toyi helps children create endless number of toys by using their imagination. Toyi leaves the rules of play to children and reminds parents, teachers, and all grown-ups that child-led play allows them to acquire lifelong skills.
Buy one, gift one
Toyi's Kickstarter campaign, which started on Nov. 5, has successfully met its funding goal which allows it to start serial production within two weeks. Thanks to the cooperation with nongovernmental organizations (NGO) in different parts of the world, for each Toyi kit bought during the campaign one kit will be donated to disadvantaged children by Toyi. The initiative, which is set to donate 1,000 kits to disadvantaged children for the 1,000 kits bought under the campaign until today, is seeking to increase this number on the occasion of World Children's Day and is calling everyone seeking to support the right of play for children to become a part of this campaign.
MORE WORK WITH LESS CODE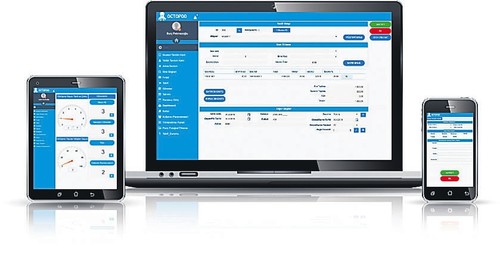 Octopod appears as a no-code software development platform created as a solution in the software industry.
It is now possible for a Turkey-based software company to accelerate projects by using codes written in several weeks with no need for a particular expertise in coding. Presenting an opportunity to develop software without writing code in Turkey and the world, Octopod appears as a Turkey-based software research and development (R&D) project. The company's Executive Chair Şenol Balo, who came up with the project, said: "Octopod is a project that can turn Turkey into a software factory since we can develop software six to 20 times quicker with no codes. As Turkey, we can develop software normally written in six months, within just 15 days. While software developers are ready for work after four years of university education and three years of experience, a newly graduate will be able to develop software after a nine-hour training session, thanks to the no-code platform Octopod."
Companies like Türk Telekom who sign giant transformation projects enjoy the opportunity of completing these projects in a much shorter span of time thanks to new generation platforms. The number of such platforms is gradually rising, especially in logistics as well as in many other sectors.
Used in 13 countries
Platforms like Octopod, which allow for working with no code or less code, are creating a new software language. It shortens the digitalization process by minimizing an institution's dependence on expert software developers. A sample no code project has gained more than 10,000 users in only a year and a half. A project that could be developed in a decade with using the old coding method can now be completed with the same team within a year, thanks to Octopod. This method is currently used in 13 countries.
Analysts say that we will fail if we wait for software developers for digital transformation since code writing requires a great deal of time, effort and human resources. Therefore, the no-code, low-code market needs to be handled with a serious approach. This market is predicted to be valued at $40 billion within three to five years, growing by 100 percent each year.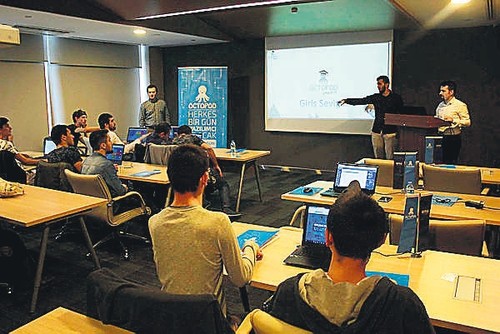 Developing software after 9-hour training
In Octopod those receiving nine hours of training become Octopoders and develop software without writing code. Developing software with Octopod is six to 20 times faster than developing software with code writing. With Octopod, software developing is possible with the "drag and drop system" without using code. Therefore, Octopod enables one to use and develop software without depending on codes.
The project has been included in the syllabuses of some courses in Sakarya, Işık, Haliç and Okan Universities and at Kozmos High School. The training is currently ongoing. A training session on the project will also kick off at Doğuş University this week.
Octopod is web-based, does not require uploading or updating. It is accessible from any device, anywhere, and is integrated with other software (which means that no change goes redundant. One can only develop, not change, with Octopod).
CLOUD TO GENERATE VALUE WORTH $15 BILLION IN 5 YEARS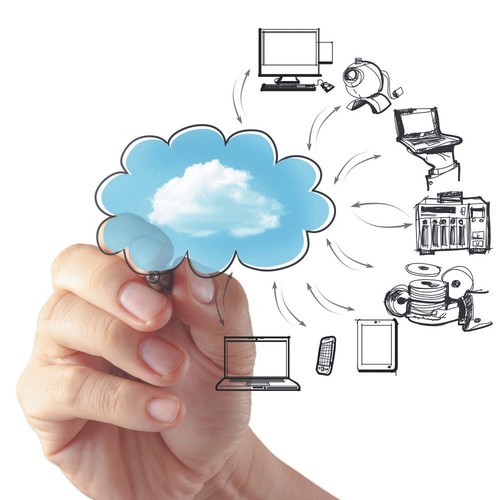 With cloud computing, institutions and personal users are transitioning into a new usage culture. Giant software companies like Microsoft have changed their road map on cloud computing, which will create $15 billion worth economic value in five years. Tech giants like Amazon, Google and Microsoft seek to get their shares from the new economy that has emerged with cloud computing. Microsoft Turkey General Manager Murat Kansu underscored that cloud computing is the primary source of power that will move Turkey forward as the country undergoes a new structural transformation process, adding that the companies using or investing in cloud computing will earn $15 billion worth income in five years while 130,000 new employment opportunities will emerge in Turkey.
Stressing that Turkey has some successful examples in line with cloud strategy around the world, Kansu said: "According to a report issued by International Data Corporation (IDC) this year for Microsoft Turkey, the overall information technology (IT) spending in Turkey is expected to reach $6.73 billion in five years. The cloud services spending in our country, which was $113.89 million in 2017, is to reach $266.07 million by 2022. Since the country's economy met cloud computing, we have seen that smarter production models have been introduced, saving has been achieved and domestic software has been exported more easily."
New jobs for 130,000 people
Underlining that the Turkey-based companies will focus on digital transformation and innovation, thanks to cloud computing that will empower the economy, Kansu went on to say: "While 90 percent of the world's biggest 500 companies employ cloud computing, the use of this technology in our country is around 56 percent. The companies investing in cloud computing will be able to earn $15 billion net extra income for the next five years. As for employment, according to the research by IDC, 130,000 new employment opportunities about cloud computing will emerge by the year 2022. And this will not only be limited to the IT sector, but encompass new job opportunities related to cloud computing in many areas including marketing, sales, finance, management, production and service sectors."
Savings worth millions
Münir Kundakçı, Microsoft Turkey vice president of Marketing and Operations, said: "Today, smart devices increase the individuals' quality of life and success of institutions by using the means provided by smart cloud computing. To give an example, Pegasus Airlines saves several million Turkish liras by predicting the amount of food served in airplanes via the Microsoft Azure cloud platform. The company also takes snap decisions by instantly evaluating a wide array of data such as the plane's occupancy rate, amount of fuel spent and departure time with our Power BI solution. Also, HOPİ, which introduced a variety of novelties in the retail market, evaluates in-store actions and shopping behaviors of its 6 million members through the 'internet of things' (IoT), artificial intelligence and Azure technologies. ThaWnks to that, they can present special offers to their customers."