The streets are mostly deserted; the buildings all in ruins. Bullets fly overhead and the sound of a bombing indicates that it is close by -- then a sudden explosion. People carry their wounded friends on stretchers to the nearest medical attention spot. This is what "Return to Homs," the opening film of International Documentary Film Festival Amsterdam (IDFA), offers viewers: the reality of war, no matter how brutal it is.

The winner of the World Cinema Grand Jury Prize for Documentary at the Sundance Film Festival, "Return to Homs" follows two young Syrians who become revolutionaries and join the Free Syrian Army. Nineteen-year-old Basset is a football goal keeper, but we watch him slowly turn into an outspoken protest leader in Homs and then into an iconic revolution singer. His friend, 24-year-old renowned journalist Osama, is a cynical pacifist until he is detained by the army's secret service.

Talal Derki was in Turkey for screenings of the film at the 33rd Istanbul Film Festival. "It was like coming home," Derki said when asked how the screenings and panel discussions went in Turkey. With so many Syrians in attendance, each and every one of the screenings was emotional both for the director and those in the audience. In an interview with Daily Sabah, the director discusses the difficulties of shooting the film and the heartbreaking situation he, like all other Syrians, found himself in when the war broke out.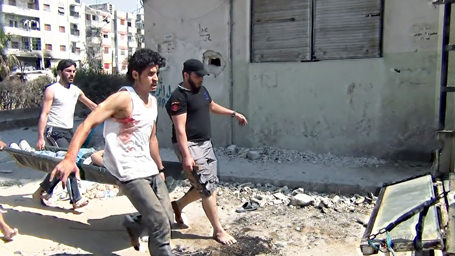 Daily Sabah:
How did the panel discussions go and what was the reaction of the attendees? I believe this is not your first time in Turkey. How did it feel coming back?
Talal Derki: It was like coming home. It felt like we were here with the family. I lived for four months with my in-laws in Mersin right after the troubles started in Syria. Mersin felt like our home as well, since it was just a few hours away from our real home town. It's also very beautiful and we knew that right after the sea lay Syria, our homeland.
DS:
Let's go back to how the project came to life. How did you decide to shoot the film and how did you find the actors who were willing to take part? Did you know the two main actors before filming?
TD:
I was in Selaniki when the revolution started to present my short film. I saw the video uploaded on YouTube with four activists being killed on the street in Daraa. It was extremely painful to watch as they were on the street alone and there was blood everywhere. We all cried when we watched our fellow Syrians being killed by the army.
I returned to Damascus after two days demanding to know what happened. Then things evolved and started getting worse. After we started understanding the strategy of the war and the activists, we started contemplating what we can do to help the situation.
Since the government didn't allow any media inside Syria's war zones, I realized that this was the moment -- my chance to record history [and] the big change Syria was undergoing. I decided to make a documentary to film the actual truth of what was happening on the streets.
Then my search began and I travelled to a lot of places looking for the best spot. I come from a Kurdish background, so I first travelled to the border but I didn't find what I was looking for -- the place that would reflect what was happening in the best possible way. When I arrived in Homs, I met with Basset and Osama in [the] summer of 2011 and I immediately said, "Here. This is where my movie will be shot. This is my place, my chance. Homs was so full of life, energy and challenge."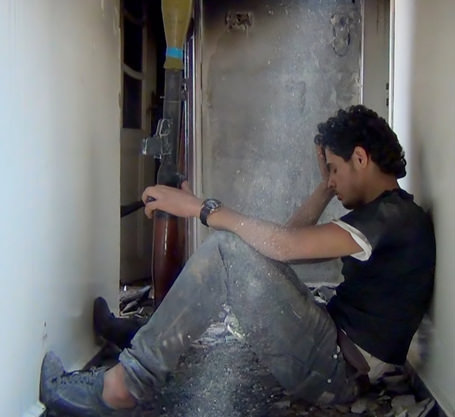 DS:
Did you have a hard time convincing the actors and finding a film crew since it is risky, especially for the actors to appear in front of the camera?

TD:
Everyone, all the activists from the opposition, supported the documentary. They were all very open and comfortable in front of the camera since this was the only chance they could get [for] any sort of coverage. Everyone either had Handycams or was recording the clashes with their mobile phones.
At first it was me, Orwa Nyrabia and Ossama al-Homsi. But I was lucky as I had previously worked with [cinematographer] Kahtan Hassoun. We worked for Reuters and many other channels and I find him very talented. He creates as many possibilities as there are for making the shoot happen, puts his mind and soul out there; whereas others usually get bored and give up if the conditions for the shoot do not become suitable immediately. But Kahtan knows how to catch the moment, how to write history. He's got an eye for it. He knows what should be in the heart of the film. So I asked the producer to work with him. So we started working and sort of shared the whole shooting process according to whoever was available and close to the heart of the protests. Sometimes it was me that was close to the action, other times Kahtan did the shooting himself. And he did it very well.
DS:
I know shooting was risky, but did you come across any life-threatening risks?
TD:
Well, all I can say is we were lucky. We had support from local activists and local people and we planned every step beforehand, asking around each time [for] advice [from] locals. They informed us street by street of what was going on. "Don't go there, there're a lot of people dead on that street," was a phrase we heard quite often. So before we started shooting we knew our border for each shot.
DS:
So everything was planned on the spot?
TD:
We had a lot of strategies about how to hide both ourselves and our equipment. Going from Damascus into Homs, we had to hide the camera piece by piece in the trunk and the motor of the car. We also had women with us, which made us look less suspicious so nobody suspected that we will be shooting. We all had nicknames as well. Nobody really knew my real name from the rebels. They assigned me a nickname every time we went into Homs and sat down with the opposition groups. So even if the regime found out that someone was making a film, they wouldn't be able to find out who that person was. There were a lot of other strategies as well.
DS:
What were the reactions of Syrians who watched the film here in Turkey?
TD:
There were a lot of [people from Homs] at the first screening yesterday and a lot of famous activists from Homs are also here in Turkey. They all showed up at the first screening and it was very emotional for them. We all took a walk down memory lane to where it all started.
For them especially, seeing your city, seeing how it was full of life, full of color, full of people happily walking down the street and how the situation changed… a lot of them just couldn't hold back their tears. You can see your best friend who died on the screen for the first time, laughing, smiling, which are things he won't be able to do again. Your first and only reaction is crying, very painful.
DS:
Besides the Syrians, what was the reaction of the audience and was the film received differently than other countries around the world?
TD:
It was much different here because Turkish people are aware of the situation. They know better than a lot of nations of what is going on in Syria. For example in America, people don't know what's going on in Syria. We even came across people who didn't know where Syria was. But the impact was very strong. Even those people after the screenings, they empathized with our situation and talked to us for hours, sometimes even hugged us after the screenings. They cried; some apologized for their government. It was fantastic.
DS:
So what's your next project? Will you be going back to Syria?
TD:
I was back in Syria recently and I will go back soon to keep shooting. This film has a difficult style, it is more psychological. I have been and I will go back to follow up on how moderates became radical. So my next project will be like a sequel to this movie. We have been shooting since 2012 and we have more than one year of footage so it will be parallel to "Return to Homs." Most of our shoots took place in Homs but we visited other cities as well. The same concept will continue: everything from inside focusing on normal people, not famous politicians or spokespeople, but real people on the street. We will keep on trying to show the world what is happening from their eyes.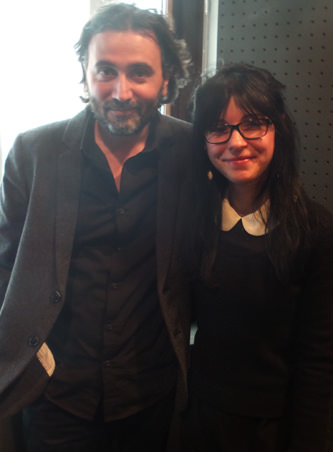 Talal Derki & Özlem Sakin, Daily Sabah's Arts editor.

And we will keep on trying to be honest to everyone. This is an SOS. This is the last call from Syria. Stop this war before it turns into another war.