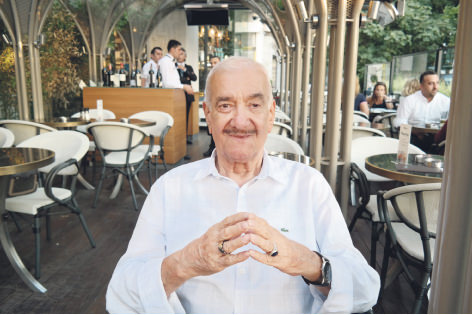 Safa Önal, a Turkish screenwriter, made the Guinness Book of Records for The Most Productive Screenwriter in 2005. He said that he applied after supports from his son and Assistant Professor Orhan Kural and he received his award at a ceremony. The Turkish scenarist added that he had never guessed that he would be the one to break the record because there are many productive American and Indian scenarists. "I never had such an intention or motivation. There is Hollywood, Bollywood. How can I challenge them?" he told Anadolu Agency.
A director and screenwriter, Önal was born in 1931 in Nevşehir. He graduated from Haydarpaşa High School and then started writing short stories in 1945. He gathered his stories in his book "Dünyanın En Güzel Gemisi" (The World's Most Beautiful Boat). Önal wrote his first scenario, "Kanlı Para" (Bloody Money), in 1953. In his life devoted to writing, he received the Service to Culture and Art Award given by the Culture and Tourism Ministry, the Best Scenario Award given in the First Adana Golden Boll Film Festival for his film "Menekşe Gözler" (Violet Eyes) in 1969, Silver Palm Tree Award given in Italy, Life Long Honor Awards and many more. Directing since 1973, Önal has written 420 scenarios.
Önal said that during the 1950s film contracts were for 21 days and added: "Man or woman, even if one of them did not like the script, and you were to sit down to correct the scenario, none of them would stay for the 22nd day. They would have other contracts for movies to which they would have to attend to not pay the compensation. Türkan Şoray, Kadir İnanır, Tarık Akan, Selda Alkor, Fatma Girik, Filiz Akın, Hülya Koçyiğit, Tamer Yiğit, Ediz Hun... I have worked with all of them and none of them said 'let's stop and think for a second.' "
Önal, the producer of many cult Turkish films, spoke about his financial problems. "Today, I don't even have a retirement pension. Because, the 53 firms for which I have worked and to which I have contributed greatly, for 62 years, to them becoming billionaires in Yeşilçam, did not pay even one lira of premium for me."
Önal, pointing out the patent issues he has been going through with TV channels, said: "In a day, about six to eight of my films are shown on TV. There are channels that show only Yeşilçam movies. Those channels were supposed to pay me an amount around TL 160 [$57] to TL 320, which has been determined by the government and cinema entities. Twelve years have passed, but the cases haven't been resolved yet. Before, they were saying 'He has no rights; he is not the owner of the film'. Then, the Supreme Court made a decision to accept me as the owner of the film, stating that the director, the scenarist, musician and the dialogue writer are the owners of the film. Before, the owner of the production was the manufacturer, now it is the creators. Then, the channels claimed not to have shown the film. At this point, the court did not asked the channels 'what did you show instead of that film?' As I am the prosecutor, they asked me to prove that film was shown."
Evaluating Turkish cinema, Önal said that Turkey is a tree. "Some of its branches are going upwards, blooming. Some of them are going downwards. It is not possible to consider cinema apart from in what condition the tree of Turkey is and towards where its leaves and branches are turned. Today, a Turkish movie that we would struggle to watch costs at least TL 1 billion. Where is that money? The workers of that movie work really hard," he continued.
Önal said that he only watches films, not TV series. "As a person who has given 62 years of his life to cinema, I believe it is better to produce something, than to produce nothing. Now, it might be the case that movies aren't good, aren't acted out properly or written neatly. Though, in time, it will get better. Long live those who produce films! I'm not against any kind of movie. Criticizing is easy. As if we know everything... It does not work this way. Even if a film fails two, three times, then those mistakes get erased. Time eliminates the failures. We have to try everything. Cinema is looking for and finding itself."
Önal shared that he was friends with many famous actors such as Sadri Alışık, Çolpan İlhan, Attila İlhan, Ekrem Bora and Ayhan Işık, and that they had all passed away. Then, he added, quoting from Cahit Sıtkı Tarancı's poem: "In his poem, '35 Years Old,' the poet says 'my loneliness increases every day.' In my age, loneliness is a different thing. What is being 35 years old? Everyone was alive when I was 35 - my mother, father, all of my friends, relatives, everyone. The funerals hadn't started yet. I will write a story called the "Funeral Age." After an age, the funeral age slowly closes up. People pass away and you are left alone. Every time someone dies, you start thinking about your own death; that this would happen to you too. There is a funeral age. A 20-year-old man wouldn't have a funeral. After 60 years old, it happens."