Internationally renowned for her recent portrayal of Selyse Baratheon in the critically acclaimed American TV series "Game of Thrones," Tara Fitzgerald is getting ready to make her directorial debut in cinema following her successful acting career in theater, television and cinema.
Attending a press conference at the 53rd Antalya Film Festival on Thursday, the British actress answered reporters' questions regarding her career as an actor and her future directorial debut, which is currently in the pre-production process.
Starting her acting career in television and cinema in the early 1990s following her training at the London Drama Center, which has also trained well-known actors such as Anthony Hopkins, Colin Firth, Simon Callow and Pierce Brosnan, Fitzgerald is known for her acting versatility.
Noting that after long days of hard work and training at the Drama Center, she entered the film industry easily, Fitzgerald said now it was time for her to take on a director's role as well. Previously shooting her first short film titled "Prick Thy Neighbor" in 2015, Fitzgerald has a feature film project in progress.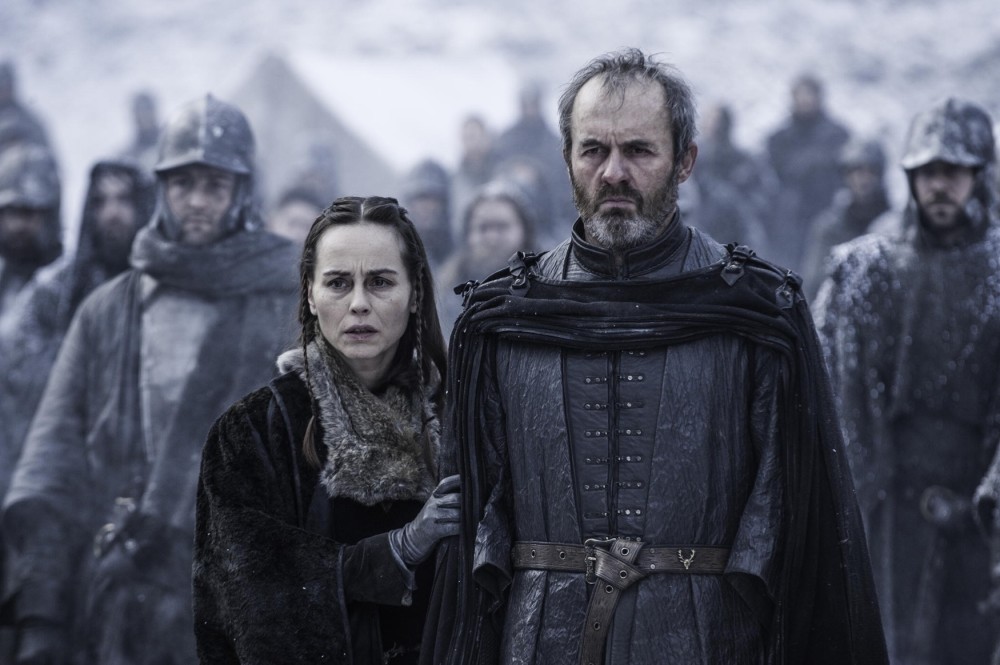 A scene from the award-wining TV series "Game of Thrones" featuring Tara Fitzgerald as Selyse Baratheon and Stephen Dillane as Stannis Baratheon. Both characters were killed in the fifth season of the series.
Pointing out that the project is still in the beginning stages, Fitzgerald said it is absolutely vital for women to be represented in TV and cinema, and she aims for her next project to support and represent women, especially those in their 40s. Suggesting that it is important for women to find a place in the industry for both humanitarian and economic reasons, Fitzgerald said women want to go to the movies and watch films they can relate to. "That's what I would do," the British actress said.
She said she wants to shoot woman-to-woman stories without over politicizing it and take women as a whole instead of sub-characters that stay behind male characters, stressing that gender is still a big issue in the U.K.
When asked about the effects of theater on her personal and professional life, Fitzgerald said: "The thing about theater is that it makes you a perfectionist. Every night you take on the stage and perfect your role. It is hard work and I love it." She said that her favorite thing in theater is rehearsals, where you work with the director for weeks getting into the story.
Regarding her character Doctor Eve Lockhart that she played for five years in the long-running British series "Waking the Dead," Fitzgerald said if you do something constantly, it becomes a part of you and stressed that the working process was similar to that of theater with long rehearsals.
Stating that she loves acting, but there is a limit to it, Fitzgerald said she is interested in mise-en-scène, aesthetics, the relationship between objects and humans and also relationships between women, suggesting that this is why as a director she wants to be the voice of women, support them and represent them as the complicated beings that they are.
Praising the creators of "Game of Thrones," David Benioff and D.B. Weiss, for their well-written and well-directed series, Fitzgerald said the show is nearly theatrical since even a five-minute scene takes hours of shooting with many rehearsals. With regards to the show's representation of women, Fitzgerald stressed that "Game of Thrones" features complicated female characters with multidimensional qualities.
Picking her roles cautiously and always seeking to play a strong female character in both cinema and theater, Fitzgerald recently played the role of Lady Macbeth opposite Ray Fearon in William Shakespeare's "Macbeth" directed by Iqban Khan at the renowned Globe Theatre in London.