Ümİt Köreken and Nursen Çetin Köreken's first feature length film, "Blue Bicycle," won Best Film, Best Director and Best Screenplay awards at the 53rd International Antalya Film Festival held Oct. 16-23. Following a child's dreams and search for justice in Akşehir, a small town in Central Anatolia, the film's protagonist, Ali, works in a garage to support his family, which is having a hard time making ends meet after his father's untimely death. While his mother sells her hand-knitted items in the bazaar, Ali saves money and dreams of having the blue bicycle displayed in a shop window that he passes every day. He is also secretly in love with Elif, the class president. Forced to learn the inequality of opportunity and fight for life at a very young age, Ali and his best friend Yusuf discover the meaning of a democratic campaign against injustice that Elif and the whole class have to face. When a teacher assigns Hasan, a newcomer with a respectable grandfather, as the new class president instead of Elif, he runs into unexpected resistance from the rest of the class.
Daily Sabah conducted an interview with Ümit Köreken and Nursen Çetin Köreken, who jointly wrote and directed the film on children's films, children's rights and future projects.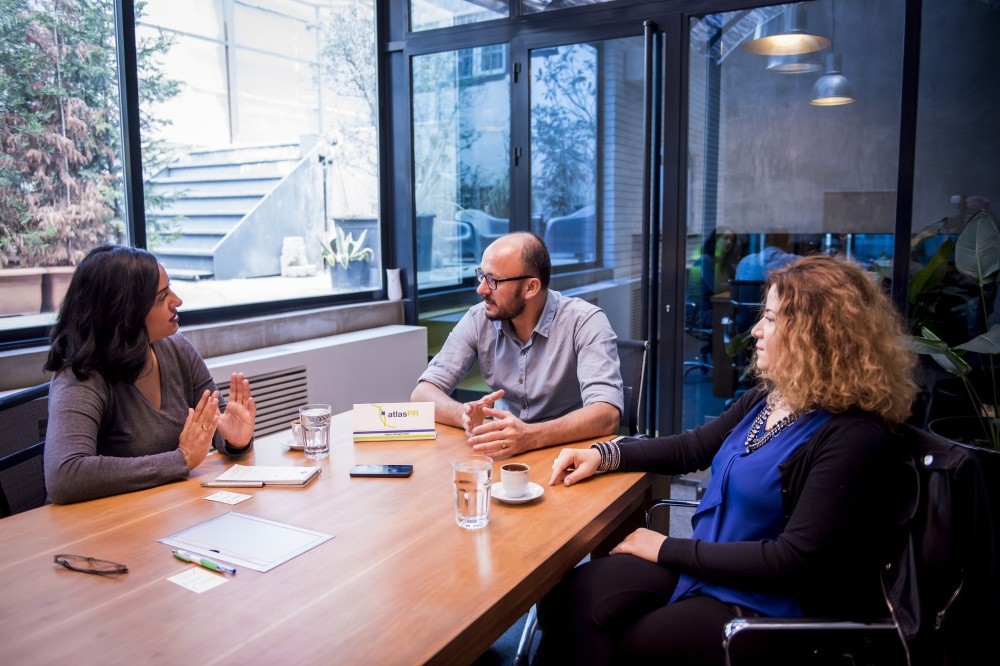 Daily Sabah's Zeynep Esra Koca (L), Ümit Köreken (C) and Nursen Çetin Köreken
DAILY SABAH: You said you were very excited when you won the Best Screenplay award. How did this script come into being and why was it this important?
ÜMİT KÖREKEN:
I have been writing for as long as I can remember, but I have been writing as a professional since 2002. First, I started writing radio plays at TRT. Later, I wrote three more plays in TRT, which were also broadcast. I met my wife Nursen in a dramatic writing course in 2005, and we started writing together. We prepared two plays for the Energy Ministry and one for the Finance Ministry. They all won awards. We were performing in Erzurum in the meantime. In 2007, a director from the State Theaters told us that our writing was very suitable for cinematic language. At that time, we were not planning on turning our play into a script. In 2009, we wrote "Blue Bicycle" as a children's play. One of our friends told us that the Culture Ministry was providing funding support for cinema. Then, we adapted "Blue Bicycle" into a film script from a play for the first time. We won this fund in 2010, and that's how we entered the world of cinema. That's why winning the Best Screenplay Award was very meaningful to us.
DS: Six years have passed since 2010. So, the script has been constantly updated since then?
ÜMİT:
Of course. There are four different drafts that include 20 versions each. Initially, the story was supposed to take place in a mining town in the Black Sea region. We even went to a similar town, stayed there 15 days and wrote the script by observing the region. But the mining story was so strong that it always came to the fore. What we actually wanted to highlight was the story of the kid rather than the mine. "How does a child cope with the injustice he faces?" We were looking at the story in terms of the children's rights. So, we removed the mine from the picture and moved the story to the central Anatolian town of Akşehir.
DS: Why did you move the child's story?
NURSEN ÇETİN KÖREKEN:
I have been working with children since college. I have always been associated with children and art. We were performing annual shows with children in Erzurum. As my mission in life, I have always questioned what kind of mark I will leave with this body while passing through life. During my projects in Erzurum, I realized my mission was about children, women and families. I believe that children's process of becoming individuals start as soon as they leave their mother's womb. Parents, on the other hand, are the guides that mediate a person's existential process. Even if children come from the bodies of their parents, they belong to life itself. That's why we should recognize them and listen to their wishes and desires starting from infancy. We contacted the people and institutions that we can work with in the sector in this manner. Since we are on our way to becoming industrialized, people naturally do not want to take this risk. Concern about the success of a film told from a child's perspective naturally emerges. However, our belief that children are unique talents, and they have the right to be recognized has brought us here.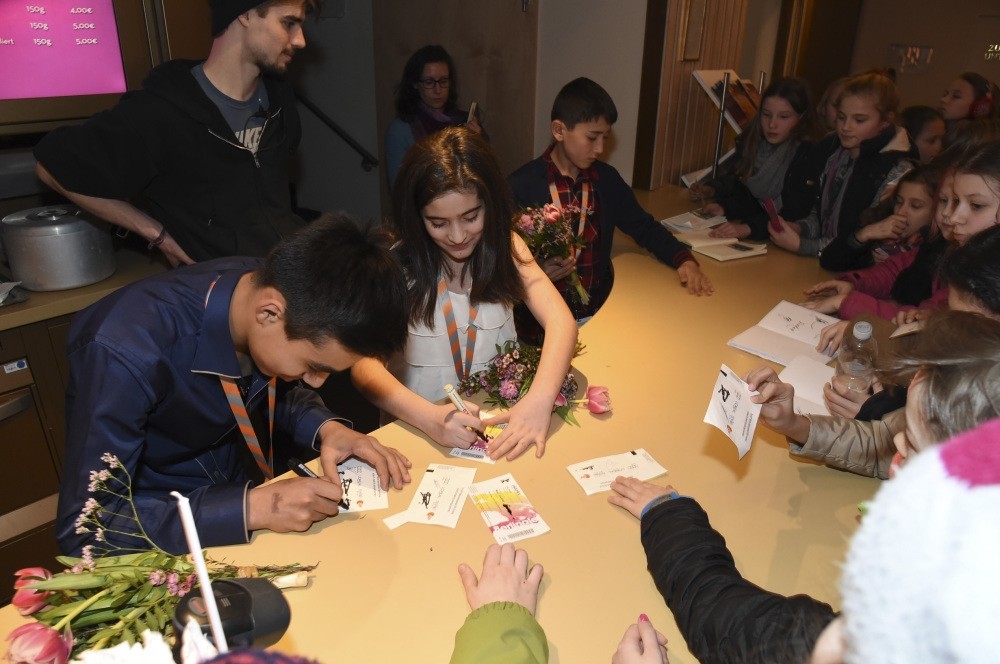 The children who acted in the film went to Berlin from Akşehir and saw the film in Berlin Film Festival for the first time. They experienced the attention of their peers who got in line for their autographs for the first time in a country where a different language is spoken.
Following the problems we encountered, we started looking into the children's film sector in the world. In developed countries, there is a sector and plenty of fairs just for this industry. We were selected for the Cinekid program in Amsterdam. We won the best project award among 33 projects. We later received support from the Culture Ministry and Eurimage. By growing bigger with those who believed in us, we realized the project. The Culture Ministry's support is very valuable. TRT also supported us and saved the film at a very crucial period. The Akşehir Municipality, District Governorship and people of the city made wonders. Eurimage and Doha Film Industry made precious contributions.
DS: In this case, you revealed the lack of a children's film festival in Turkey. Can there be an initiative to organize such a festival?
NURSEN:
Our film sector is currently climbing the steps of industrialization. We need to give ourselves some time. For example, these categories are separated at the Berlin Film Festival. It is possible to organize a children's film category in festivals held in Turkey. Or, an only children's film-oriented festival can be organized just like the Giffoni Festival in Italy. We intend to take on responsibility for such an initiative and take support from prestigious institutions. I think we can do great things along with the rich east-west synthesis presented by Anatolia.
ÜMİT:
We want a systematic and principle-oriented organization to which children can be taken from school. In Britain, cinema is included in school's curriculum as an educational method because it is possible to provide an education of values through cinema.
DS: Were you inspired by your childhood, memories and real life while creating the characters in the film?
There are four main themes in "Blue Bicycle." The protagonist, Ali, dreams of a blue bicycle. Elif's removed from the class presidency. There is also the unsolved murder of Ali's father near the railway. Lastly, there is a child's search for democracy in the face of injustice. All of them are real stories. The presidency is a slice of Nursen's life. The dream of a blue bicycle is mine. I heard about the unsolved murder in Akşehir when I was a kid. We wrote about the search for democracy with inspiration from a small news story. The part where Ali buys a bicycle from a waste collector and tries to turn it into the one in his dream by working on it every day reminds us of our march towards our purposes in life.
DS: How did you reach out to the local kids starring in the film? How did you bring them to the film's set and how was the training and collaboration process?
Ümit was introduced to cinema and theater during Nasreddin Hodja festivals in Akşehir when he was a kid. We moved the story to the real locations of his childhood. We wanted to reach out to kids in villages, who have never been to the cinema before. With support from the municipality, we made announcements in towns and villages for two years. Thus, we reached out to the kids and their families, and held meetings with them. When the time for the set came, the children were always eager and ready.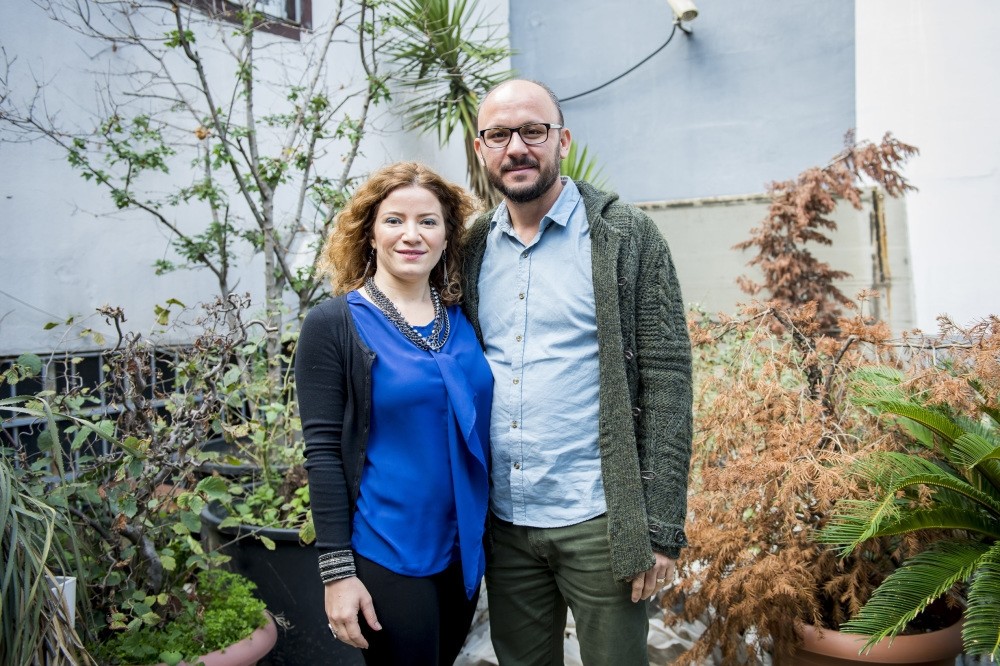 Nursen Çetin Köreken (L) and Ümit Köreken
We tried to open a new cinema-related frontier for children. We worked on drama and improvisation. There were 400 kids at first, and later the number dropped to 100. Instead of giving the script to the children, we made out themes for each section, such as justice, children's rights and so on. Children were caught up in the film's atmosphere with these themes. They even designed the film's poster. We iterated the lines through improvisation by roughly reviewing them on the morning of the shooting. We held the camera at the child's perspective and eye level.
DS: You attended the film's premiere at the Berlin Film Festival with three children. How did they feel in the festival's atmosphere?
The children portraying Elif, Yusuf and Ali were brought to Berlin under the supervision of the school's principle. It was a huge experience for them to come to Berlin from Akşehir and see the film in the festival for the first time. They experienced the attention of their peers who got in line for their autographs for the first time in a country where a different language is spoken. You could see the happiness in their eyes. A new frontier that there is a whole new world out there was opened in the world of three children. We attended many film festivals in Berlin, Moscow, Israel, Italy and Amsterdam. The attention that a film shot in a small province of Anatolia received proved to us that we could do great things by feeding from our own roots. Our feet should be on our roots and our eyes should always look forward. We should instill in the next generation that we should always remember our roots and go forward.
DS: What are your future projects?
Making children's films is not our means but objective. We will keep going on this path. We are currently working on a documentary project. It is again the story of a child. A news article I read in a newspaper. A hearing-impaired and walking-disabled young swimmer in Konya has won seven championships and is trying to get on the national team. There is also a feature length film project. It is again a family story. Kids are always in our films, and they will be.