Organized by the Turkish Foundation of Cinema and Audio-Visual Culture Foundation (TÜRSAK) with the support of Turkey's Culture and Tourism Ministry, the 19th Rendezvous Istanbul International Film Festival kicked off on Friday and will continue until Dec. 22. The festival features nearly 30 films from different countries and cultures. This year's festival offers two special selections focusing on Spanish cinema and movies on gastronomy and various cuisines.
Open invitation to movie buffs who want to discover Spanish cinema
For movie buffs, the best way to discover a new country is not wondering around its streets or tasting the local food but watching its cinema. Discovering a country's cinema is a pleasure all by itself in a globalized world. The 19th edition of the Rendezvous Istanbul International Film Festival brings world cinema to Istanbulite movie buffs starting from this year. The first and this year's country is Spain. The section "Look at Spain, See the World," which was put together by Spanish cinema writer Nando Salva, is set to screen a selection of seven films that hit theaters in 2016.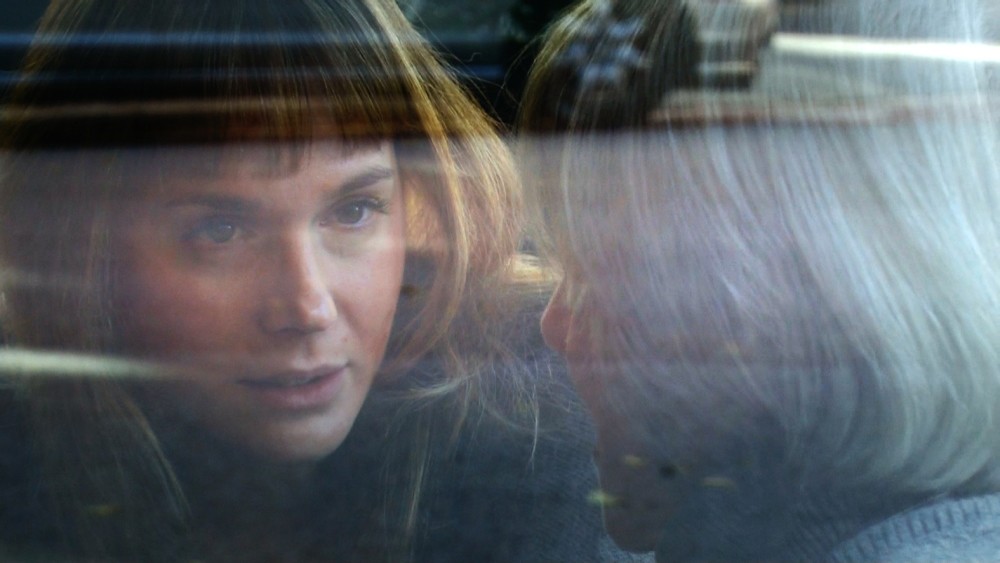 The first film to be screened as part of this country-specific section is "La Academia de Las Musas" (The Academy of Muses), the latest film of Jose Luis Guerin who is one of the most respected and most influential arthouse directors of Spain. Guerin, who is considered a pioneer in Spanish cinema thanks to his work that blurs the boundaries between fiction and documentary and films looking at the process of filmmaking, tells the story of a professor who aims to save the world with poetry and sees his students as his muses. This story does not sound very "cinematic," but in the hands of Guerin, it turns into an incredible film about language, love and life; and masterfully blends mystery and drama. The film made its world premiere at the Locarno Film Festival.
"Tarde Para La Ira" (The Fury of A Patient Man) is a vengeance story in which the famous Spanish actor Raul Arevalo gets behind the camera. How far can a man go who loses his wife in a failed robbery attempt for vengeance? Premiered at the Venice Film Festival, "Tarde Para La Ira" is one of the biggest surprises of Spanish cinema this year.
"Kiki, el Amor se Hace" (Love To Love) is a film made by Spanish comedy star Paco Leon. The actor, who continues to make a name for himself in cinema after he kicked off his comedy career on the silver screen, made a huge success as a director after directing two indie comedy films. "Kiki, el Amor se Hace" is a funny and entertaining comedy about the sexual boundaries that people set for themselves.
"La Propera Pell" (The Next Skin) is the next film directed by Isaki Lacuesta, whom the festivals goers highly favored, and Isa Campo, with whom Lacuesta usually collaborates in writing the scripts. The film won six awards at the Magala Film Festival. "La Propera Pell" is about a child who returns to his family after disappearing for eight years. The film manages to come up with a unique and personal narrative by using the concepts of family drama and tension.
Jonas Trueba, the son of Spanish director Fernando Trueba, was chosen as "the Promising Young Director" with his film "Todas las Canciones Hablan de mi" at the 2010 Goya Awards. His latest film "La Reconquista" (The Reconquest) was featured in the competition section of this year's San Sebastian Film Festival and bears the traces of French New Wave cinema. Manuela and Olmo are reunited in a future that had been promised fifteen years ago when they were adolescents and they lived their first love.
If you want to discover the real Spain "El Hombre de Las Mil Caras" (Smoke and Mirrors) and "Spain in A Day" is tailored for you. In "El Hombre de Las Mil Caras," Alberto Rodriguez, who was critically acclaimed with his 2014 detective film "Marshland," recounts the true life story of famous Spanish spy Francisco "Paco" Paesa and focuses on Spain's biggest problem: corruption. First premiered at the San Sebastian Film Festival, the film brought the top award of "Best Actor" to its lead, Eduard Fernandez.
On the other hand, Isabel Coixet's "Spain in A Day" offers a totally different alternative. Spain's most internationally recognized director Coixet brings amateur videos filmed by the locals together and presents a detailed and touching portrait of modern Spanish society.
Rendezvous Gastronomy: The Tastiest Cinema
The 19th Rendezvous Istanbul International Film Festival which is organized by TÜRSAK with the contributions of Turkey's Culture and Tourism Ministry adds a little flavor to cinema. Rendezvous Gastronomy aims to discuss all matters related to food and beverage in a large spectrum, including the innovative movement in Turkish cuisine to traditional cuisine, which faces extinction with street vendors, solutions to end world hunger and stories of chefs who made gastronomy revolutions in their own countries.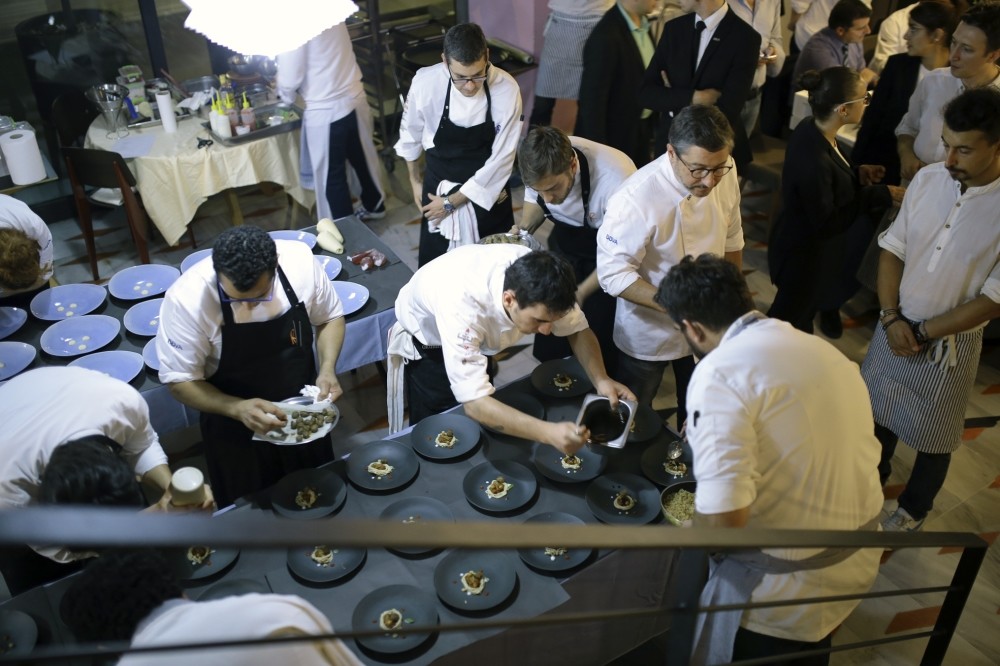 One of the most outstanding films in the selection is "The Turkish Way," which follows the Roca Brothers, the owners of world's best restaurant El Celler Can Roca, as they set out on a journey to discover Turkish cuisine. Their journey is accompanied by Turkey's top chefs and gastronomy experts. It offers Istanbulites a chance to rediscover their own cuisine through the eyes of experts and chefs. Apart from portraying the traditional Turkish cuisine, "The Turkish Way" is also a very important film as it documents a new wave of the gastronomy movement in Turkish cuisine led by a group of top Turkish chefs including Mehmet Gürs. "The Turkish Way" will make its Turkish premiere on Dec. 19 at Atlas Cinema Hall in Taksim. The gala event will be hosted by chef Mehmet Gürs.
The story of famous Bask restaurant Mugaritz is told in Pep Gatell's new film "Off-road; Mugaritz, Feeling a Way." Andoni Luis Aduriz was dreaming of opening one of the best restaurants in the world. However, his restaurant Mugaritz became a multi-disciplinary restaurant beyond his imagination.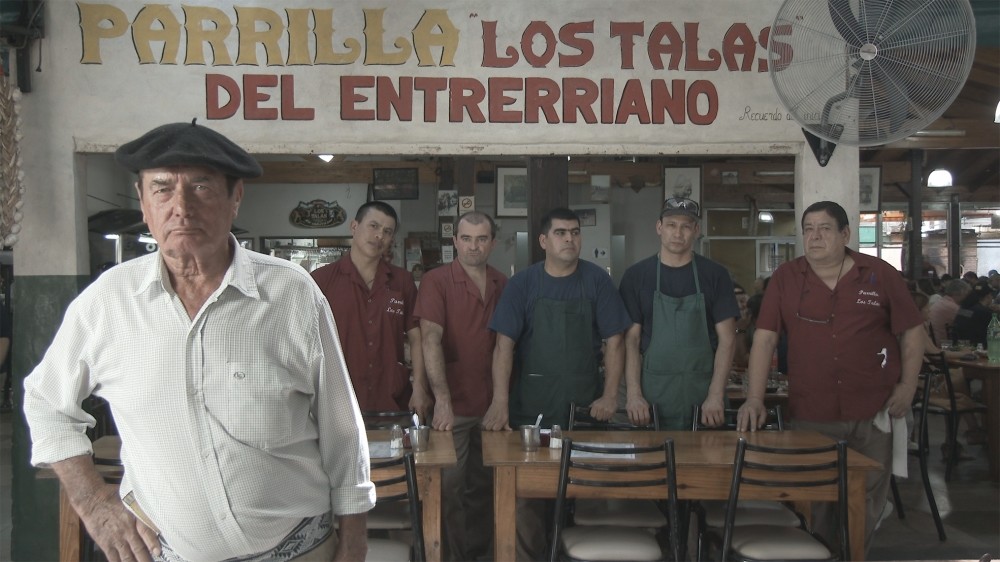 Argentinians' fondness for barbeque inspired "Todo Sobre el Asado" (All About Asado). Co-directed by Mariano Cohn and Gaston Duprat, the film reflects the social life in Argentina by discussing the ritual of barbecue, which is an important part of Argentinian cuisine and culture. The lens of Pierre Deschamp focuses on the food they had long forgotten in "Noma, My Perfect Storm."
We are not the only ones who are not happy with trading our traditional cuisine with fast food chains: Singapore suffers from the same problem as well. Eric Khoo's film "Wanton Me" discusses the change in Singapore's cuisine and the effects of this change through the eyes of gastronomy writer Chun Feng Koh.
Directed by Peter Svatek, "Theater of Life" is the story of a magnificent project: Waste food produced at Milan Fair is transformed into incredible meals by the world's top chefs for public soup kitchen visitors for 40 days.
"Bugs" looks at the hunger problem of the world from a different angle. The director Andreas Johnsen pops up the important question: Can we end hunger by simply eating the bugs? However, Johnsen is not the only one who has this idea. Scientists previously advised that bugs rich in protein and considered as food by many nations can be eaten around the world; an idea that also got the backing of the United Nations. Taking this advice, Johnsen travels around the world with a team from Nordic Food Laboratory and investigates bugs' place in world cuisine.
In the memory of masters of world cinema
The masters of world cinema who passed away this year are commemorated at the 19th Rendezvous Istanbul International Film Festival with their films. As part of the film selection, Iranian director Abbas Kiarostami's 1999 film "Bad ma ra Khahad Bord" (The Wind Will Carry Us), "Maden" (Mine), starring Turkish veteran actor Tarık Akan and Academy Award winner Polis director Andrzej Wajda's "Man of Iron" will be screened for festival goers.
The screenings of the festival are taking place at Historia Cinemaximum in Fatih and Beyoğlu Atlas Cinema Hall in Taksim.