For those who have spent their teenage years reading the complete works of Karl Marx and Friedrich Engels (some 50 volumes), a two-hour long German film about the production of their oeuvre will come as curious news. Who would have thought that the German philosopher, perhaps the most influential since Hegel, could be turned into an interesting film character and make a good screen duo with Engels, that dandy revolutionary who had spent his industrialist father's wealth for the imminent destruction of world capitalism? In Raoul Peck's "The Young Karl Marx," Marx and Engels seem a lot like Sherlock Holmes and John Watson. Like London's famous detectives, Marx and Engels investigate crimes, but of a different, more political type. Capitalism was the unchanging culprit of their investigations and it was vital in the eyes of these revolutionaries to reveal its role in the everyday lives of the working classes.
True to its title, "The Young Karl Marx" follows the poverty stricken youth of a philosopher whose late work, particularly "Das Kapital," has come to define his life: the image of the man is almost always that of a silver bearded elderly figure. The fascinating historical and theoretical sweep of Marx's late work continues to intimidate many readers to this day; work of the young Marx, meanwhile, is much more accessible. "Communist Manifesto", a joint literary creation of Marx and Engels, is a constant bestseller, despite the historical specificity of its message which "The Young Karl Marx" explores in some detail.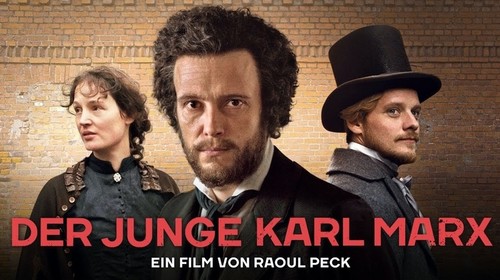 Marx first appears in the film in his mid-twenties, at the headquarters of a left wing newspaper. The paper's offices are surrounded by the Austria-Hungarian police force. After his capture and before being thrown into jail, Marx receives a job offer from a colleague: a new newspaper is to be launched in Paris where Marx can enjoy the prospects of a new beginning in life.
In Paris, Marx meets Pierre Proudhon, that great enemy of private property, whose ideas seem a tad old-fashioned to his constantly inquisitive mind. The older man, meanwhile, is impressed by Marx's ideas, his political passion and French skills. Their friendship opens many doors to the young rebel. But it is his meeting with Engels, who we first see alongside his father at a factory at the beginning of the film, that changes Marx's life. Engels, who falls in love with an Irish worker fired by his father, and spends his time documenting the lives of England's working classes, is the most interesting character of this film. He resembles Doctor Watson, who has often been left in the shadow of his friend Sherlock, whose adventures we know thanks to Watson's books. In a similar role, Engels supports his friend's intellectual activities, never losing his belief that Marx is a genius. In scene after scene Engels shows solidarity with Marx, either by sending checks that save the philosopher from perjury or by convincing him to write a manifesto for a class that needs to learn its crucial role in world history.
Peck, the Haitian director of the film, has made headlines earlier this year with his James Baldwin documentary, "I Am Not Your Negro." Nominated for an Oscar that eventually went to Ezra Edelman's "O.J.: Made in America," that film was praised for its montage of the injustices of the present moment with those of Baldwin's time.
During the end credits of "The Young Karl Marx," Peck offers a similarly broad historical sweep, bringing the viewer from the 1848 revolution in Europe that has announced the rise of the working classes to an international movement that, in the twentieth century, diverged into multiple struggles for social rights, from the civil rights movement in the U.S. to the rise of feminism in Europe. To the tune of Bob Dylan's "Like a Rolling Stone," the end credits features a montage of news footage showing Che Guevara, John F. Kennedy, the Berlin Wall and Nelson Mandela. Even the Occupy Movement finds a place here, reminding us of the continuity of the vision of these two young radicals.