Organized from March 13-23 this year, the 13th Akbank Short Films Festival brought various ethnicities, cultures and philosophies together in Istanbul. Now, some selected films from the festival will hit the screens once again for a special summer program.
Set to be screened every Wednesday, Thursday and Saturday throughout July, 14 films have been selected under the category of "Shorts from the World," while 13 national films have been selected under the category of "Festival Shorts."
Here are some suggestions from both categories:
Zemheri (Coldest Time in Winter)
The film depicts the story of a woman with an extraordinary character who leaves her husband as a ghusl washer. With no kids, their unhappy marriage is portrayed in a striking way.
Ahır (The Barn)
An old crippled man, looking for his missing sheep, encounters the traumatic days of military service in southeastern Turkey. The old man is no longer a shepherd, but a young warier from his days of service.
Müzik, Lütfen! Br Indie Müzik yolculuğu (Music, Please! An Indie Music Journey)
"Music, Please!" was made with the decision of the leading role, who wanted to film his favorite indie music bands/musicians. There are interviews and performances of some of the most important music bands/musicians like She Past Away, Can Güngör, Nilipek, Yüzyüzeyken Konuşuruz, Yok Öyle Kararlı Şeyler and Biz.
The documentary tells the story of the leading character the musicians in the indie music world through their own narratives at the same time.
Batrachian's Ballad
Simultaneously strange and familiar, distant and near, disquieting and seductive, outsider and cosmopolitan, gypsies are shrouded in an aura of ambiguity. Like the gypsies, the frogs, made of china, don't go unnoticed to a careful observer. The film immerses itself in the reality of Portuguese everyday life, as a form of fabling about a xenophobic behavior.
Daughter of the Bride
Tirza lives in a dim and detached reality. When the day comes, she forces her out of herself and into her own image in the family portrait. A beauty attendant, she meets on her way, teaches her how to cover up and also shows her an intimacy that will bring her back there.
Ayny, My Second Eye
A cruel war has taken two brothers' home. Their mother protects them under her arms and fosters the seed of their new life. But the boys are busy chasing their dream to play a musical instrument.
Robeth
Beth is 31 and, since yesterday, she is single. She lives alone with an old cat that she found on her way and barely makes a living working at her sister's cafe. A robot at the same time,
Beth is in a seriously strange position.
Cemil Şov (Cemil Show)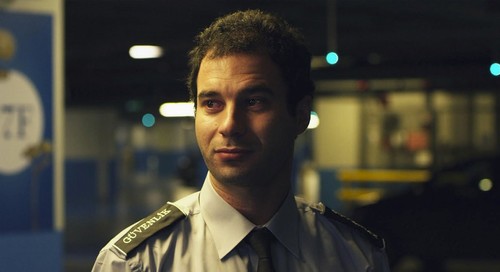 Cemil is a shy young man who works at a depot at the back of a shopping mall. When he is unable to become the "employee of the month" no matter how badly but he wants it, he rebels in a way that shocks everyone.
7 santimetre (7 centimeters)
Erdem is a high school boy. The principal warns him to cut his hair according to school rules. When his parents also pressure him for the same reasons he falls into hesitation because the girl he loves, Zeynep, likes his hair long.
Yumurta (The Egg)
As his father fails to send Ali a present for Teacher's Day, Ali steals a pigeon to give his teacher. The pigeon flies away on the way to school, far away from home. Ali is surprised to see that the pigeon has spawned in the box.
Our friend the moon
A disabled Hindu young man, Hadji, lives a humble life close to the river Ganges. After losing the little he has, he is accepted as a disciple by a strange spiritual leader of Russian origin. This alliance will lead them to some bizarre incidents that will have consequences in a synchronous pattern, in other parts of the West.
Good luck, Orlo!
A baby has died. Orlo, 7 years old, watches his parents being consumed with grief. In an attempt to make them happy and his family whole again, he does something unexpected.
The Alan Dimension


Alan Brown uses divine powers to foresee the fate of mankind, and sometimes his breakfast. Meanwhile, his wife Wendy has had enough of being married to 'the next step in cognitive evolution.'