The 7th Bodrum Turkish Film Week will take place soon between Sept. 18-24. The program for the 7th Bodrum Turkish Film Week has been announced. The festival is set in the magical Mediterranean atmosphere and brings Turkish movies to audiences in Turkey as well as Kos in Greece and the rest of the Mediterranean. The consultant this year is Elif Dağdeviren.
This year, movies that had good box office revenues in the 2016-2017 season will be presented at the Bodrum Turkish Film Week. The second-biggest blockbuster of 2016, the action movie "Kardeşim Benim" ("My Brother") directed and written by Alper Çağlar, the drama and war movie "Dağ II" ("Mountain II"), Müfit Can Saçıntı's third movie, "Yaşamak Güzel Şey" ("Living is Great") are some of the most attractive movies at the event.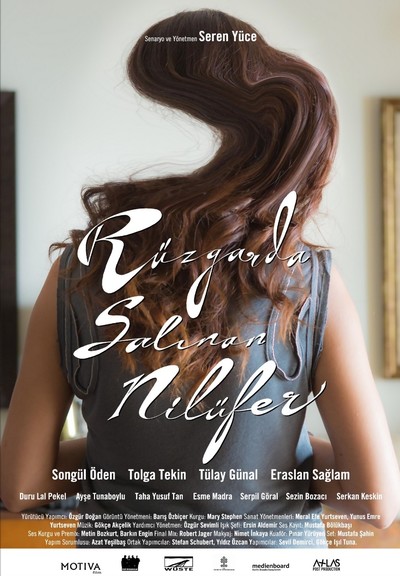 Directed and written by Seren Yüce, starring Tolga Tekin and Songül Öden "Rüzgarda Salınan Nilüfer," ("Swaying Waterlily"); directed and written by Selçuk Aydemir, featuring Ahmet Kural, Murat Cemcir and Rasim Öztekin, "Çalgı Çengi İkimiz" ("Dancers and Musicianst Duo"); co-directed by Can Ulkay and Mutlu Karadoğan, featuring Burç Kümbetlioğlu, Sılay Ünal, Cengiz Hayta Yusuf Ata Yılmaz, Kayhan Yıldızoğlu, Sema Çeyrekbaşı, Altan Erkekli and Ozan Ağaç, the war movie, "Sarıkamış Çocukları" ("Sarıkamış Children") are among other movies that will revive the event.
Movie fans will also be able to view "Görümce," ("Sister-in-law"), telling the story of a comic relationship between a bride and her sister-in-law also involving rivalry and conflict; Reha Erdem's "Koca Dünya," ("Big Big World"), which premiered at the Orrizonti (New Wave) section of the Venice Film Festival; "Sen Benim Herşeyimsin" ("You are my Everything") welcoming Tolga Örnek in the director's seat; "İstanbul Kırmızısı" ("Rosso Istanbul") that stars many famous figures such as Halit Ergenç, Tuba Büyüküstün, Nejat İşler, Mehmet Günsür, Zerrin Tekindor, Serra Yılmaz and Reha Özcan and directed by Ferzan Özpetek.
On Sept. 23, Friday, the SİSAY Award Ceremony will start the week at the enchanting and magical atmosphere of Bodrum Castle and the night will end with a special screening and a surprise movie star.
Turkish Movies in Kos
Just like last year, the Bodrum Turkish Movies Week will welcome Turkish movies, directors and actors, and actresses between Sept 19 and 23 on Kos Island in Greece, with a selection of films.
Shot in Serbia, Bosnia and Herzegovina, Croatia and Turkey, starring Ozan Güven, Meryem Uzerli, Belçim Bilgin, Okan Yalabık and Bora Akkaş, "Annemin Yarası" ("My Mother's Wound") tells the story of Bosnian Salih's search for his parents. Adapted to screen from the book by Mustafa Kutlu, one of the most renowned names in underground literature and featuring Kenan İmirzalıoğlu as the lead
ing man along with Tuğçe Kazaz, Ushan Çakır, Altan Erkekli, Güven Kıraç, Zafer Algöz and directed by Osman Sınav, "Uzun Hikaye" ("Long Story"); Çağan Irmak's "Unutursam Fısılda" ("Whisper if I Forget") starring Hümeyra, Işıl Yücesoy, Farah Zeynep Abdullah, Mehmet Günsür and Kerem Bursin, and "Meryem" starring Zeynep Çamcı, İsmail Hacıoğlu and Mustafa Uzunyılmaz are some of the other movies to consider at the event.
The program also features "Kırımlı" ("Crimean"), which was inspired by "Korkunç Yıllar" ("Terrible Years"), the 1956 novel by Cengiz Dağcı, starring Murat Yıldırım, Selma Ergeç, Bülent Alkış, Gülçin Santırcıoğlu and Burç Kümbetlioğlu; "Bana Masal Anlat" ("Tell me a Fairytale"), starring Fatih Arman, Hande Doğandemir, Devrim Yakut, Tarık Ünlüoğlu Cengiz Bozkurt, Erdal Tosun, and also "İkimize Bir Dünya" ("One World for Us"), "Sarıkamış Çocukları" ("Sarıkamış Children") and "Kardeşim Benim" ("My Brother").
Professionals Zone
The events will bring movie producers face-to-face with theater hall owners and will be organized on Sept. 23 and 24 this year. The "Professionals Zone," one of the musts of the Bodrum Turkish Film Week. It brings together theater hall operators, producers and directors and will also allow for distribution and production companies to present their latest movies. Powerful and talented producers and distribution companies are preparing to come together in Bodrum for the direct presentation of their movies to theater hall operators.
The festival is being put on with contributions from the Ministry of Culture and Tourism's General Directorate, the Bodrum Cinema and Culture Association, Cinemarine Cinemas, Theater Hall Investors Association (SİSAY) and the Magazine Journalists Association (MGD).