Focusing on the concept of home, this year's Thursday Cinema fall program includes 10 feature-length films, documentaries and fiction. Beginning with the Turkish premiere of Matt Tyrnauer's documentary "Citizen Jane: Battle for the City" (2017) last week, screenings will take place in the Auditorium at SALT Galata, every Thursday at 7 p.m. The program is free and reservations are not accepted.
The Kings of Summer (2013)
Directed by Jordan Vogt-Roberts, a humorous and original tale, "The Kings of Summer" (2013), narrates the story of three teenagers in their passage into adulthood. Through their decision to run away from home and build a summer house in the woods, Joe, Patrick, and Biaggio initiate what they believe to be the ultimate act of independence. Free from parental rule and the pressures of adolescence, what begins as a rebellious act of defiance and an idyllic summer escape, soon grants them each individual tests of friendship and the value of belonging to family - either their own or the ones they create.
When: Oct. 12
Fuocoammare (Fire at Sea) (2016)
Making headlines in the midst of the recent migration crisis, the Italian island of Lampedusa is a landing ground for African and Middle Eastern refugees with the hope of commencing a new life. Spending months living on the island and engaging with its inhabitants, director Gianfranco Rosi depicts the history, culture and daily life of Lampedusa while following 12-year-old Samuele as he explores the land and navigates the seas from afar.
A perceptive and poignant portrait of Lampedusa and the humanitarian crisis enveloping the island, "Fuocoammare" (Fire at Sea) (2016), was awarded the Golden Bear at the 66th Berlin Film Festival and nominated for Best Documentary at the 89th Academy Awards the same year.
When: Oct. 19
Room (2015)


Suspenseful and unexpectedly tender, "Room" (2015), directed by Lenny Abrahamson, explores the bounds of devotion preserved under the most harrowing of circumstances. Spirited, 5 year-old Jack is cared for by his mother, Ma, while they carry on with typical recreational activities of games and storytelling. In contrasting reality, they are trapped; their lives are confined to a windowless, 9-meter-square space they euphemistically refer to as "Room." Consumed in their universe, stopping at nothing to ensure that Jack is able to live a complete and fulfilling life, Ma finally plans for their escape after her resilience is torn by Jack's constant curiosity. What they soon face is a bigger reality: the real world.
Brie Larson was awarded Best Actress for her portrayal of Ma both at the 88th Academy Awards and 73rd Golden Globes.
When: Oct. 26
Grey Gardens (1975)
"Big" and "Little" Edith Bouvier Beale are mother and daughter, high-society drop outs and reclusive relatives of former first lady Jacqueline Kennedy Onassis. In their decaying and disorderly 28-room mansion in East Hampton, New York, the mother-daughter duo thrives in their eerily dilapidated echo of a wealthy overgrowth. Without the financial means for upkeep, they face the threat of eviction by the town council for their disregard and disconcert of standard maintenance; resorting to financial assistance from Jacqueline Kennedy Onassis herself. Directed by Ellen Hovde, Albert Maysles, David Maysles and Muffie Meyer, ultimately becoming a cult classic, "Grey Gardens" presents an intimate portrait of a magnificent estate and the exuberant characters that inhabited it.
When: Nov. 2
Kollektivet (The Commune) (2016)
Erik, university professor in Copenhagen in the 1970s, inherits his family's mansion located in the city's upper district. Along with their daughter Freja, Erik and his wife Anna settle into this home where they soon embark on establishing a commune. Initially, the house meetings and dinner parties with friends and invited guests fulfill the couple's desired, true communal life. However, the friendship, love and togetherness nurtured under one roof are soon threatened by a love affair that puts the commune to its greatest test.
Nominated for the Golden Bear at the 66th Berlin International Film Festival, Kollektivet, directed by Thomas Vinterberg, contains nudity and is only suitable for people aged 18 or older.
When: Nov. 9
Home Movie (2001)
From an automated Chicago home to a tree house in Hawaii and from a boathouse in Louisiana to an abandoned missile silo in Kansas, director Chris Smith's "Home Movie" (2001) interweaves the stories of five unique homes and their owners. Enabling thought into the place of the individual in society and the meaning of home, the documentary engages in the eccentricities of these characters by connecting their narratives through a mosaic of American ingenuity and architectural possibility.
When: Nov. 16
Aquarius (2016)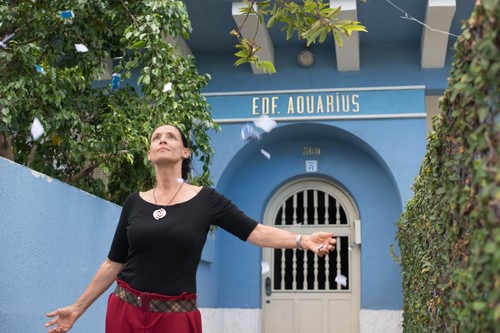 Clara is the last-standing occupant of Aquarius, a beach-side residency in the coastal city of Recife, Brazil. With the ongoing prevalence of urban transformation, the original 1940s estate faces plans of redevelopment to establish a new high-rise apartment. Refusing to leave her home, the 65-year-old widower resists plans by the construction company in order to protect the memory of her late husband, children, friends, and herself.
Nominated for the Palme d'Or and Queer Palm awards at the 69th Cannes Film Festival, Aquarius, directed by Kleber Mendonça Filho, contains nudity and is only suitable for people aged 18 or older.
When: Nov. 26