The Turkish media has recently been abuzz with news of world famous Indian actor, director and producer Aamir Khan's visit to the country. The Bollywood star was moved by the warm welcome given by his fans and admirers. Khan said that he would love to shoot a movie in Istanbul, which he described as "full of color and energy."
Regardless of his activist identity, Khan insisted that even though cinema is an art form that is very convenient for building a "social fabric," its primary role was to entertain people.
In an exclusive interview with Daily Sabah, Aamir Khan talked about what elements make Bollywood unique and how he thought that the Turkish and the Indian society shared similar emotional keys.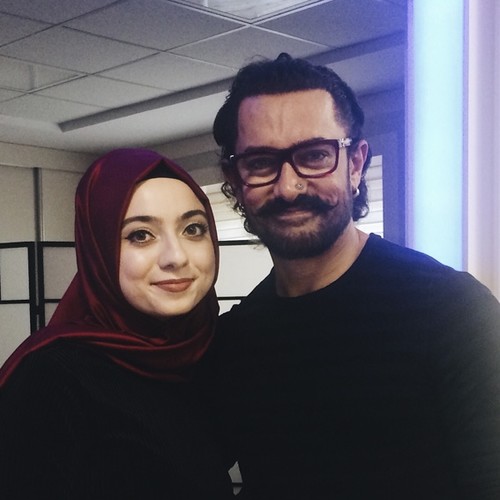 Şeyma Nazlı Gürbüz (L) interviewed Aamir Khan in Istanbul.
Şeyma Nazlı Gürbüz: Since you have come to Turkey, you have traveled and met various people, including the culture minister and the president. Would you consider shooting a film in Turkey in the future?
Aamir Khan: I would love to. I think if we come across with a script that requires being shot in Turkey then I would really love to do it here. I think Turkey has a lot of natural beauty. The city of Istanbul is full of color and has great energy. So, if there is a story that might ask for creative work here I would love to do so.
Ş.N.G.: What do you think makes Bollywood special compared to other cinema industries in the world?
Khan: Well, there are two qualities which I think defines Indian cinema. The first is hope. There is a lot of hope in our stories. In western films, I often see a lot of cynicism in the storytelling. But Indian cinema is full of hope. It brings you that larger than life feeling.
The other quality that is distinctive to Indian cinema is that most of our films are musicals. Music is a very important part of our storytelling. Music and poetry are very important.
Ş.N.G.: So, do you think that the resemblance between the Turkish community and the Indian society might be the main reasons why you are loved so much here?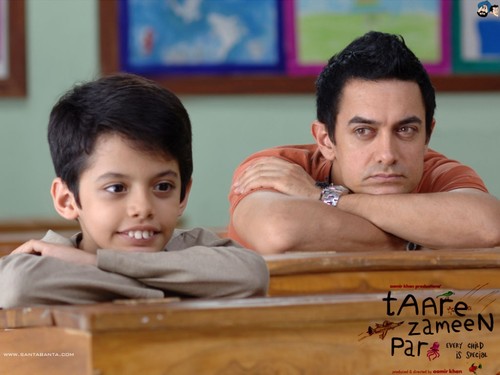 I think so. I have been in touch with Turkish fans for the last six or seven years, and after coming here I can understand that Turkish people's emotional key is very similar to that of people in India. That is what I feel.
Ş.N.G.: Which actor and director do you admire the most in Hollywood and Bollywood? Have you ever had a role model?
Well, I don't have a role model. But there are a lot of creative people whose work I admire. In Hollywood, I admire Leonardo di Caprio, Harrison Ford, Tom Hanks and Steven Spielberg's work. In Bollywood, Rajkumar Hirani is a director I've worked with before and I really like him as a person. Among the senior figure of Indian cinema, my favorite is Dilip Kumar. He used to work in the '50s. He is my favorite actor.
Ş.N.G.: Do you think cinema has a social responsibility other than entertainment?
It does. I feel that the primary responsibility of the cinema is to entertain. That is the fundamental responsibility. Because when a person comes to a cinema hall he or she wants to have a good time. If they wanted to listen to sociology they would go to a college. They are coming for a good time. So, the primary responsibility of cinema is to entertain.
However, I also feel that it can be a great platform to discuss ideas and provoke people to think in a particular way. It is the creative people who can build the social fabric of society. Through our stories, through our characters, we can inspire people. We can give hope, build values into children and people. Doctors can give you good health, police can keep law and order, the judiciary can give you justice but the film people or creative people in general - musicians, artists, poets - can bring grace to the society, they can affect our hearts.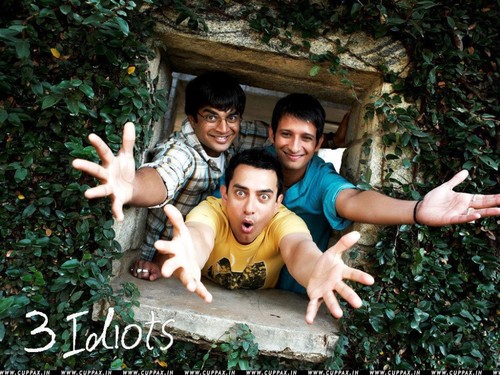 Ş.N.G.: What about your films? Do you think they have a certain message or a pattern?
Sometimes yes, they have a message. But there is no pattern. Because I don't decide beforehand that I want to give a message in my film. Sometimes they have a message and sometimes they don't. So, for example, the film I'm shooting at the moment, which is called
"Thugs of Hindostan," is an action-adventure film. It doesn't really have a message. It's based on any particular issue. Or films like "Ghajini," it is a revenge drama. There is no real issue in the film. Or a film that I produced called "Delhi Belly." It's just a fun film, there is no issue in it.
Ş.N.G.: What about the characters you have played? Which one do you feel has come closest to resembling your actual character?
Well, there are two characters that resemble me: one is a character from the movie "3 Idiots," Rancho, and the other character is Nikumbhu from "Tare Zameen Par." These two characters, I feel, have come the closest to resembling me. They reflect a lot of my real-life characteristics.
Ş.N.G.: Once you said in an interview that you were focusing on the process of filmmaking rather than the actual result of it. What did you mean by that?
Yes. What I meant is that for everyone, of course, the result is important. But for me, the process of making the film is more important because it takes one or two years to make a film. So, I'm living that particular film for two years. That is why I want the process to be joyful, a learning experience, and to be something that enriches me. So, the process of making a film is as important as the end product.
Ş.N.G.: So, do you have any regrets when you look back at the end results?
Not really. Because there have been times that I was unhappy working on a film. There have been times that I was disappointed. There have been times when I had not had a good experience or times when I did things I'm not proud of. But they have all been a learning experience. They taught me the most. So, I don't regret them. Because whoever I am today is not just the result of my successes but also my failures. My failures have taught me the most.
Ş.N.G.: Your new movie is about a 14-year-old girl who wants to be a singer. My sister is also 14 and she wants to be an actress. Before coming here, she wanted me to ask you what you would recommend she and other young people like her do to become a successful artist.
For people who want to join the creative field, it can be a wonderful experience. It can be a profession which is very satisfying and very fulfilling. You gather experience and learn a lot of things. When you are playing a character, you do research. You try to understand many things. It's about people's lives so you connect with people.
If she wants to act than she should prepare herself as an actor. She should go to an acting school. But I feel that is not enough. Because creative people like us need to be skilled in their own art forms. But we also need a lot of inputs before giving outputs.
So, to prepare herself as an actor I think she should have some basic understanding of other areas such as psychology, sociology, history, anthropology, mythology, music, art, painting. Of course, I'm assuming that you have that talent. I'm assuming that you work hard. I'm assuming that you will train yourself.
Ş.N.G.: How do you like to spend your time outside acting?
I like to read a lot.
Ş.N.G.: Have you bought any books from turkey?No, I haven't bought any books but I was given some books which I'm looking forward to reading and there are a couple of movies that I'd like to watch. One is a movie on Atatürk, I think it is his life history. There are also movies by Semih Kaplanoğlu that I want to watch. I've already read a book that is called "İnce Memed." I really liked it.
Ş.N.G.: Lastly, how would you describe yourself in four words?
The four words that I would like to use are that I'm curious, I have a curious mind, I'm sensitive, I'm strong and I'm naughty!