Istanbul Modern Cinema's sixth edition of its "Count Us In!" program brings new movies from Turkey together for a festival with the attendance of directors and actors. Eleven movies, including "Kaygı" (Inflame), "Kırık Kalpler Bankası" (The Bank of Broken Hearts), "Koca Dünya" (Big Big World) and "Genco," will be presented starting today until Nov.16.
Veteran directors with their new films
Yeşim Ustaoğlu's "Tereddüt" (Clair Obscur), which won the Best Director Award and the Best Actress Award at the Istanbul Film Festival last April, and "Big Big World," the ninth film by Reha Erdem, who is one of the auteurs of Turkish cinema, will be shown during the program. One of the innovative films featured in the program is the first Kurdish superhero film "Genco" that won the Best Film Award at the Ankara Film Festival, directed by Ali Kemal Çınar with a very small budget in Diyarbakır.
Benim Varoş Hikayem (My Suburban Stories), 2017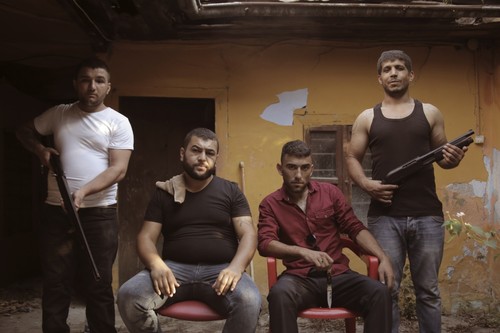 Inspired by friends from his own neighborhood and making the film in their memory, director Yunus Ozan Korkut brings real people who live in the neighborhood in front of the camera. Çulluk Yusuf, Rokko and His Gang, Keleş, Kaçakçı and Afilli are some of the unusual characters in "My Suburban Stories." Dark tales, cursing, poverty and impossibility are shown in their simplest and truest form in this film of the lives of neighborhood residents, each of whom is more unique than the other.
Blue, 2017
The Blue Blues Band, a legendary group of the 1990s rock scene in Turkey, and the story of its two musicians, Yavuz Çetin and Kerim Çaplı, is immortalized in the documentary "Blue." Batu Mutlugil and Sunay Özgür, the other members of Blue Blues Band, as well as Çetin and Çaplı's close friends and family bring light to both the process of the band's creation and the two musicians' struggles in life and their tragic ends, making for an intriguing biographical documentary.
Genco, 2017
Ali Kemal Çınar, known as a "one-man giant crew," as he writes, directs and stars in his films, brings the story of a Kurdish superhero this time. At the age of five, Kemal is given limited superpowers by someone from another world so he opens doors for people who are locked out and repairs flat tires, but his dream is to save the world. He introduces himself as Genco to hide his identity and wears a purple costume. His friend Salih asks his help for his sister, but when Genco's powers are inadequate, as they are in many cases, he and Salih begin to work together on developing his powers. One evening, things get complicated when the person from another world comes back to increase Genco's powers, but gives the powers to the building's doorman by mistake.
Göçebe (Nomad), 2017
In a world where human life is coming to an end, a merchant father and his son set out on a journey across harsh and cruel terrain using an ancient map, trying to reach a community that exists in the green promised lands. But this community does not accept just anyone who comes along and gives them challenges to pass. These tests, which the father and son are also subjected to, will either provide them with the home they had been dreaming of or bring their end. A story about the struggle for a utopian life in a dystopian world, Emir Mavitan's film is also notable for its fantastic cinematography.
Kaygı (Inflame), 2016
"Inflame" is a first feature that tells the story of Hasret, a video editor at a TV station who confronts the death of her parents who died 20 years ago. Since Hasret is in her 30s and can no longer stand the censorship that the news channel where she works keeps increasing by the day, she resigns and finds herself caught between reality and hallucination in her old apartment, which is trapped in the middle of urban transformation. Hasret has the same nightmare every night and is overtaken by the feeling that her musician parents might not have died in a traffic accident, but in a more horrific way. Nominated for the Best First Feature Award at the Berlinale, Ceylan Özgün Özçelik's film blends psychological drama with suspense.
Kedi (Cat), 2016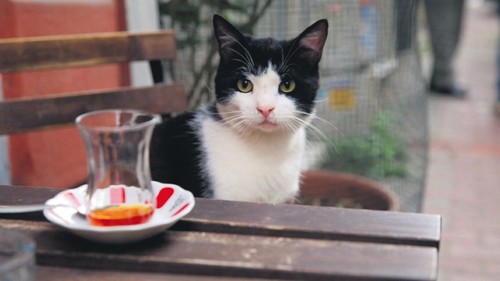 "Cat" is an unusual documentary about Istanbul, and it is director Ceyda Torun's first feature-length documentary. Offering a different perspective on the city through the eyes of cats living in districts of the city such as Galata, Cihangir, Feriköy, and Kuzguncuk, this heart warming documentary stars cats named Sarı (Yellow), Duman (Smoke), Bengü, Aslan Parçası (Little Lion), Gamsız (Happy-Go-Lucky), Psikopat (Psychopath) and Deniz (Sea). Adding color to the neighborhood where they live and to the lives of the shopkeepers and people who take care of them, these cats, each unique, take viewers on a pleasant journey through the streets of Istanbul.
Kırık Kalpler Bankası (The Bank of Broken Hearts) 2017
Osman and Enis, who are nearing their 30s, play on an amateur football team in Istanbul that is struggling to stay in the league, and they plan to rob a bank in the district with their teammates. However, as they are playing their last game, a big fight breaks out and the game is left unfinished. In the meantime, Osman falls in love with Aslım, who is under the constant watch by Rüstem, the captain of the opposing team and an organ trafficker. As time goes by, things get even more complicated and Osman's love for Aslım grows stronger. Inspired by Shakespeare's "Romeo and Juliet," the film tells the tragicomic stories of people who chase hopeless dreams.
Koca Dünya (Big Big World), 2016
Ali and Zuhal grew up in an orphanage believing that they are brother and sister. When they get out of the orphanage, Ali starts working as a motorcycle mechanic. Zuhal is adopted by a family who abuses her. The two youngsters, who never wanted to be separated, have now fallen into the big world where conditions prevent them from coming together and where they feel they will never belong. They resort to escaping to a forest where they would be protected from all adversities and start a life from scratch in a completely different world far away from civilization. Telling a touching coming-of-age story, the film by Reha Erdem won the Special Jury Prize at the 73rd Venice Film Festival.
Körfez (The Gulf), 2017
Emre Yeksan, who previously produced films such as "Do Not Forget Me Istanbul" and "Come to My Voice," now directed this his first feature film "The Gulf." Leaving behind a bitter divorce and career gone wrong, Selim returns to his hometown of İzmir where he faces traces of his former life, including his family, schoolmates and ex-girlfriend. As an awful smell spreading throughout the city following a ship accident in the gulf causes its residents to flee, Selim begins to find the possibilities of a new life here.
Taş (Stone), 2017
"Stone" is the latest film by Orhan Eskiköy, whose films have won many awards at festivals in recent years, including "On the Way to School" and "Voice of my Father." Ekber finds a young man lying unconscious on their doorstep and takes him in. His wife Emete, who does not get along well with her husband, is convinced that the man on their door is Hasan, their son who was lost many years ago and cannot bear anyone to doubt it. After lying unconscious in their home for a long while, the man introduces himself as Selim after waking up. At the same time, a man who wanders around the village and introduces himself as Memur (Officer) is after Selim and threatens that if they do not hand Selim over to him, he will take away all the stones, which have a special meaning for everyone in the village.
Tereddüt (Clair Obscure), 2016
Şehnaz is a psychiatrist who does not face the facts in her personal life, and Elmas is a young girl who was forced to marry at an early age. Although they live very different lives, the problems they have to deal with are fundamentally similar. The lives of these two women cross when Elmas has a traumatic experience and then a long and challenging reckoning begins. According to veteran director Yeşim Ustaoğlu, "Clair Obscur," which questions "states of womanhood, the male-female relationship and the responsibilities and neglects of the family as an institution," debates "the problems a trauma victim might experience during both the psychological and judicial processes."