Nevres Abu Salih, the director of "Oversized Coat," a film on the resistance in Syria, came to Mardin province upon invitation. Talking about his film, Salih mentioned the difficulties he had to go through during the film shooting.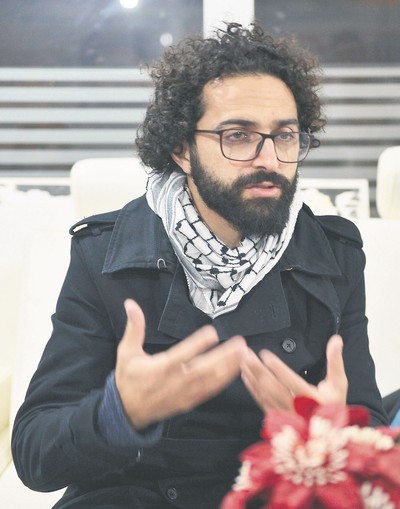 He told journalists that he had to shoot the film in a village in Jordan because of prohibitions. Explaining that they came across many prohibitions even in Jordan, Salih said: "The film is liked around the world, showing how important Palestine is. I believe it is a good film."
About the film he is planning to make about July 15 and Gaza, Salih said that he wants to shoot it in Mardin because of its similarities to Jerusalem. He said that he wants to make the connection between Muslims in Turkey and Jerusalem, reflecting what happened in Jerusalem and July 15, the night of coup attempt in Turkey.
"My biggest dream is to adapt the freedom of Jerusalem into a film, that is, to make a film when Palestine and Jerusalem are emancipated. I want to show what freedom is to people," he added .
Jerusalem, world capital
Mentioning the importance of Jerusalem, Salih added: "Jerusalem is the capital of not only of Palestine, but also the world. The decision of U.S. President Donald Trump might also cause unrest in the U.S."
Noting the President Recep Tayyip Erdoğan's stance made Palestinians happy, Salih said: "We saw the Turkish people's support for Palestinians when Israel attacked the Mavi Marmara. We have also seen the attitude of President Erdoğan on this last event. He quickly called Islamic countries and said that he would break diplomatic connections with Israel if needed."