Shirin Neshat has been making video art since the 1990s and has come to present a certain aesthetic of black and white starkness with veiled and non-veiled women looking defiantly at the camera. She has now returned to the feature film format after her award-winning "Women Without Men" (2009) about the Iranian revolution.
This time, Neshat has found inspiration a bit further afield, but not that far. "Looking for Oum Kulthum" is about an Iranian-American female film director who is trying to make a film about Umm Kulthum, the legendary Egyptian singer. Naturally then, the film is about women's place in the art world in Egypt up to the 1970s (Umm Kulthum fortunately lived through many decades) and contemporary LA.
The film starts with the camera following a well-proportioned woman in bright a green evening dress going up the stairs in a mansion. The camera's eye turns out to be that of director Mitra whose story of filming a biopic of Umm Kulthum we are watching. Mitra is played by Neda Rahmanian, whose beautifully sculpted face neither the camera nor the audience tires of. Mitra is the stand-in for Neshat in the film, but physically she is a very different presence with her short hair and androgynous looks, compared to Neshat's petite frame and soft voice. When Umm Kulthum reaches her bedroom in the opening sequence, a girl with long braided hair comes in from the balcony and looks at Umm Kulthum, and when these three characters exchange glances, we understand that the girl is the childhood of Umm Kulthum. This scene establishes the aesthetics of looking in the film, the director looking at her subject, the subject looking at her past and the audience looking at this dance of looking on the screen.
Mitra, having clearly found a way into the spirit of the character she wants to film, follows the girl out through the balcony and is transported to a black and white Arabia where the child Umm Kulthum is made to dress up as a boy to sing to the village crowd. From this first scene, Mitra, like the audience, listens, mesmerized, to the singing voice of Umm Kulthum. Neshat wants the audience to understand the awe with which Mitra, and possibly herself, holds the renowned Egyptian singer. This opening scene, shot without any dialogue is the most incisive and beautiful in the film, and attests to the visual artistry of Neshat. Mitra enters Umm Kulthum's world the way Mitra envisions it, and once she is there, is humbled by this other female artist's brilliance. All this happens through Mitra's motions and gestures without Mitra having to voice her respect or voice her doubts about whether she can pull the project off in a film world dominated by men, producing a film about an Egyptian icon as an Iranian. All this, already conveyed by this scene, is unfortunately articulated by various characters and herself in the overly expository script later in the film. Still, due to Neshat's visual finesse, her play with colors, dark and shade, the film never loses its grip on the audience.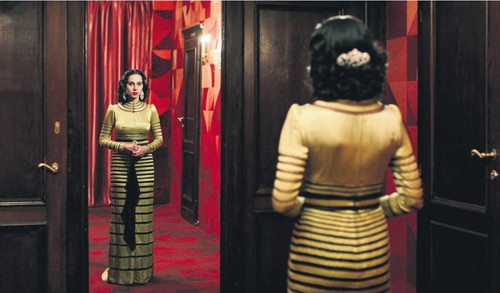 Mitra is a director who is trying to understand what makes her character tick, but as the film progresses and she herself faces personal problems, she becomes equally interested in what stops her character or indeed female artists from ticking. We understand that Mitra, who works in LA, has a son in Iran whom she more or less seems to have abandoned to pursue her art. Neshat pushes the drama too far by having the son send Mitra texts telling her he hates her, and rather than deal with this dilemma she faces on her own and give the audience space to reflect, she actually speaks to others around her about how she has had to make an awful choice. Mitra protests too much for us to actually share in her drama. When her son goes missing, she stops ticking herself, abandoning the project, and when she returns to the set, she inserts a scene in which Umm Kulthum loses her voice, a scene which some of her Egyptian crew find too much to stomach, and we have the problematic actor come and say to her, "How can you presume to shoot a film about Umm Kulthum as an Iranian?" diluting the strong message of the film by having someone actually say it.
There are the usual scenes with Mitra trying to persuade the producers that her ideas will work, and we get glimpses of the film she is shooting. One scene depicts a women's march for suffrage, women with full long white face veils and abayas marching, while Umm Kulthum watches from the sidelines. Some women stand on a platform and then lift their veils - a scene inspired by Huda Sharawi's momentous unveiling of 1923. It is now the young Umm Kulthum's turn to feel awe, as she is taken away from the scene by the men who have been running her career since she was a child. It is again this scene without dialogue that conveys the sense of women inspiring women, women discovering their intersectionality, crossing class, professional and national borders.
The other border the film crosses constantly is that of language. Mitra has several Iranians in her film crew with whom she speaks Persian, her actors are naturally Arabic speaking, and the common language of the set is English. This is sadly a very familiar language dynamic that leaves Arabs and Iranians at a disadvantage when they try to understand one another through a third, and not disinterested, language.
The proverbial language that crosses all boundaries, of course, is the music of Umm Kulthum, and we get a fair bit of it in the film as Neshat transports us to music halls in Cairo, with their own special assortment of races, classes and sartorial styles. Neshat does a very good job of creating this atmosphere in fragments, as is her own artistic style, but "Looking for Oum Kulthum" leaves the audience wanting to see the whole film that Mitra keeps editing to an unsellable form. Just as Mitra is interested in real and imagined failures of Umm Kulthum, Neshat is interested in Mitra's impulse to keep changing the finished film to a style that will either alienate the audience or that will be deemed too "arty" to be shown in your local cinema. We are lucky that Neshat was able to stop her own "creative" urges at one point and that we are offered this film, albeit in limited release, and have the joy of spending this hour and a half in pursuit of one of the most powerful voices of all time.