Pera Film salutes women in sports with their film program that will run until April 28. The selection includes a range of splendid, inspiring and admirable stories of female athletes. "Gold Medal: Women in Sports," which includes a variety of movies from nonfiction to documentaries, will present "Personal Best," reflecting the intense and nervous environment at the 1980 Olympic Trials; "Venus and Serena," the true story of the tennis player sisters; "Sarah Prefers to Run," displaying the anxieties of a young athlete who only lives for the competition; and "New Generation Queens," focusing on a determined women football team in Zanzibar.
Other movies of the selection are "Perfect," following the Canadian synchronized swimming team Beyond Beauty; "Girl Unbound," a portrait of Maria Toorpakai, who defied all the threats to her and her family and represented her country, Pakistan in international squash competitions; "Blood Road," accompanying an ultra-endurance athlete, Rebecca Rush and her pedaling partner, Huyen Nguyen in the tough, 1.200-mile Ho Chi Minh trail; "The Longest Race," exploring how women in the Iten region of Kenya, the home of numerous best long-distance runners in the world, transformed the socio-economical structure of the region they live in through sports. These stories that mesmerize viewers push the limits while challenging biases and prejudices. As Billie Jean King says, "Champions keep playing until they get it right."
Personal Best
The debut movie of Robert Towne, who won an Oscar for "Chinatown," celebrates athletes whose lives are all shaped by sports and who take each step with passion. Mariel Hemingway starts as a hurdler with a bright future who finds the emotional and athletic support in a caring mentor. When they fall in love, the relationship of the couple who are both struggling for a sport in the American Olympic team gets extremely shaky. With the insights it proposes on human nature, "Personal Best" also appeals to circles that are not from the world of sports. Some international athletes such as Olympians Donnelly, Jodi Anderson and Kenny Moore also prove that they are as good as they are on the tracks on the set as well.
Siirt'in Sırrı ("Know My Name")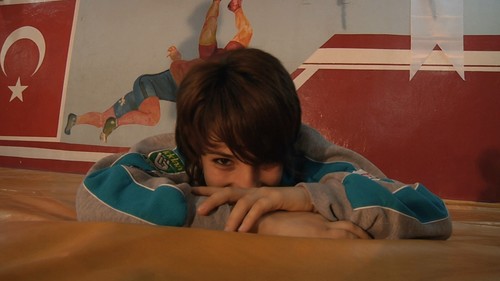 Evin Demirhan, 15, from Turkey's Siirt province, is a wrestler who became the European Champion in 2010, yet is unknown in her hometown. The movie examines the year 2011 in Demirhan's life and brings the difficulties of performing this sport in a highly conservative region as Siirt and also her teammates, tournaments, brothers who did not allow her to follow her passion, ambitious coaches, long camps, tiring practices on the screen. "Know My Name" is the story of a woman who tries to do the impossible.
Venus and Serena
Ever since sisters Venus and Serena Williams started attending tennis tournaments, they have caused strong reactions, from admiration and awe to suspicion and resentment. They have continued to win tennis competitions for more than a decade and are striving to push the limits of longevity in such a demanding sport. "Venus and Serena" follows the sisters in the most intimidating and demanding year of their lives offering a unique look at their lives. Throughout 2011, while Venus was struggling with an autoimmune disease sapping her energy, Serena was battling to make a comeback after a life-threatening pulmonary embolism. Yet neither Venus nor Serena gave up despite such problems while supporting and protecting each other.
Sarah Prefers to Run
Sarah is a young and talented middle-distance runner and with an invitation to the best university athlete's program of Quebec her life completely changes as she has to move to Montreal, which is so far away from Quebec's suburban life. Her mother never offers any financial support or any other type of support for Sarah to move as she believes that the move will adversely affect Sarah's health and life. But Sarah is stubborn and moves to Montreal with her friend, Antonie. While they are in the early 20s, they get married to obtain the best scholarships and grants. However, marriage turns out to be so much different than these two naive 20-somethings expect. While Sarah does not want to hurt anyone as a result of her choices, she loves running more than anything else.
New Generation Queens: A Zanzibar Soccer Story
"New Generation Queens" is the story of a women football team in Zanzibar. As religion prohibits women from playing football, just the existence of Queens creates a resistance against these cultural norms and complicates assumptions regarding religion and sexual identity. When they qualify for a tournament at the Tanzanian mainland, they get the chance to compete with the rough players of the Tanzanian national team. While they have to return home after losing the first three games, the Queens are determined to share their stories with others and prove to women that they can be both be Muslim and athletes at the same time.
Perfect
"Perfect" follows the Canadian synchronized swimming team Beyond Beauty while telling how important stamina is for being an Olympic athlete. The documentary offering unprecedented access to both the team and their coaches depicts the struggle of these determined, strong and hardworking women for attending the Olympics. From Montreal to Bratislava, Kazan and Puerto Rico, these women battling eating disorders, dislocated knees and losses, never give up and more importantly, they never stop smiling.
Girl Unbound
Maria Toorpakai, living in the Waziristan region in Pakistan, with the help of her progressive father, Shamsul disguises herself as a boy denying the Taliban's strict rule banning women from sports and enters squash tournaments. But when she turns out to be a rising star, her sex is revealed and when the threats toward her and her family continue persistently, she is forced to leave her home and homeland. While accompanying Maria on her journey of representing Pakistan in the national team, in "Girl Unbound" we also witness how a girl shapes and protects her identity while standing on her feet with the help of a loving family.
Blood Road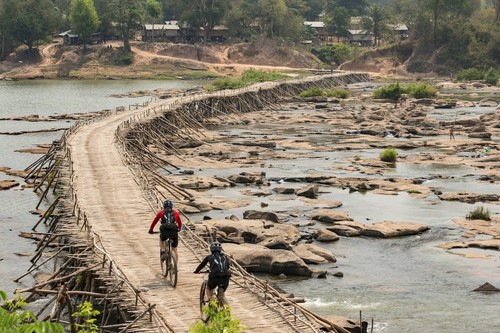 "Blood Road" follows the 1,200-mile journey of ultra-endurance athlete and mountain biker Rebecca Rush and her pedal-buddy Vietnamese Huyen Nguyen on the challenging Ho Chi Mihn trail among the jungles of Vietnam, Laos and Cambodia. Their target is to discover the location of the crashed plane belonging to Rebecca's U.S. Air Force pilot father show while flying above Laos 40 years ago. Both women push the limits of their bodies on the road and discover how the Vietnam War shaped the culture on this Blood Road while also exploring the limits of their identities.
01:05:12. The Longest Race
The victory of Kenyan and Ethiopian women athletes transform the socio-economic infrastructure of both countries where chauvinism reigns, one step at a time. The roles are reverse on this marathon toward gender equality and while the men take care of the house, the women are the breadwinners. "01:15:12 The Longest Race" is the final piece of the Marathon to Social Gender Equality project. Hairdresser Nancy Chepkoge, super champion Florence Kiplagat, teacher Nelly Ruto, role model and former champion Lornah Kiplagat, brilliant Sylvia Kibet, hardworking Caroline Chepkwony and veteran Agnes Kiprop star in this movie as the main actresses from Kenya, while the first black African woman to win gold medal at the Olympics, Derartu Tulu, the tireless Aberu Kebede and Feyse Tadese, who is very shy despite being a real professional, are the stars from Ethiopia in the movie.