Big name directors like Spike Lee and Jean-Luc Goddard will compete with a slew of up-and-coming filmmakers at this year's Cannes Film Festival, organizers said Thursday as they unveiled the first names in this year's competitive lineup.
"You will see a great renewal of a generation ... along with people you have not heard about," Thierry Fremaux, the artist director of the world's top film festival, told a press conference unveiling the movies in the race for Cannes' coveted Palme d'Or for best picture.
From an African-American detective infiltrating the Ku Klux Klan to Iranian director Asghar Farhadi's new film starring Penelope Cruz and Javier Bardem, here are some movies that will battle it out for the top Palme d'Or prize at next month's Cannes film festival:
EVERBODY KNOWS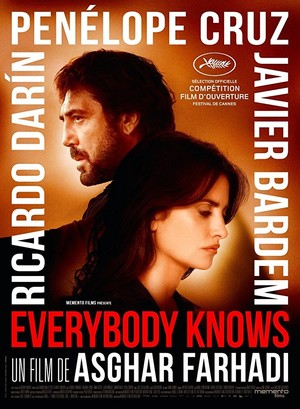 Iranian master Asghar Farhadi will kick off the festival with a psychological thriller about a family reunion going awry, featuring Spanish stars Penelope Cruz and Javier Bardem.While Farhadi, 45, won an Oscar and the Golden Bear at Berlin for his 2011 breakthrough film, "A Separation," he is yet to take home the coveted French prize.
BLACKKKLANSMAN
U.S. director and activist Spike Lee's drama is based on the real-life story of an African-American police officer who infiltrated the Ku Klux Klan in 1978. John David Washington plays him with Adam Driver as his Jewish police partner. "BlacKkKlansman" will open in the U.S. on the first anniversary of a white supremacist march in Charlottesville where an anti-racism activist was killed.
UNDER THE SILVER LAKE
Four years after giving Cannes audiences nightmares with his thriller "It Follows," David Robert Mitchell returns with another spine-chiller, this time about the mysterious murder of a billionaire.
THREE FACES
Little is known about this portrait of three women by the Iranian dissident Jafar Panahi, who is banned from travel by Tehran. The festival has pleaded with the authorities to let the director, who has faced years of harassment and arrest, to fly to Cannes to show his film.
LETO
Russian director Kirill Serebrennikov's film focuses on Soviet rock star Viktor Tsoi and the birth of Russian underground music in the 1980s.
AT WAR
As France grapples with mass strikes, French director Stephane Brize's gritty drama about factory workers battling to keep their jobs may hit a timely nerve.
DOGMAN
Italian director Matteo Garrone's new work is not for the faint-hearted. Dubbed an "urban Western," the film is inspired by the gruesome murder by dog groomer and cocaine addict Pietro De Negri in the late 1980s.
COLD WAR
Amazon Studios is pinning its hopes on this period romance from Oscar-winning Polish-British director Pawel Pawlikowski set in Eastern Europe in the 1950s.
LE LIVRE D'IMAGE
Little has been revealed about this new film by French-Swiss legend Jean-Luc Godard other than this enigmatic synopsis: "Nothing but silence, nothing but a revolutionary song, a story in five chapters like the five fingers of a hand."
CAPERNAUM
Lebanese actress-turned-filmmaker Nadine Labaki's third film is set in a Middle Eastern town. Her previous film "Where Do We Go Now?" premiered at Cannes in the Un Certain Regard section in 2010.
BURNING
South Korean auteur Lee Chang-dong's new mystery drama is drawn from a short story by Japanese master Haruki Murakami, "Barn Burning."
ASH IS PUREST WHITE
Chinese director Jia Zhangke's new film is a story of "violent love" between a mobster and a dancer starring Zhao Tao and Liao Fan. It is a follow-up to Zhangke's "Mountains May Depart," which competed for the Palme d'Or in 2015.
ASAKO 1 & 2
In this Japanese drama by Ryusuke Hamaguchi, a young woman meets her first love in Osaka. When he disappears without a trace, she moves on - until his perfect double shows up two years later.
YOMEDDINE
A Coptic leper and his orphaned apprentice leave the confines of their colony for the first time and take on a journey across Egypt to search for what is left of their families.
LAZZARO FELICE
Rising star Italian director Alice Rohrwacher, already a prize winner at Cannes, is back with a time-traveling story which takes place in the fascist 1930s.