Istanbul Research Institute brings beach scenes in Yeşilçam movies to audiences under the ongoing exhibition "Istanbul Seaside Leisure: Nostalgia from Sea Baths to the Beach."
The selection offers interesting insight into Istanbul's beaches and beach culture between 1951 and 1967, and takes audiences on a nostalgic journey of the Yeşilçam period in Turkish cinema.
The exhibition, which on display till Aug 26., is a collaboration of Istanbul Research Institute and Pera Museum and offers glimpses of the beaches from that time period. Istanbul Research Institute has transformed its gallery into a viewing room for this exhibition, and takes visitors on a nostalgic journey through these Yeşilçam movies.
The selection features the works of unforgettable directors of Turkish cinema such as Esat Özgül, Şadan Kamil, Metin Erksan, Osman F. Seden, and Ömer Lütfi Akad.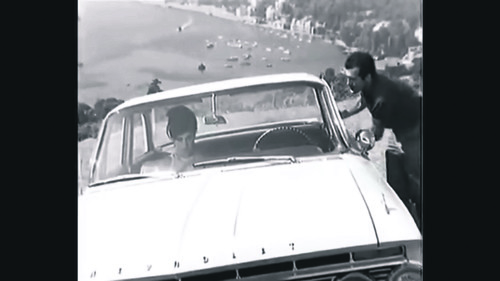 Image from the film "Affetmeyen Kadın."
It also showcases the work of master actors such as İsmail Dümbüllü, Münir Özkul, Neriman Köksal, Zeki Müren, Sadri Alışık, Çolpan İlhan, Eşref Kolçak, Belgin Doruk, Muhterem Nur, Öztürk Serengil and Gazanfer Özcan together.
The film selection brings scenes from thirteen movies; Ne Sihirdir Ne Keramet (1951), Edi ile Büdü Tiyatrocu (1952),Cingöz Recai (1954), Gurbet (1959), Yalnızlar Rıhtımı (1959), Gece Kuşu(1960), Biz İnsan Değilmiyiz? (1961), Affetmeyen Kadın (1964), Kırk Küçük Anne (1964), Plajda Sevişelim (1964), Taçsız Kral (1965), Yasak Sokaklar(1965), Kara Duvaklı Gelin (1967).
Special show on 10th anniversary
Istanbul Research Institute is celebrating its 10th anniversary with this exhibition, which taps into the Institute's own film collections along with the contributions of various private and corporate collections. The screenings, which are showing at both Pera Museum and Istanbul Research Institute, reveal social structures which emerge when the sea is part of urban life hence creating a beach culture, while also touching on how public activities and utilization of free time changed from the 19th century into the 20th century.
Curated by historian, author and scholar Prof. Zafer Toprak, the exhibition brings original materials such as photographs, magazines, cartoons and books to the audience. The institute's exhibition halls are converted into a reading room where a selection of beach scenes from Yeşilçam movies and publications about the beach are brought together.
The selection of movie clips and the reading room that accompany the main exhibition at Pera Museum can also be visited free of charge every day except Sundays between 10:00 a.m and 7:00 p.m at Istanbul Research Institute in Beyoğlu district.