As the winner of national and international awards for his short documentaries shot in the eastern and southeastern Anatolian regions, Mustafa Uluç, originally from Mardin province, seeks to convey the poignant stories of Anatolia to the wider world.
Mustafa Uluç decided to become a director after being influenced by films he watched with his friends as a young boy. After finishing high school, he enrolled in the Department of Radio, Television and Cinema in Erciyes University's Communication Department.
His friends and he combined their scholarships for funding to shoot short movies that told the stories of brides who came from Syria and married in Mardin and Cizre. Uluç's first film, the documentary "Brides beyond the Border," was later featured in various national festivals. Later also shown in Germany, France and Poland, the documentary was presented a special award at the 2013 TRT Documentary Film Competition.
Uluç, encouraged by the award, went on to portray the unique culture of Anatolia through narratives that were often overlooked and unnoticed.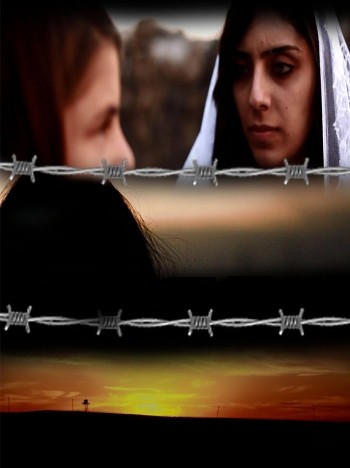 The poster of the film "Brides Beyond the Border."
Among his films, Uluç featured Batman villagers who live in a cave in his "Lat" documentary; Şanlıurfa's children who carry bags in local markets in "Bargıran"; and Syrian families who stayed in tents in Şanlıurfa's Harran district in "Yurtsuz Melekler" ("Homeless Angels").
Uluç established a film workshop with the support of Harran University's Radio and Television Programming Department and gives lectures to curious students about cinema, while also shooting short movies with them. He also attends a variety of festivals throughout the year.
Uluç's goal is to have the stories in Anatolia featured in full-length movies.
Perseverance despite obstacles
​
Speaking to Anadolu Agency (AA), Uluç said he worked even harder after the positive reviews of his first movie but emphasized the difficulties of filming documentaries. "You touch on personal drama and intimate subjects when you shoot movies. First, you have to convince the parents. It's hard to explain. When they start trusting the crew, it's easier. But the most difficult part after you decide to shoot a documentary is preparing a budget for it," Uluç said.
Struggles turn into success
Uluç noted that the attention they received abroad motivated them even further."We focus on issues that are usually overlooked but present in society. We tried to tell the stories of children who carry bags in neighborhood markets; people who live in caves in Batman; Syrians fleeing from the war. These are apparent issues many people are unaware of. We're trying to stay away from the fancy, imaginary worlds in TV series. Thus, we try to focus on social issues. We have received over 15 awards so far. We have had numerous screenings abroad," noted Uluç.
Cultural values in feature films
Uluç stressed that shooting a feature-length movie is his biggest dream; however, he does not want to focus on Western commercialism in the process or final product. "Most movies we watch in Turkey imitate Western cultural values. In other words, they are movies consumed as they are watched. My goal is to produce a feature-length movie that deals with our cultural values," added Uluç. He said he admires modern figures in Turkish cinema, like directors Nuri Bilge Ceylan, Derviş Zaim and Yılmaz Erdoğan. He also noted that one of his biggest dreams is to sit down and talk about his movies with a master director, like Erdoğan. Uluç further expressed that the short movie sector in Turkey has yet to reach a wide audience with films not being shown on TV but primarily limited to festival goers.
"In order for the short film industry to survive and take further steps, it is necessary to establish its own economic cycle and reach the public. We create this cycle by winning awards from festivals, though some successful directors still face difficulties. Local producers should definitely focus on promoting the sector," added Uluç.