Starring Theo James, Ben Kingsley and Belçim Bilgin, "Backstabbing for Beginners" debuted on Sept. 7. Based on the true memoirs of Michael Soussan, a United Nations representative, the movie sheds light on the dark side of his diplomacy.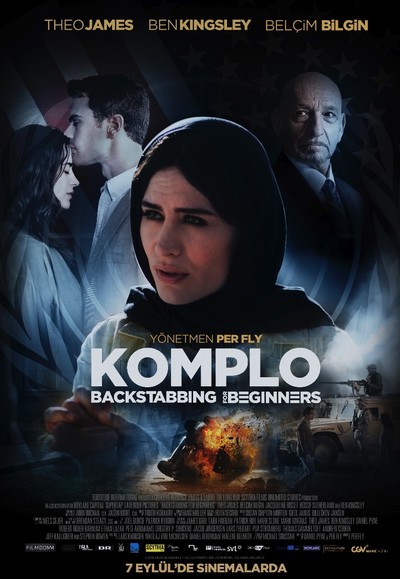 Directed by Danish director Per Fly and co-written with Daniel Pyne, the movie stars Theo James, famous for the "Divergent" series, Oscar winner Ben Kingsley and one the most talented names of Turkish cinema, Belçim Bilgin. The movie is being distributed by CGV Mars Distribution.
James plays the character Michael in the movie. The master actor Kingsley plays Pasha and Bilgin stars as Nashim. A co-production by Denmark, Canada and the United States, the movie was shot in Marrakech and Copenhagen and also stars other expert names such as Jacqueline Bisset, Rossif Sutherland, Rachel Wilson and Brian Markinson.
Adapted from a true story, the movie sheds light on a real conspiracy and is sure to excite fans of political thrillers. The romance between James' and Bilgin's characters, as two young and idealist United Nations representatives in the middle of corruption, alleviates the heavy burden of injustice.
'I was mesmerized both as a viewer and an actress'
Belçim, who plays a courageous Iraqi translator who would do anything for what she believes in, said about the movie: "I am very excited. I am glad to share this movie with my family in my own country. I witnessed a great acting feast from the beginning. I was mesmerized both as a viewer and an actress. I think the movie is discussing something very valuable. Therefore, those who are curious about what lies beneath what is happening today, fans of political thrillers and those who want to try to look at everything that is happening in this geography from another point of view will be watching a very enjoyable movie with a great cast."
About the storyline
Michael, who has high goals and ideals, started working as a United Nations representative, following in the footsteps of his deceased father. His dream is to turn the world into a better place and to strengthen the peace between countries. His new mission is to collect donations for the United Nations' Oil for Food Program. The mentor of the program, Pasha, brings Michael to Iraq to observe; however, Michael notices corruption among officials inside and outside the U.N. underneath this seemingly benevolent campaign. He must decide how to approach this conspiracy involving Iraq's oil reserves and will have to explore the dark side of his diplomacy and resolve how he will establish justice.