Pera Film is organizing a film screening featuring some of Danis Tanovic's best works between Oct. 18 and Oct. 28.
The event will be organized in collaboration with the Bosnia Sanjak Academic Culture and History Foundation.
The program entitled "Legacy of Memory: Danis Tanovic" will showcase five movies by the Bosnian director on the first day.
A traditional Balkan music concert by the Adnan Teskeredzic Trio will also be held on Oct. 20.
The "Legacy of Memory: Danis Tanovic" program will focus on the director's five movies and follow up the reflections of what happens when memory is erased, how we can set our roots, how we transfer what we have witnessed and how those thoughts behind a memory become indistinct in cinema.
"No Man's Land" is about the story of two enemy soldiers, a Bosnian and a Serbian, who find themselves in an abandoned trench in the neutral zone among the enemy lines during the Bosnian War in 1993. It is one of the longest award-winning feature movies in history.
"Hell," (L'Enfer) is written by Krzysztof Kieslowski and screenwriter Krzysztof Piesiewicz and is a trilogy on the lives of three sisters who share a daunting family secret. "Cirkus Columbia," a tragic and yet a romantic love story set in the times of when a new period was starting in the Balkans, an area with history full of wars. "An Episode in the life of an Iron Picker," a story of courage against hardship and injustice. "Death in Sarajevo," which reflects a deep outline of the geography, adapted for the screen from Bernard-Henri Levy's novel "Hotel Europe."
Danis Tanovic was born in Bosnia-Herzegovina in 1969 and studied film directing at the Sarajevo Performing Arts Academy in Sarajevo, where he grew up. While under siege in Sarajevo, he spent two years in the front line shooting for the army. The materials that Tanovic and his friends produced in this dangerous mission have been featured in many movies and news about the Bosnian War. He immigrated to Belgium to continue his studies at INSAS film school in 1994. He made short movies and documentaries there. His first feature film "No Man's Land" (2001) won both the Oscar and the Golden Globe awards for Best Foreign Language Film, as well as Best Screenplay at the Cannes Film Festival and the European Film Awards. All screenings are free of charge but no reservations can be made in advance.
Parallel to the Pera Film program, Adnan Teskeredzic Trio, the project of Teskeredzic himself, which blends traditional music and jazz/fusion with Balkan harmonies, will perform at the Pera Museum on Oct. 20.
Adnan Teskeredzic Trio concert tickets can be purchased with a discount with a museum ticket for TL 10 ($1.73). Tickets are available at Biletix. Seating is limited and not numbered.
'No Man's Land'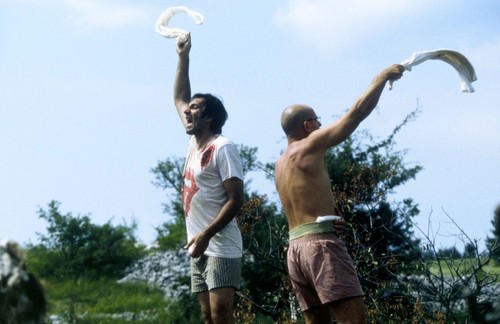 The funny yet challenging story of two enemy soldiers Ciki and Nino, who find themselves in a no man's land during the Bosnian War in 1993. While Ciki and Nino are trying to get out of this ridiculous and weird situation, a U.N. soldier, who was warned not to interfere, runs to their help and then, the world press chase them to make a worldwide news report. In this dilemma, among various conflicts, Nino and Ciki, who are left in the midst of war frenzy, continue a desperate negotiation to save their lives.
'Hell'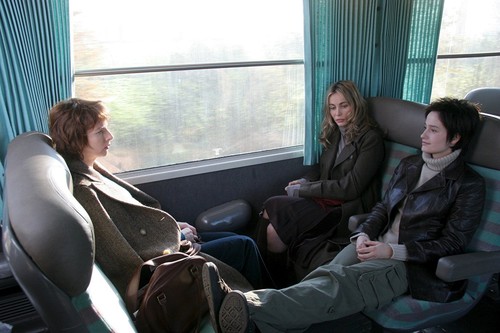 A man, who has just been released from prison is rejected by his wife in Paris in the '80s. Three sisters, Sophie, Celine and Anne, became adults and set up their own lives. Their family ties are broken. The eldest Sophie is married to photographer Pierre and they have two children but they don't get along well. Celine, who is single, is the only child taking care of their mother now living in a nursing home. Studying architecture, Anne has a passionate love affair with her teacher Frederic. A young man enters Celine's life. Attractive Sebastien is determined to seduce the young woman. What her boyfriend tells Celine unites the sisters, and give them the courage to accept their past and maybe live as they please finally.
'Cirkus Columbia'
In a small town south of Herzegovina right after the war, after years of communism, a new democratic government was elected and all the sinners of the old system were instantly forgiven. This means Divko Buntic can return home and start his series of minor revenge after years of exile. When he returns, he has a new wife 40 years younger than him, a Mercedes, a black cat and a sack of money. For a while, it looks like money rules all. But, soon life takes control.
'An Episode in the Life of an Iron Picker'
Danis Tanovic brings together an amateur cast to revive the greatest suffering of his life, which has turned into a national scandal. "An Episode in the Life of an Iron Picker" is a story of courage against difficulties and injustices. The life of Nazif Maujic, who is an iron picker in a Roma town named Poljice, but who cannot make both ends meet, turns into a life and death struggle when his partner Senada has a miscarriage. Senada and Nazif have no health insurance or money to pay for septicemia and are not admitted to the local hospital. Thus, the couple's 10-day journey among social bias and old bureaucracy starts and the corporate discrimination suffered by the Roma minority in Bosnia and Herzegovina is revealed.
'Death in Sarajevo'
The story passes in Sarajevo, June 28, 2014. The manager of Hotel Europa is preparing for the European Union Gala for the 100th anniversary of Franz Ferdinand's assassination, which triggered World War I. However, at the same time, the hotel staff who did not receive their salaries for two months are planning to go on strike. Adapted to screen from the play by French philosopher, journalist and author Bernard-Henri Levy, in this movie, director Danis Tanovic tells an old story about political dreams and nightmares, which makes us laugh yet forces us to think at the same time. From the cellar gates to the sunny rooftop terrace, all locations in Hotel Europa are displayed in the movie and the hotel turns into an arena of hope, violence and death.