Written and directed by Bassam Jarbawi, "Screwdriver" was screened at the 6th Bosporus Film Festival at the Beyoğlu Cinema, and a conversation with Jarbawi was organized where the director, who studied in the U.S. and continued his work in his homeland, Palestine, answered questions.
Since Palestine is a captive country, Jarbawi said: "I always wanted to make a film about Palestine and captivity; thus, I made this film."
The director noted that they shot the film with a very low budget and said: "We received support from acquaintances and relatives. We also got help from an institute in San Francisco where we screened the film after completion. We showed them our film and said we needed help for the colorization and music. They were really kind and were satisfying the demands of all Palestinians. I did not want to refuse this opportunity since I need to have support to realize my ideal."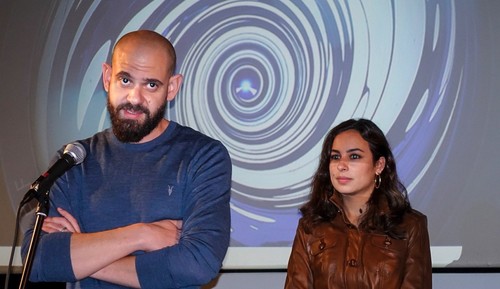 Bassam Jarbawi at the meeting organized by the 6th Bosporus Film Festival.
Since they experienced many obstacles during the shoot, the young director said what they needed most was accessibility. "We couldn't take equipment into occupied Palestine and were not allowed to see other actors. David McFarlandour's entrance and exit from the country were problems even though he is our director of photography."
Life in Palestine a struggle
Jarbawi said that what is lived in Palestine is discussed in terms of the numbers presented by the U.S.'s CNN. "I wanted to carry the issue to different places in my film. Living in Palestine is a struggle. I see that I am alive when I wake up every morning and know that my struggle still continues. Besides, what is in Palestine now is not only a war. From outside, it looks like there is a continuous war but actually, it does not continue for 24 hours. We have people who fall in love, go to parties and sit in cafes as there are not only people who continuously fight in Palestine in line with our thought. Other people also continue their lives. The movie shows that people still continue to live normally," he said.
Referring to the economic conflict between Palestine and Israel, Jarbawi added: "We use Israeli currency in Palestine. However, Israel will lose half of its economy when we leave. Look at the racist government in South Africa to understand better the racist discrimination of Israel against Palestine. People were controlled through money and authority there, as well. The same was used in Palestine by the Israeli government. For example, we grow grapes as the means of living in the city of Hebron but when they grow, Israel closes the border. They do not allow us to pick our grapes."
Jarbawi advocates unity between Palestinian directors in Palestinian cinema. For him, there is no such unity now. He thinks that if they come together, they will be stronger, and this makes their existence more powerful.
The director accepted that they need to shoot films, but he gave Tibet and Afghanistan as examples. He said, "People shoot films under hard conditions there, as well. Thus, I cannot judge Palestinian films and directors as good or bad."
About the film
Produced by Jarbawi, Shrihari Sathe and Yasmine Qaddumi, "Screwdriver" features Ziad Bakri, Wassim Mousa, Mohammad Adawi, Huthayfa Jalamna, Amir Khoury, Adham Abu Aqel, Munther Bannourah, Abedalrahman Zubaidi, Ibrahim Jawhari, Israa Darawsha, Areen Omari, Nidal Taha, Bassam Jarbawi, Imad Mizro, Amira Habash and Faleh Faleh.
The film was shown at the Toronto and Venice International Film festivals. The film focuses on two eight-year-old boys: Ziad and Remzi. The Al-Amari refugee camp is full of things that attract their attention, such as colors, smells and sounds. While playing with old tools, Ziad hurts Remzi by mistake. In return, Ziad sticks a screwdriver in Remzi. However, they become best friends after this incident in 1992. In 2002, they are the star players on the Al-Amari basketball team. Remzi is killed by crossfire. Ziad and his team want revenge. Ziad is taken by Israeli troops and tortured. He is freed 15 years later and called a hero. However, he feels like a trickster. To put his life in order, he works in construction with one of his old friends but is crushed by the fast and demanding Palestinian life and struggles quietly, pushing away his loved ones. He also has problems with Mina for whom he has feelings. At the same time, Selma, a family friend from the camp who is in love with him, pushes his limits and leaves no place for him. He decides to go back to where these tensions all began when he cannot separate reality from hallucination.