The International Crime and Punishment Film Festival, organized for the eighth time this year, will bring together various movies from Turkey and the world that aim to address issues regarding crime, punishment and justice.
The festival, which will offer symposiums, interviews and panels with important figures in the fields of law, psychiatry, sociology and politics, starts today and will run until Nov. 15.
The chairman of the 8th International Crime and Punishment Film Festival is professor Adem Sözüer and the director is professor Bengi Semerci.
The jury of Golden Scales Feature Film Competition consists of Derviş Zaim, Pavlina Jeleva, Ivan Madeo, Evgenia Tirdatova and Bennu Yıldırımlar.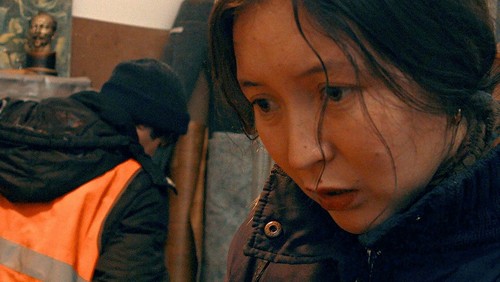 "A Twelve Year Night," "Ayka," "Daughter of Mine," "The Interpreter," "20th Circuit Suspects," "Boys Cry," "Elephants and Grass," "Obey," "Krotoa," "The Tower," "North Wind," "Lemonade," "Mali," "The Silent Revolution," "Respeto," "The Guilty," "Shock Waves, Diary of My Mind," "Dressage," "U-July 22" and "The Load" are among the movies to be screened at the festival. This year, the head of the jury of Golden Scale Feature Film Competition will be Derviş Zaim at the festival, which aims to enhance awareness, communication, solidarity and long-term collaboration on an international scale for legal and social issues through the art of cinema.
'A festival that needs to be focused on'
Speaking to Anadolu Agency (AA), Zaim, who has directed various movies including "Tabutta Rövaşata" ("Somersault in a Coffin"), "Filler ve Çimen" ("Elephants and Grass"), "Cenneti Beklerken" (Waiting for Heaven"), "Devir" ("Cycle") and "Rüya" ("Dream"), noted that the International Crime and Punishment Film Festival is crucial as it is a thematic festival on justice.
Touching on the importance of the concept of justice in society and throughout history, he said this concept has to live, be discussed and thought about. "In this respect, this festival is one of the distinguishing festivals among similar festivals. In addition, when we look at the selection of the festival in previous years, it does not fall behind similar festivals in Turkey," added Zaim.Zaim will also be presented with a Cinema Honor Award at the 8th International Crime and Punishment Film Festival and he noted that thanks to its rich selection and thematic orientation, it is a festival that deserves attention.
'The world needs justice and beauty'
Zaim stated that his movie adventure also focuses on the concept of justice and continued, "The vizier in the movie 'Cenneti Beklerken' ['Waiting for Heaven'] says, 'The world needs both justice and beauty' to the character Eflatun before he leaves for his grand tour of Anatolia. This sentence summarizes everything that makes a lot of things meaningful about my movies. Right, truth, conscience are most important components of my movies," noted Zaim. Zaim further noted that developing not only the content and the characters but also developing the form is one of his motivations while he creates his movies. "Developing the movie form and the concepts of truth, justice and conscience parallel each other," Zaim said.
The director, who deals with the theory of cinema and gives lectures at different universities, explained that those focusing on the theory of cinema may sometimes make too many declarations and make comments that go beyond one's aims; however, in the end, he described this as richness in the sector. "Otherwise, you may be deprived of evaluating such potential. If we say, 'Don't think. You should know your
place. You don't know the practice so you don't have much right to say anything' - while no one says this exactly - you will stop the thought process. This may prevent the thought from becoming clear, to bloom, branch out and develop. Not everyone has to combine theory and practice. Some people say a lot of things, and it is highly unlikely for what they say to correspond to the truth; yet sometimes, something they may say or their revealed idea might turn into a perspective for the whole community. We shouldn't prevent this because an idea that comes together with action is also crucial," added Zaim.
'One should not be afraid to make mistakes'
Zaim gave the following advice to young filmmakers: "The path everyone will walk is different, and it has to be determined by the conditions, knowledge and skills of that person. While doing this, one has to act with their mind and heart and learn from their mistakes. One should not be afraid of making mistakes. I'm not saying stick out your neck; you can attempt something that may end up as a mistake as long as you have calculated the risk of it. Here, we come across the question of whether risks can always be calculated. You can't always calculate the risk, but sometimes the mistakes you make can bring much more subtle questions to you. These are flavors in life. At a certain age, we say that our fathers were wrong, and we didn't listen; yet, they were actually right and we would have listened to them if we had known better. Unfortunately, each generation wants to rediscover where their stomach is. Every generation has been like this, and the advice of past generations to the next generations has always been like this."
Noting that he will have new projects next year, Zaim announced that he will be working on a movie and a book. He will be publishing his second novel "Rüyet" ("Vision") at the beginning of 2018
Publishing his book "Ares Harikalar Diyarında" ("Ares in Wonderland") in 1995, Zaim added that his second book "Rüyet" ("Vision") will be on the shelves in the beginning of 2019.