Every month, Istanbul Modern Cinema prepares at least one distinctive film program screened on Thursdays, Saturdays and Sundays. In addition to films from the history of cinema, both national and global, it also make room for local and international contemporary productions. Some of these programs complement ongoing exhibitions at Istanbul Modern and others are stand-alone programs that may feature their own exhibitions, publications and talks on film history and contemporary cinema culture. The "Count Us In!" program offers the latest examples of cinema in Turkey as well as talks with directors, producers and cast members.
Istanbul Modern Cinema is holding the 17th edition of "Count us in!" which has been bringing together this year's leading movies in Turkish cinema. The program is being offered to movie buffs from Nov. 29 until Dec. 16 and consists of films that make room for "the other" in the society and that seek a new language, identity or representation. It is also offering a polyphonic selection with stories and quests for movies.
Award-winning movies
The selection includes "Sibel," which received the Ecumenical Jury Award and the International Federation of Film Critics (FIPRESCI) Jury Award at the Locarno Film Festival where it premiered. It also won Best Picture at the Adana Film Festival, as well as Best Screenplay and Best Actress at the National Competition. The film addresses the voice and silence of women in traditional society.
The program also includes Ramin Matin's "Son Çıkış" ("Final Exit"), which premiered at the Tokyo International Film Festival and features the "exitlessness" of Istanbul in the form of black comedy, and "Tuzdan Kaide" ("The Pillar of Salt"), the first feature-length film by Burak Çevik which premiered in the Forum section of the 68th Berlin Film Festival. The film covers the story of a woman who looks for her lost sister through a cyclical dream.
Just like every year, screenings are being realized with the participation of directors and crews of films.
Movie program
'ANADOLU TURNESİ'
Directed by Can Eskinazi and Deniz Tortum, "Anadolu Turnesi" ("Anatolia Tour") will meet spectators on Dec. 13 at 7 p.m. and on Dec. 16 at 5 p.m. The film features Cem Celal Bilge, Mert Coşar and Mustafa Aydın.
In the summer of 2014, an amateur rock band starts a Turkey tour in an attempt to share their music with a broader audience. They perform concerts sometimes in the garden of a cafe, in a park or in the middle of nature. Their music, which reaches new people living in different regions with different cultures, sometimes garners new fans and is sometimes found strange.
Directed by Can Eskinazi and Deniz Tortum, the film features the story of a group of young people who are passionate about their music and hopeful about the world in which they live, as well as provides a warm, sincere and humorous view of the period Turkey is going through.
'ARADA'
Directed by Mu Tunç, "Arada" ("In Between") will be screened on Dec. 8 and Dec. 13 at 5 p.m. The film features Burak Deniz, Büşra Develi and Eriş Akman. Ozan is a young punk in Istanbul in the 1990s. He dreams of being able to settle down abroad and make music. After a friend, who owns a cassette store, tells him about a mysterious ticket to California, he and his girlfriend, Lara, embark on a frenzied quest to find it. They encounter a thousand new faces in the city as they search for the ticket everywhere, from hookah cafes and house parties to clubs and grind concerts. In his first feature-length film, inspired by his own growth story, Mu Tunç fascinatingly narrates the confrontation of two daredevil lovers, who remain in between dreams and facts, with the city they live in.
Filmmaker Mu Tunç will meet with the audience at the movie's screenings.
'SİBEL'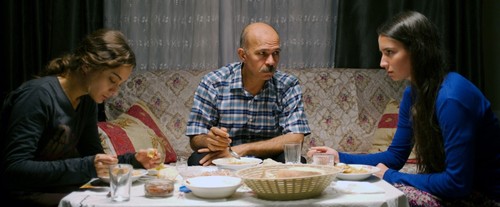 Featuring Damla Sönmez, Erkan Kolçak Köstendil and Emin Gürsoy, "Sibel" is directed by Çağla Zencirci and Guillaume Giovanetti. The film will be seen on Dec. 15 at 3 p.m.
"Sibel" has won a number of awards from a number of festivals, including Locarno, where it premiered, the Adana Film Festival and the National Competition.
It covers the story of a dumb woman living with her father and sister in a mountain village in the Black Sea region, where they have a whistle language. The lady's life changes after helping a fugitive in the forest.
The film, which handles the voice and silence of woman in traditional society, poetizes the subject with fairytale elements, and locks in the audience with "Sibel," where Damla Sönmez stands out with her acting ability.
'SON ÇIKIŞ'
Directed by Ramin Matin, "Son Çıkış" ("Final Exit") features Deniz Celiloğlu, Gizem Erdem and Ezgi Çelik. The film will be presented to cinephiles on Dec. 8 at 3 p.m. and on Dec. 16 at 1 p.m.
"Son Çıkış," the latest film by Ramin Matin which premiered at the 31st Tokyo Film Festival, tells the epic journey that Tahsin, who is sick and tired of Istanbul's rumble, embarks on with a sudden decision.
Tahsin sets off on a journey with the dream of settling in a seaside town and leaving behind all the troubles of city life. Along the way, he runs into several dilemmas.
Laughter is inevitable in many parts of the film where you will deeply feel the weight of Istanbul's ever-growing concrete structures and its atmosphere that does not let you breathe.
Filmmaker Ramin Matin and Producer Emine Yıldırım will attend the screening and meet with the audience on Saturday, Dec. 8 at 1 p.m.
'TAKSİM HOLD'EM'
Directed by Michael Önder, "Taksim Hold'em" stars Kenan Ece, Damla Sönmez and Berk Hakman in the leading roles.
Alper is determined to stay home and play poker with his friends instead of participating in protests near his home. However, his friends cannot make sense of his impassivity, just like his fiancee Defne, who goes out to join the protests.
Defne injures her foot and is brought home by a stranger. After Defne and the two people who had fled police take shelter in the house despite all of Alper's objections, it gets harder to ignore what happens.
The debates on issues such as joining the demonstration, police attitudes, rules, rights and justice will deepen as the night progresses at the poker table.
Director Michael Önder will attend the screenings on Dec. 8 at 1 p.m. and Dec. 13 at 3 p.m. to meet the audience.
'TUZDAN KAİDE'
Directed by Burak Çevik, "Tuzdan Kaide" ("The Pillar of Salt") features Zinnure Türe, Dila Yumurtacı and Esme Madra. The film will be screened on Dec. 6 at 3 p.m. and on Dec. 9 at 1 p.m.
A cursed woman in her 30s, living in a cave-like room, frozen in time, looks for her twin sister, who has not been heard from in years.
In this search in the city's uncanny locations, she talks to a television repairman, a boatman who says demons are haunting him and a man looking after an abandoned botanical garden. The same dream is redescribed again and again in this uniquely real journey with an uncertain time and place. This first feature-length film shot by Burak Çevik with an experimental and avant-garde narrative, premiered at the 68th Berlin Film Festival's Forum section.
Filmmaker Burak Çevik will meet with the audience at 1 p.m. on Sunday, Dec. 9.
'YOL KENARI'
Directed by Tayfun Pirselimoğlu, "Yol Kenarı" ("Roadside") will hit the silver screen at the Istanbul Modern Cinema on Dec. 6 at 7 p.m. and on Dec. 9 at 5 p.m. The film stars Tansu Biçer, Nalan Kuruçim, Taner Birsel and Ercan Kesal.
Unnamed townspeople living in an unnamed seaside town, a constant mysterious buzz and a ship that has been waiting for days anchored just offshore.
All this is accompanied by mysterious deaths, the townsmen who murder their spouses in cold blood and mysterious natural events. In the face of the townspeople who are nervous about what is going on, there is a man who says he has come to work there and seems to be not that affected by the calamities. His only concern is to spend some time with the nurse he loves.
When the nurse, who discovers stains on his back, spreads the news to tense residents of the town, suspicions about who the young man is rise. This is a striking story about Dajjal and Mahdi will engross you with its master casting and images.