The 13th International Defense Industry Fair (IDEF'17), being held under the auspices of the Presidency of the Republic of Turkey and hosted by the Ministry of National Defense and Turkish Armed Forces Foundation (TAFF), will take place from May 9-12 at Tüyap Istanbul Fair and Congress Center in Istanbul's Büyükeçekmece district. Within the scope of the IDEF'17, which is an essential international marketing arena for defense industry companies, a variety of defense-related equipment and vehicles will be exhibited, including those designed for land, naval, transportation and logistic support activities, aviation and aerospace, as well as equipment and tools for supply departments. Moreover, companies and many high-ranking delegations from around 50 countries will take part in the IDEF'17. Turkish defense companies such as Aselsan, Havelsan, Baykar, Roketsan, BMC and Nurol will also attend the fair.

Nurol to launch new original armored vehicles at IDEF'17

Turkey's Nurol Defense Industries is set to launch their latest armored vehicles, state-of-the-art ballistic protective systems and original capability acquisition targets for the Turkish Aviation Industry at the International Defence Industry Fair (IDEF) 17.

Nurol will launch Ejder Yalçın, a unique Armored Personnel Carrier (APC) and 4x4 Armored Combat Vehicle. Another vehicle to be displayed at its stand is the Ilgaz II APC, which can be modified according to its users' needs.

The Ejder Kunter, which will be put on display for the first time, is a newly developed personnel transport vehicle designed for application with the high-performance Ejder TOMA vehicles used by security forces.

In addition to traditional armor systems, Nurol Technology also produces nano-sized powder metallurgy, hybrid solutions made of advanced materials and Boron Carbide, Silica Carbide and Alumina, produced in very few countries around the world, to make lightweight, durable and reliable armor systems

Nurol BAE Air Systems, established in 2015 by combining Nurol Holding's and BAE Systems' experience and technical know-how, carries out projects to create original capability acquisitions in the Turkish Aviation Industry and will introduce the systems, developed as the Primary Level System provider, at the IDEF'17.
BMC to launch new armored vehicle at IDEF'17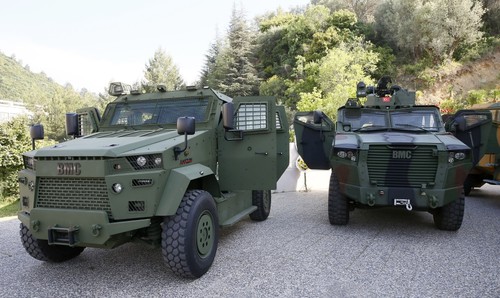 Turkish automotive giant BMC will showcase its newest armored vehicle at the International Defense Industry Fair next week. BMC CEO Bülent Denkdemir told Anadolu Agency (AA) that the company will display five vehicles at the fair which will be held on an area of 5,000 square meters. According to Denkdemir, two of BMC's latest armored vehicles Vuran and Amazon have nearly completed the testing phase are mass production will begin in the second half of the year.
Describing Vuran and Amazon as smaller, more compact versions of the BMC's armored vehicle Kirpi (Hedgehog), Denkdemir said that while the Kirpi is capable of carrying 12 people, Vuran and Amazon can carry nine and seven people, respectively.
Referring to the two more compact versions are the "smaller members of the [armored vehicle] family," Denkdemir said these vehicles have the potential for use in major cities due to their agility. "When you build a family of large and small vehicles, you can meet various needs ranging from the army to the police. These vehicles will enter service for the Turkish and Qatari military later this year." Besides Vuran and Amazon, another version of Kirpi, designed as a military ambulance for the Tunisian army, will also be displayed at the fair.
BMC is also planning to launch a new vehicle specifically produced for the Qatari army. Denkdemir said Qatar would purchase a significant number of this newest vehicle, which is yet to be named and will be launched at the fair. The vehicle is slated for mass production in early 2018. "It is a very special vehicle, with few like it in the world and can be dropped from cargo planes using parachutes. It will be completed by the end of the year," he said. "Our customers will see a mock-up during the preliminary phase of prototyping. Its prototype has not been completed yet but I hope it will be completed this autumn," said Denkdemir.

ASELSAN to exhibit 317 products at IDEF'17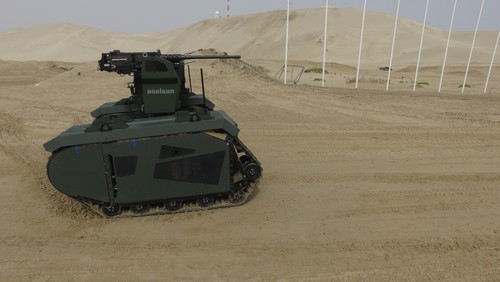 ASELSAN will display 317 products and systems at the 13th International Defense Industry Fair (IDEF), marking the largest participation in the history of the fair.
The company will use an exhibition area of 4,901 square meters (sqm), including a closed area of 4,161 sqm and an open area of 740 sqm, for the exhibition of its products. With approximately 5 acres of exhibition space, the company will feature the largest stand that has been set up within the scope of IDEF to date.
ASELSAN will introduce 317 products related to naval systems, avionics systems, air defense systems, border-coastal security systems, communication systems, electronic warfare systems, electro-optic systems and weapon systems in the stand to be set up at the 12th hall of the TÜYAP Fair and Congress Center.
Eye-catchers
ASELSAN, an organization of the Turkish Armed Forces Strengthening Foundation (TSKGV), will feature the technological level achieved by the original system solutions for the land, air and sea during the fair.
Among the remarkable products on display are Korkut Air Defense Gun System and HİSAR Low and Medium Altitude Air Defense Systems, which have been developed against navigation missiles and similar threats; İHTAR Anti-Drone System designed against increasing drone threats in recent years; and Public Safety Management System developed to meet security requirements against terror events.
Land Systems include Tank Fire Control Systems, Stabilized Gun Systems, Modern Infantry Systems, Wearable Technologies, Unmanned Vehicles and Electro-Optical Systems.
The Avionic Systems category, on the other hand, will showcase a Targeting Pod, Multifunctional Indicator Unit, Inertial Navigation System, Helicopter and Aircraft Cockpits and Laser Guidance Kits, while naval systems will feature the VATOZ Sensor Management System, Torpedo and Torpedo Mixing Deception Systems, Submarine Electronic Warfare System and Radar Systems.
ASELSAN will also demonstrate its capabilities in space technology, as well as its product and system solutions for land, avionic and naval platforms in IDEF 2017.

ROKETSAN to exhibit domestic KAAN missile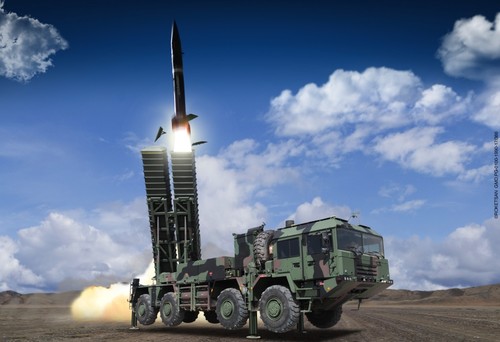 Turkey's major weapons manufacturer and defense contracting company ROKETSAN's domestic KAAN missile and weapon system, which pioneered Turkey's national missile and rocket programs, will be displayed for the first time at the 13th International Defense Industry Fair (IDEF) to be held at the TÜYAP Fair and Congress Center on May 9-12. ROKETSAN will be one of the biggest surprises featured at IDEF 2017, where the latest technological products of the Turkish defense industry will be showcased.
Measuring 610 milimeters in diameter, the KAAN missile which was developed and produced by ROKETSAN provides excellent fire support to maneuvering units by creating timely, accurate and effective fire and opening intense firing capabilities on high priority targets in all weather and terrain conditions, day and night. The KAAN missile will be able to shoot targets precisely thanks to its inertial guidance system supported by a Global Positioning System (GPS). It can be stored, transported and launched as an in-pod missile configuration, placed in an insulated pod.
The launching of the missile can be carried out from other platforms with an interface suitable for integration with the ROKETSAN-produced KAAN weapon system.

First Turkish-made helicopter to be displayed at IDEF
Turkey's first "home-grown" helicopter, the T-625, designed and produced by Turkish Aerospace Industries, Inc. (TUSAŞ) will be revealed to the public at the 13th International Defense Industry Fair (IDEF'17) on May 9-11. The first test drive of the helicopter is scheduled to take place on Sept. 6, 2018, according to Turkish daily Habertürk.
The mock-up model of the 12-passenger T-635, including the pilot, will be showcased at the IDEF'17. The helicopter is designed to serve both military and civil needs. It has two engines and a take-off weight of 5 tons.
The T-625 will replace the UH-1H helicopters, still used by the Turkish Armed Forces (TSK), but are about to expire. The helicopter will have the European Aviation Safety Agency certificate for export.