The U.S. sold nearly $56 billion worth of military equipment to foreign nations in fiscal year 2018, according to the Defense Security Cooperation Agency (DSCA), with most sales going to Eastern European countries amid increasing tensions between Russia and the Western bloc.
In a statement, the agency said sales increased by 33 percent from the previous year to $55.6 billion.
Sales in 2018 were the highest in the last 5 years, which stood at $41.3 billion in 2017, $33.6 billion in 2016, $47 billion in 2015 and $34.2 billion in 2014.
"The total sales figure includes all sales executed through the FMS (Foreign Military Sales) program to include: $3.52 billion for cases funded by the State Department's Foreign Military Financing Program; $4.42 billion for cases funded under Defense Department authorities; and $47.71 billion funded by partner nations," said the statement.
U.S. authorities do not reveal which countries benefited from financing, and the report on finalized arms sales by country is released a year later. However, most sales went to Western and Eastern Europe, according to the information compiled by the Anadolu Agency based on notification sent by the DSCA to the Congress.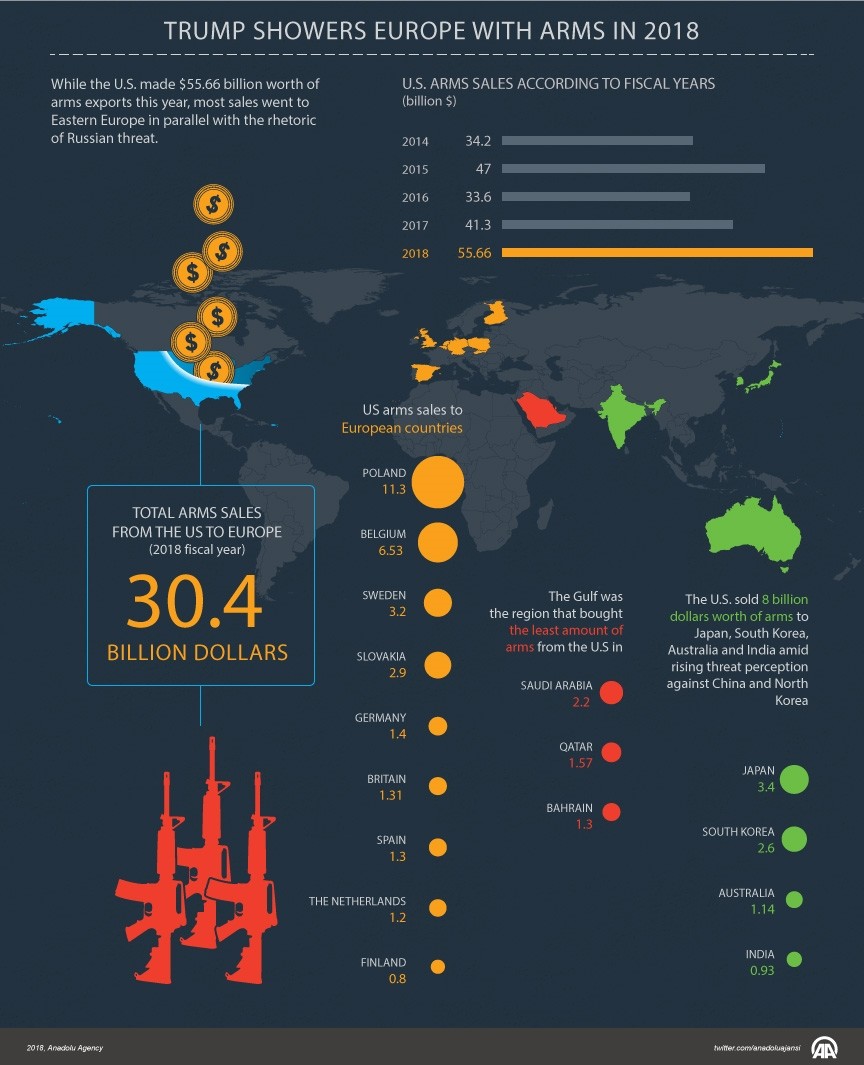 The rise in arms sales to European countries parallels the threat policy pursued by President Donald Trump for the partners in the continent to step up defense spending. Trump repeatedly demanded that NATO partners increase defense spending to at least 2 percent of their GDP.
In fiscal year 2018, more than $30 billion in arms sales to Western and Eastern European countries were presented before the Congress for approval.
Planes and helicopters led the sales. A memo[G1] sent in January noted that a deal was reached with Belgium for the sale of 34 F-35A fighters for $6.53 billion. Three C-130 and three KC-130J military cargo planes were sold to Germany for $1.4 billion. In February, the Netherlands bought 28 AH-64D Apache attack helicopters for $1.2 billion while in April, Spain acquired 17 CH-47F Chinooks for $1.3 billion. A deal was reached with Greece for the "70-72 Block" modernization of the V series of F-16 fleet for $2.4 billion.
Various military equipment was sold to the U.K. in exchange for $1.3 billion. Overall, sales to Western European countries totaled more than $14 billion.
Sales to Northern and Eastern Europe bordering Russia – namely Sweden, Finland, Slovakia, Latvia and Poland – totaled some $18.4 billion, which equals one-thirds of all sales, with Poland alone purchasing $11.3 billion worth of arms.
The largest item in Polish deals was for a Patriot air missile defense system and other components for $10.5 billion, according to DSCA notifications. HIMARS rocket systems worth $250 million and medium scale air-to-air AIM 120C missiles worth $250 million were other significant arms deals with Poland.
Slovakia acquired 14 F-16V fighter jets for $2.9 billion while Sweden is to pay $3.2 billion for a Patriot air missile defense system and other components. Finland signed $804 million in sales for various arms and military systems.
In Asia, where tensions remain high with China and North Korea, $8.5 billion worth of arms were sold to India, Japan, South Korea and Australia.
Japan acquired 9 E-2D surveillance and early warning intelligence aircraft for $3.4 billion, while South Korea agreed to pay $2.6 billion for 6 PA-8 tipi surveillance planes and 64 Patriot-3 missiles. India, which angered the U.S. after recently signing a $5 billion deal with Russia to buy S-400 missile defense systems, agreed to pay $930 billion for 6 AH 64 Apache attack helicopters. Various equipment was sold to Australia in exchange for $1.1 billion.
The Gulf region, where the U.S. stepped up sales after Trump took office, ranked at the bottom this year. Saudi Arabia led the region with $2.2 billion in arms deals, followed by Qatar with $1.57 and Bahrain with $1.3 billion. Saudi Arabia's acquisition of howitzers for $1.3 billion for use in Yemen against Houthi rebels was also noteworthy since the country is on the brink of total humanitarian disaster due to poverty, famine and embargo imposed by the Saudi coalition.