President Recep Tayyip Erdoğan said on Monday during his visit in Brussels that Turkey's spending of $7.5 billion on sheltering about 2 million Syrian refugees in the country was not "sustainable", criticizing the European Union's inaction regarding the crisis.
He said, of the $7.5 billion, Turkey had only received $417 million in foreign aid.
"While we host 2.2 million refugees, Europe as a whole houses less than 250,000 refugees in total," Erdoğan said at a televised meeting with Belgian business leaders.
President Erdoğan was welcomed by Belgian King Philippe in an official ceremony in Brussels on Monday. Erdoğan was also accompanied by Minister for EU Affairs, Beril Dedeoğlu, Foreign Minister Feridun Sinirlioğlu, Energy Minister Ali Rıza Alaboyun, and Culture and Tourism Minister Yalçın Topçu during his visit.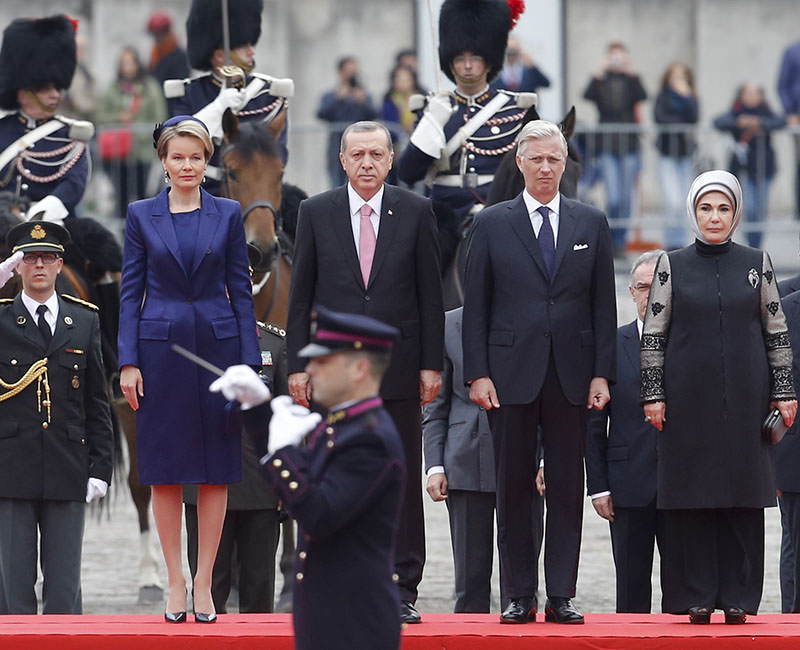 The EU, which pledged at least 1 billion euros ($1.1 billion) for Syrian refugees in Turkey, Jordan, Lebanon and other countries last month, says it wants to help Turkey absorb and integrate more migrants on its own soil and cooperate closely with Greece in preventing mass migrant flows.
The Turkish president had told supporters in France the day before, "What do they say to us? ... 'Oh my, don't open your doors, don't let them reach us."
Erdoğan later on met with the President of the European Council, Donald Tusk. Following the meeting, the two leaders held a press conference, during which various topic were touched upon.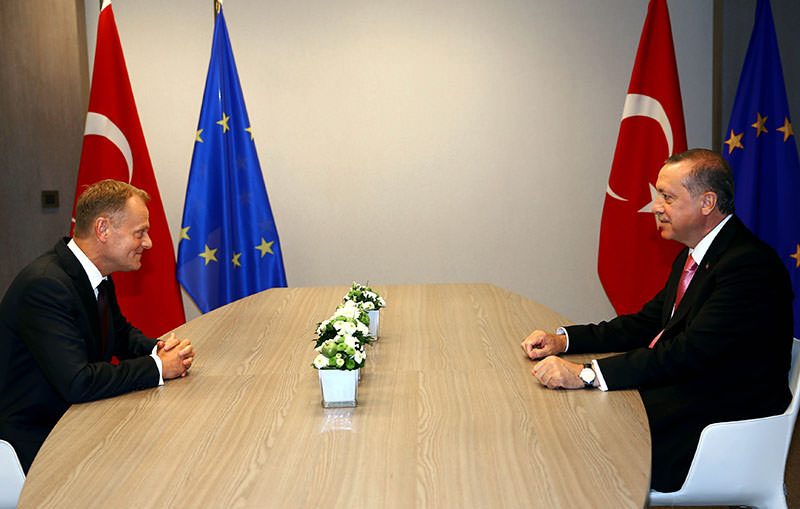 During the press conference, Erdoğan reiterated that Turkey has shouldered the Syrian refugee crisis on its own, on behalf of the international community, pointing out that Turkey has spent approximately $7.8 million in its attempts to accomodate the refugees.
Erdoğan said Turkey had been opening its doors to refugees fleeing Syria without any discrimination.
"We never discriminated against them by saying they're Muslim, Yazidi or Christian; we accepted them all," he said in an apparent criticism against certain European leaders who have openly said they were reluctant to accept certain refugees, of which most are from Middle Eastern countries.
While Slovakia has made clear it will only accept Christian refugees and not Muslims, Hungary's Prime Minister Viktor Orban has described the influx of refugees as a threat to Europe's "Christian roots" and responded to the crisis by erecting a fence on its southern border with Serbia.
Faced with the worst migrant crisis since World War II, the EU has expressed its willingness to help Turkey integrate more migrants on its soil in order to prevent mass inflows of refugees arriving in neighboring Greece.
"The situation where hundreds of thousands of people are fleeing to the EU via Turkey must be stopped; we cannot do it on our own, we need the Turkish side," European Council President Donald Tusk said.
But Erdoğan, stressing that the root cause of the migrant crisis was the war in Syria, once again reiterated his calls for a buffer zone, used as an area to host refugees, and a no-fly zone on the Turkish-Syrian border.
European Parliament President Martin Schulz said following his meeting with Erdogan that such a measure had to be decided by the United Nations Security Council.
Erdoğan also touched upon Turkey's current accession process to EU. He said, "I told during my meeting with Tusk that Turkey's accession to EU should be devoid of artificial political barriers, should be revitalized."
Erdoğan also called on EU member states to take a tougher stance against the PKK.
"PYD [Democratic Union Party, the Syrian affiliate of the PKK] is a terrorist organization like the PKK and they work together. We cannot speak of good terrorist versus bad terrorist," Erdoğan said.
"Daesh [Arabic acronym for ISIS] is a terrorist organization and so are the PYD and the PKK. I wholeheartedly believe [our] European friends will show sensitivity to this point," Erdoğan said.
Another point that was discussed during the meeting was Russia's violation of Turkish airspace, which Donald Tusk said was "worrisome." NATO chief Jens Stoltenberg had also earlier said that Russian violations of Turkish airspace were "unacceptable," calling an emergency meeting of alliance countries to discuss the crisis affecting a key member state.