Ukrainian Ambassador to Ankara Dr. Sergiy Korsunsky said Russia's general attitude toward the region is to create problems and embed some kind of separatism in countries like Azerbaijan and Ukraine to have them accept Moscow's rule. Speaking to Daily Sabah, he said that Azerbaijan's territorial integrity must be restored, just like the territorial integrity of Ukraine.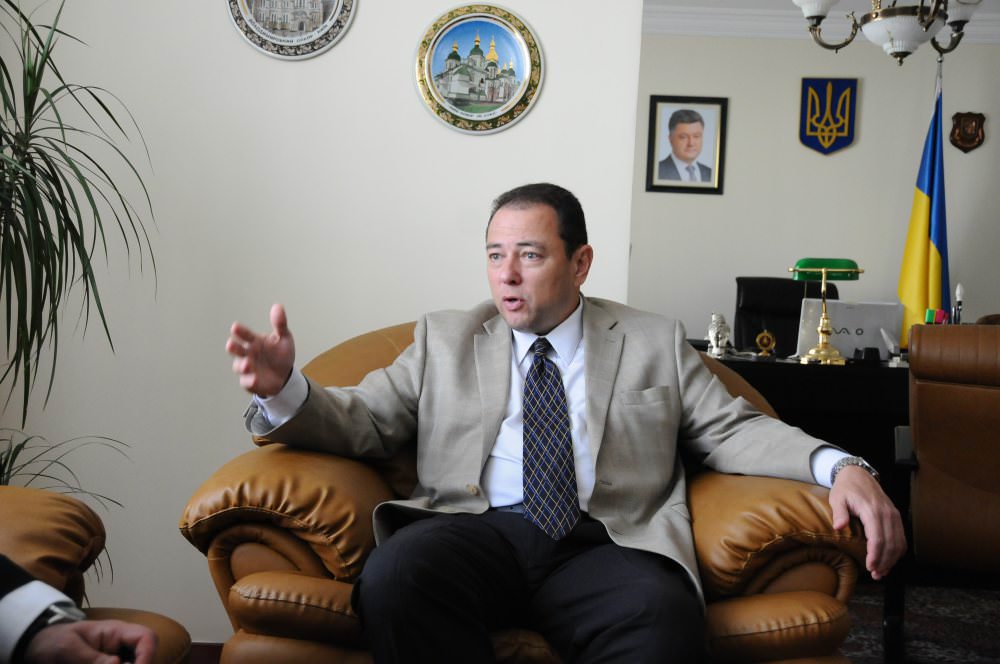 Ukraine ended their dependency on Russian gas and oil by drastically reducing their consumption of gas, and adopting all necessary legislation to integrate the Ukrainian energy transportation system into the European framework. Regarding Turkey's efforts to reduce dependency on Russian gas, Ambassador Korsunsky said that the right approach for Turkey would be to reduce their dependency on Russian gas to the European level of 20-25 percent.
Ambassador Korsunsky maintains hope for the end of Russia's illegal annexation of Crimea, and stresses that with Turkey and international community working together, they will evict Russia from Crimea. With respect to Ukraine's goal to participate in the NATO alliance, the ambassador said that at some point in the future, NATO will be ready to accept us and Ukraine will be ready to join.
DS: Last month Ukrainian President Petro Poroshenko paid a visit to Turkey, only three weeks after Prime Minister Ahmet Davutoğlu paid a visit to Kiev. From this perspective, how would you evaluate the current level of bilateral relations?
You know those two visits were the most important part of a much longer list of visits, starting from January until now, including general staff, security council, prime minister and president. And I can you tell that (these words are not my words, our president said this during his visit in March) now we have the best relations ever. For Ukraine, there are no boundaries in relations with Turkey. We are open to all kinds of cooperation in security, defense, economic and other spheres. Wherever we can go forward, we will. The Turkish-Ukrainian alliance is very important now in the region, because we both face the problem of Russian terrorism. We have to survive in a very complicated environment and together we will do much better than alone.
DS: How are the latest developments in Eastern Ukraine? Is Russia complying with the cease-fire agreement?
I would say the situation in Eastern Ukraine is stable, but bad. The situation is not calm. Literally every day we have casualties (sometimes our soldiers are killed, sometimes wounded) and Russian-supported terrorists continue to attack Ukrainian forces. What is even worse is that the civilian population along the frontline suffers a lot. And we still hope that the international community's efforts will lead to a kind of resolution. It is so simple: just remove regular Russian forces and return control of the border to Ukrainian forces and we will be ready to provide local self-governance for those regions. This is absolutely not a problem for Ukraine. But with the Russian forces on the ground, it is not possible.
DS: What does Russia's withdrawal from Syria really mean from your perspective? Do you agree with the view that Russia will escalate the war in eastern Ukraine following this move?
Firstly, this withdrawal was done in a very Russian way. They withdraw some forces and immediately move other forces into the region. We know that there is still a huge Russian contingent in Syria. Those events are connected indirectly to the situation around Ukraine and Azerbaijan. What we witness in Azerbaijan: an activation of the fight for Karabakh. From my point of view, that is a more visible example of modern Russian policy. They create problems and they show a kind of way to resolve it. I want to affirm that Ukraine definitely, 100 percent, supports Azerbaijan. Its territorial integrity must be restored, just like the territorial integrity of Ukraine. So from my point of view, Russia's general attitude towards our region is like this: it creates a problem, it embeds some kind of separatism inside countries like Moldova, Georgia, Azerbaijan and Ukraine, and it makes these wounded countries suffer until they agree to obey to being ruled by Moscow. We cannot allow them to create a similar problem for Turkey through Syria, because Turkey is the cornerstone of stability in our region. We cannot afford any destabilization of the situation within and around Turkey. Therefore I think it is a little bit early to talk about a complete withdrawal of the Russian troops from Syria.
DS: Since last year Ukraine decided to stop buying Russian natural gas, and recently there have been discussions about introducing a ban on oil imports from Russia. How will Ukraine diversify its energy mix?
First of all, we drastically reduced the consumption of gas, and adopted all necessary legislation to integrate the Ukrainian energy transportation system into the European framework. In this regard, we signed several agreements with European suppliers and now we buy natural gas from the EU: Slovakia, Hungary and Poland. It is much cheaper to buy gas that goes to Germany and then back to Ukraine via Slovakia. It is cheaper than buying gas directly from Russia. We don't want to depend on Russia. We understand that they are absolutely unreliable.
DS: Turkey is also seeking options to reduce its dependency on Russian gas. What could Turkey learn from the Ukrainian experience?
We are in constant dialogue with the Ministry of Energy and as far as I understand, there is a good and substantial Turkish plan to diversify the gas supply through purchasing more gas from Azerbaijan and other countries. Azerbaijan is an absolute priority. The Trans-Anatolian Natural Gas Pipeline (TANAP) should be implemented as quickly as possible. Turkey will buy more liquefied natural gas (LNG). It is very significant that Turkey started to buy LNG from the U.S. As far as I know, there is also an agreement with Qatar to deliver Turkey as much LNG as it needs. Iran is another opportunity – when the sanctions are lifted, Iran can increase its supplies of gas to Turkey.
This is absolutely the right approach, because it is very dangerous when you depend on more than 30 percent on one supplier. If you can decrease this number to the European level of 20-25 percent, the situation will be much safer.
DS: In your article for Daily Sabah in January 2015, long before the deterioration in Russian-Turkish relations, you predicted that Russia's Turkish Stream proposal was not realistic. How do you currently consider the possibility of Turkish Stream?
From the beginning, it looked like a Russian intelligence cover operation against Turkey and the EU. The point was to create a rift between the EU and Turkey, and a dilemma for Turkey. Theoretically, if you have this Turkish Stream, then there is no need for TANAP. So the idea was to block TANAP and create in Turkey and Greece an illusion that this project could be realized.
I think the Turkish Government behaved in a very reasonable and smart way. They said: you initiated it, you do it. If you remember, Russia first talked about four lines, then two lines and then one line.
Exactly the same story happened with the South Stream. Around $5 billion were invested in the South Stream. Russia never asked the European Commission to provide the withdrawal of the South Stream from the Third Package, from the EU anti-monopoly legislation. The result was that the project wasn't done.
Again, all this activity was a massive cover-up operation to create problems for Ukraine and for Europe. The South Stream and the Turkish Stream had the same purpose – to bypass Ukraine – and the same result.
I think all efforts should now be concentrated on Azerbaijan's pipeline. If Turkmenistan joins the project, that would be even better for everybody involved.
DS: In 2014, Ukrainian lawmakers cancelled the country's non-aligned status and set out on a path toward NATO membership. Do you find Ukraine's aspirations to become a NATO member in 2020 realistic?
First of all, Ukraine is the only partner of NATO that participates in almost all of NATO's activities. Now, "thanks" to Russia, the popular support in Ukraine for NATO membership is close to 75 percent. Before Russia's aggression, it was 30-35 percent.
People understand that Eastern European countries feel much safer being members of NATO rather than having to face Russia's aggression alone.
The number one priority for us for now is to transform and build our army based on NATO standards. We have very strong support from NATO and members like the U.S., Canada and Turkey. We are working actively with our Turkish partners at all levels. Last week, we hosted a big delegation from Turkish General Staff in Ukraine. We are talking about drastically increasing the quantity of our officers who will study in Turkish military educational establishments. As you know, during President Poroshenko's visit, our military ships visited Turkey and had joint exercises with Turkish ships. Very recently Turkish ships visited Ukraine and had exercises in Ukrainian territorial waters.
I believe that we will move very quickly and at some point in the future, NATO will be ready to accept us and Ukraine will be ready to join it. The only way we can defend ourselves is to become a part of the NATO family.
DS: How were the Crimean Tatars affected by Russian's illegal annexation of the Crimean peninsula? Could you provide further details?
It can be characterized by the word "genocide." We have endless stories of how Russian occupying forces and the so-called "Crimean Government" violated the basic right of Crimean Tatars, i.e. their rights to speak their language, fulfill their religious duties, maintain their traditions, have their mass media and educational establishments etc. The occupying forces have Crimean Tatar people arrested every day. Very recently 35 people were arrested for absolutely no reason. The occupying forces have suspended the Crimean Tatar Mejlis, and that is outrageous.
Another trick the Russians use: they take Crimean Tatar young boys into the Russian Army. Guess what would happen to those Crimean Tatars who do not accept this occupation, but have to serve in the occupying army. How would those Crimean Tatars feel in this Russian Army?
Another example: the occupiers included books of Mevlana and other Muslim thinkers onto their list of extremist literature. What else can we expect from them?
Unfortunately, we cannot use force to liberate Crimea, because Russia concentrated an enormous amount of arms, soldiers and military equipment there. We have to continue our political pressure. That's exactly what we are doing. For example, Crimean Tatar leader Mustafa Kırımoğlu participated in the Islamic Summit in Istanbul on April 14-15. He directly informed the heads of states and governments of Muslim countries about Russia's behavior in Crimea.
We hope that working together with Turkey and the international community, we will make Russia get out of Ukraine's Crimea.
DS: In the upcoming days Ukraine is marking the 30th anniversary of the Chernobyl nuclear disaster. How is the situation after 30 years?
The general situation in the Chernobyl area is stable. We are now finishing the most important project for Chernobyl: building a shelter, an ark. It is a 2 billion euro project, financed by European donors and the European bank of Reconstruction and Development. The purpose of the shelter is to cover the destroyed reactor.
We have nuclear waste inside the reactor with highly enriched uranium, steel and other materials melted under intense heat at the time of the disaster. In order to resolve the issue we have to cut this stuff into small pieces, take it out and bury it forever under the shelter.
Just yesterday, we met with the Turkish Atomic Energy Authority and we were talking about cooperation with Turkey in the sphere of the nuclear industry. Turkey wants to build nuclear power plants and we can offer our specialists with their 30 years of experience of "what to do if something bad happens." Nobody in the world knows better than us about nuclear security. For example, when Fukushima happened, on the next day we received call from the Japanese side and we were asked to send to Japan our people who had worked in Chernobyl. They went there and advised Japanese authorities how to manage the situation.
So our experts can be highly valuable advisers in the sphere of nuclear safety for future Turkish power plants.
Chernobyl is a huge and very sad legacy for us. Many people died, many billions of dollars were spent to cope with the consequences of the disaster. At the same time, this gave us very good experience with how to deal with the nuclear emergency situations. Unfortunately, such situations can happen at every nuclear power plant. But if you prepare yourself, you will be better protected and you will minimize the risk.