Iraqi-Turkish relations that were strained due to the debate on the presence of Turkish security forces at the Bashiqa camp near Mosul last year, have started to normalize with Prime Minister Binali Yıldırım's recent two-day visit to Baghdad and Irbil.
Speaking to Daily Sabah, Iraqi Ambassador to Ankara Dr. Hisham al-Alawi stressed the importance of resolving the Bashiqa camp issue as soon as possible to move forward with relations. Expressing his optimism about the future of relations with Turkey, Ambassador al-Alawi said there is potential to enhance relations in various fields ranging from trade to military and education.
Daily Sabah: Let us start with the most recent official visit. It seems that relations are back on track after the trip. How would you evaluate the current level of the Iraqi-Turkish relations?
The visit was an important and successful one. It has provided an opportunity for the two PMs to hold a comprehensive meeting, and to discuss important issues. We also benefited from the opportunity to hold the 3rd meeting of the high-level council for strategic cooperation, which was attended by several Turkish and Iraqi ministers. We discussed issues related to water resource management, energy cooperation, economic and trade relations, security cooperation, educational and cultural cooperation, tourism and so on. The important point to make here is that we certainly have to resolve the Bashiqa camp issue in order to create a positive environment, which is needed to move relations forward and implement all the things that we talked about. As you know, our prime minister made it clear in a press conference a few days ago that Iraq is waiting to see the practical arrangements to resolve the Bashiqa camp issue and withdraw the Turkish forces from the camp. If that happens, all the things that have been discussed during the meetings will then be implemented.
DS: Could you elaborate on these practical solutions?
The two prime ministers have agreed in principle to resolve this issue and to make the necessary technical arrangements to prepare for the withdrawal of the forces. Practically, this will happen most likely after the Mosul offensive is finalized. What we need to do now is to arrange a meeting as soon as possible between representatives of the ministries of Defense, Homeland Security, and Intelligence to discuss the practical steps to withdraw the the forces from the Bashiqa camp. In addition, once this is done, there are numerous other issues that we also need to discuss, including maximizing security, Intelligence and counter-terrorism cooperation. We certainly need to resolve the Bashiqa camp issue before discussing cooperation in the above fields.
I feel optimistic that Iraq and Turkey could resolve this issue, and if this is to happen, then we can expect to see more positive developments in 2017.
DS: Could you provide some examples about possible cooperation? What could be done for further cooperation?
Firstly, we have to increase security and intelligence cooperation to maximize our counter-terrorism efforts bilaterally as well as at regional level, which is relevant to our fight against Daesh and to address your concerns about the PKK. Secondly, we have the economic and trade regulations. The volume of trade between Iraq and Turkey has decreased significantly over the past two years. The figures show that the volume of trade has gone down from around $13 billion dollars in 2013 to $7 billion in 2016. In order to enhance economic and trade relations, thus to increase the volume of trade back to its highest level, we need to a lot of things, and in order to do so we need to have a positive environment. Thirdly, both parties have agreed to cooperate in improving educational and cultural relations between the two countries, along with tourism.
For example, we signed a bilateral agreement on cooperation in the field of higher education. Currently we have around 5,000 Iraqi university students, half of them are postgraduate students. Our minister of higher education had visited Ankara recent and met with officials from the Council of Higher Education (YÖK), the Turkish Cooperation and Coordination Agency (TİKA) and with the minister of national education. There are great opportunities to enhance cooperation in this field including the exchange of students and academic staff, twinning between Iraqi and Turkish universities, cooperating to develop curricula and so on.
Tourism is another field that is important for both countries. As you know, because of a change in the visa system, the number of Iraqis visiting Turkey has decreased significantly from around a million in 2015 to around 200,000 in 2016. We are keen on increasing these numbers, because we know Iraqis enjoy visiting Turkey for touristic, business, and medical purposes. We want to make it easier for them to do so. With the revision of the visa policy, we can achieve the 2015 numbers again.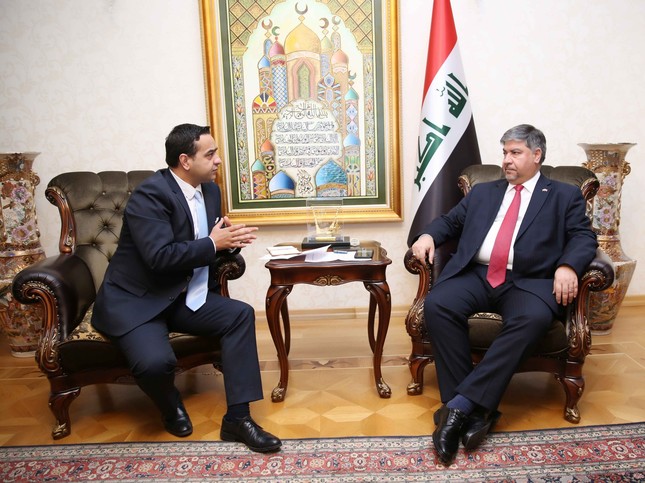 DS: Daesh is a common threat to both Iraq and Turkey. Currently, Turkey has an ongoing operation against Daesh in Syria. How does the Iraqi government perceive Turkey's operation? In what ways could Turkey and Iraq cooperate in the fight against Daesh?
As you know, Iraq and other countries in the region have suffered from the tragic conflict in Syria. The war killed hundreds of thousands of Syrians, while displacing millions of people. It is in the interest of Iraq, Turkey and other countries in the region to resolve this conflict as soon as possible. One of the consequences of the conflict in Syria is the rise of extremism and terrorism. The emergence of Daesh has affected all countries of the region negatively. We sincerely believe that neither Turkey nor Iraq can successfully eradicate extremism and terrorism by themselves. We need to cooperate on a regional level and beyond. For this, we have to maximize regional security cooperation. This issue cannot be solved only through military and intelligence actions; we also have to consider the root causes of this phenomenon and address the political, social, economic, cultural and religious factors that were effective in the rise of extremism.
Certainly, there is a need for more effective bilateral and regional cooperation. We should focus on maximizing regional efforts to counter terrorism, while also working together to resolve the conflicts in our region to achieve political stability and create a suitable environment to improve economic relations among the countries of the region.
DS: The PKK is another terrorist organization that has been plaguing Turkey for decades. The PKK's presence in Sinjar was also among the issues discussed between the two countries' delegations. How can Iraq and Turkey cooperate on this matter?
We understand the Turkish concerns about the PKK's presence in Iraq and their activities. I would like to remind you of four key points when it comes to this issue. First of all, our prime minister reiterated many times that the Iraqi constitution does not allow any foreign organizations that could threatens neighboring countries to be present within the boundaries of Iraq. We are also required by the Iraqi constitution to prevent the said organizations from carrying out attacks against these countries. Secondly, most of the PKK members who have settled in Iraq did so many years ago; some of them were even encouraged by your authorities to move to northern Iraq, based on the agreement between the Turkish authorities and the PKK leadership, which came into effect in March 2013.
DS: Yet this agreement did not work out.
I just mentioned this point, because the Iraqi central government did not approve of this agreement. We didn't believe that it was the right thing to do. Blaming Iraq for their presence in northern Iraq is unfair, especially when they were encouraged to move there by your authorities. Thirdly, we have made it very clear that our plan to liberate Mosul, along with Nineveh and Sinjar, consists of the deployment of the Iraqi army, national police, peshmerga, popular forces and local tribal fighters. There was no intention to allow PKK or any foreign forces to play a role in liberating Mosul, and other towns in Nineveh. You were able to observe how the operations were carried out in the past two and a half months. Fourthly, regarding Sinjar, there is an agreement between the Iraqi central government and Kurdistan Regional Government to liberate Sinjar through the joint deployment of the Iraqi army and the peshmerga. We will realize this after we liberate Mosul.
DS: You do not foresee any joint operation with the Turkish forces to liberate Sinjar.
Our priorities are to liberate the city of Mosul and other areas in Nineveh Province including Sinjar, and the resolution of the Bashiqa camp issue. Once the above are achieved, then future cooperation with Turkey in various fields can be discussed. This is why I believe representatives of the two countries should come together and resolve these issues.
DS: As you know, the nationwide cease-fire in Syria was brokered by Iran, Russia and Turkey. The Astana Summit is also drawing near. How does the Iraqi central government perceive the summit and this issue in general?
We welcome any efforts which aim to resolve this conflict. As you know, there have been some positive developments in Syria in the past few months in terms of more effective counter-terrorism operations, and the relevant parties of the conflict coming together to produce a diplomatic and political solution to the conflict. The cease-fire is welcomed by the Iraqi government and needs to be expanded. We must encourage various parties in the conflict, along with the countries that support them, to further the cease-fire; thus, creating an environment for constructive dialogue, which may lead to a political resolution of the conflict and the establishment of a new national government. Hopefully, this process will benefit the Syrian people. We don't believe foreign interventions in Syria will be productive; we have been advocating this idea right from the beginning. We should focus on counter-terrorism operations, which might help to prepare the grounds for a political resolution of the conflict in Syria.
DS: In this sense, I believe Turkey and Iraq are on the same page.
They are getting closer. I think at the meeting in Baghdad, it was clear that both the Iraqi and Turkish prime ministers' positions were closer than they used to be in the past.
DS: How does the Iraqi government perceive the Hashd al-Shaabi?
It is very important to remember that the Hashd al-Shaabi was established shortly after Mosul's invasion by Daesh in June 2014. Ayatollah Ali al-Sistani has invited all Iraqis to volunteer to defend the country, a decision which was backed by our political leadership. Let me provide an analogy to make my point clearer. What happened on July 15 in Turkey was similar to what happened in Iraq; there was a serious threat to democracy, stability and the country itself. For this reason, ordinary Turkish citizens came together on the streets to defend the democracy and the stability of the country. This is what happened in Iraq, as there were certain difficulties that prevented our security forces from dealing with the Daesh threat. Our political and religious leaderships have invited all Iraqis to volunteer to defend the land they live on.
With time the organization matured. It is now legally a part of the Iraqi security forces. They were legalized with a bill passed by the Iraqi parliament, which will embed the organization within our army and counter-terrorism units. Their previous and present contributions have been very valuable. Many were martyred. This is the way we want all countries to perceive the Hashd al-Shaabi. The government doesn't allow members of Hashd al-Shaabi to commit illegal acts, which is also true for the army, and the national police. Meanwhile, we are keen on using our own forces, including the army, national police, the Hashd al-Shaabi, local tribes and peshmerga, in a coordinated way. The past two and a half months of the Mosul offensive has shown us that this kind of coordination is crucial for the overall achievement. So regarding the Hashd al-Shaabi, we should acknowledge their valuable contributions in the fight against terrorism in the past two and a half years.
DS: If we return to economic relations, Iraq is one of Turkey's leading export partners. How can Turkey and Iraq improve their economic cooperation?
We have a comprehensive vision to improve economic and trade relations between the two countries. As you know, previous governments have worked together to improve it. We have achieved remarkable results. Over the past six months, we have engaged with the ministry of economic affairs as well as with the provincial governments of Gaziantep, Istanbul, Antalya, İzmir, Mersin and so on. We will continue to do so.
We have also engaged with the Chambers of Commerce, Chambers of Industry, and visited some of your key free economic regions, as well as industrial cities. We have talked about organizing business, trade and investment meetings that will include representatives from the Chambers of Commerce of Iraq and Turkey to give better representation to the private sector. These representatives will discuss opportunities for business, trade and investments. This will help to improve trade relations.
We are also addressing some of the obstacles that affect the trade between the two countries. For instance, the capacity of the existing Habur border gate is inadequate and there are issues regarding customs and duties, which must be addressed. Free passage of the truck drivers is currently being discussed by representatives of the ministries of foreign affairs, Interior, Finance and Translation, and any obstacles will be addressed accordingly. I believe that we will eventually resolve these issues as both the governments and the public have positive attitudes.
Regarding economic and trade relations, there are certain opportunities for partnership or increasing trade volume between the two countries. We are interested in Turkey's valuable experiences in industrial development. Moreover, we are also interested in improving cooperation in the energy sector. Iraq can provide Turkey with part of its need for oil and gas. Meanwhile, we are keen on encouraging Turkish investment in the energy sector in Iraq.
DS: Regarding the energy sector, in 2014 Iraq filed for arbitration against Turkey. What is the latest on this matter?
There was an agreement supported by Turkey between the Iraqi central government and the Kurdistan Regional Government at the end of 2014. It was in effect for six or seven months. The agreement stated that the Kurdish Regional Government will be allowed to export around 550,000 barrels per day. This process has to be transparent and must be supervised by the central government. The revenue would be handed over to the central government.
Unfortunately, after six or seven months, the Kurdistan Regional Government stopped enforcing this agreement and continued to export oil without supervision from the central government and without the much-needed transparency. The issue is yet to be resolved; there are ongoing discussions to reach a conclusion. I believe that we should resolve this issue to create a positive atmosphere that will allow enhanced cooperation in the energy sector.
DS: Is there anything that you would like to add?
I would like to stress the importance of resolving the Bashiqa camp issue as soon as possible. We need to create a positive environment that we need in order to move forward with relations. I personally feel very optimistic that if we do that, as soon as possible, we could intensify our efforts to implement what our leadership have agreed on in terms of enhancing economic trade relations, security, intelligence, military cooperation as well as in education, culture and tourism.