Ankara's composed reaction yesterday was in stark contrast to several Gulf countries that cut off their diplomatic relations with Qatar, in a move that is likely to destabilize the already fragile region. The Turkish government immediately called on all parties to sit down and sort out their differences of opinion in a peaceful way. Amid the worrying rift in the region, presidential sources told Daily Sabah that Turkey will do its best to help solve the matter. "Turkey, feeling the pain of the deteriorating relations between Islamic countries, will exert its efforts to heal the rift and has found that both sides are receptive in these efforts," the sources said.

The Turkish Foreign Ministry also issued a written statement stressing that the decision to sever ties with Qatar saddens Ankara. "It is our most sincere wish that members of the Gulf Cooperation Council solve their differences of opinion and approach each other through dialogue," the statement read. Washington called on the two sides to react with common sense as well. Speaking in Sydney, U.S. Secretary of State Rex Tillerson said that Qatar and its neighbors should "sit down together," adding that Washington was ready for "any role" in helping to overcome the divisions.

Foreign Minister Mevlüt Çavuşoğlu said at a press conference that Ankara is ready to provide all kinds of support to all sides to find a tangible solution to the crisis.
"We are saddened by the existing picture. We will provide every kind of support for the situation to be normalized," Minister Çavuşoğlu said.
The foreign minister asserted that, "Dialogue should be continued under all circumstances so the existing problems can be solved in a peaceful way."
He underscored that unity among the countries in the region is key to fighting radicalism, anti-Islam and sectarianism.
Saudi Arabia, Egypt, Bahrain, Yemen and Libya have all severed their diplomatic ties with Qatar, dragging the Gulf region into possibly an endless strife.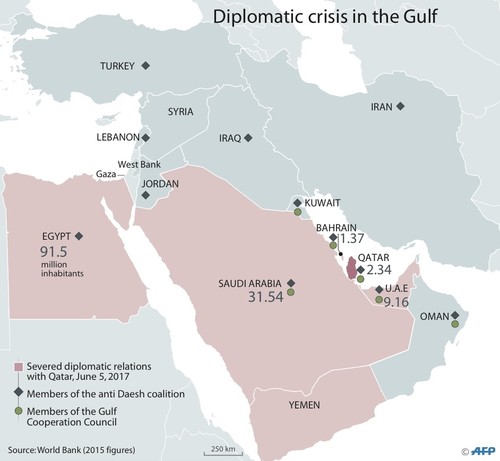 Qatar said it regretted the coordinated decision by Saudi Arabia, Egypt, the United Arab Emirates and Bahrain to cut diplomatic relations on Monday, according to Qatar-based Al Jazeera TV.
Galip Dalay, a research director at Istanbul-based al-Sharq Forum, said that the aforementioned countries' decision to sever ties with Qatar is an attempt to make Doha reason on several issues.
"The main goal of this move is first to tame Qatar and then put a tutelage system over Qatar's foreign and defense policies," Dalay claimed.
Saudi Arabia accused Doha of sheltering and backing terrorist groups, promoting terrorist groups in the media, and supporting the Houthi militia in Yemen.
Bora Bayraktar, an academic at İstanbul Kültür University, sees the situation rather differently. Refusing to call the incident a diplomatic crisis, Bayraktar asserted that it was more than that.
"It is a blockade against Qatar. Qatar is being isolated right now. It is a serious blockade," he said.
Meanwhile, Cairo blamed the Qatari government for "hostile attitudes," sheltering the Muslim Brotherhood on its soil, and backing terror groups threatening the country's national security.
Bahrain's Foreign Ministry accused the Qatari government of destabilizing the country's security and stability and interfering in its affairs.
However, Dalay disagreed with the accusations, saying that Qatar's regional influence is being targeted with such a list of claims.
"In a sense, Saudi Arabia wants a Qatar that resembles Bahrain, a completely dependent state," he contended.
In an ensuing move, Abu Dhabi's state-owned Etihad Airways said it will suspend all flights to and from Doha from Tuesday morning until further notice.
The last flight from Abu Dhabi to Doha will depart at 2:45 p.m. local time on Tuesday, the airline's spokesman said in an e-mail. The other countries also followed suit and said they planned to cut air and sea traffic to Qatar.
Saudi Arabia said it also would shut its land border with Qatar, effectively cutting off the country from the rest of the Arabian Peninsula.
Already, Doha-based satellite news network Al-Jazeera reported trucks carrying food have begun to line up on the Saudi side of the border, apparently stranded.
With the latest developments, the Qatar Stock Exchange fell more than 7 percent.
Bayraktar pointed out two reasons for the shocking decision by Gulf countries to cut off ties with Qatar.
"It was a challenging issue that Qatar was more open to dialogue with Iran. Also, Doha's relations with the Muslim Brotherhood, which is labeled a terrorist group by those severing the ties, are considered to be terror-related," the academic said, adding that he does not envisage a quick solution in the upcoming term.
"The Gulf countries are acting to bring Qatar to the point they want. Qatar may backtrack, but it will be similar to the Gaza blockade and it will not end soon," Bayraktar claimed.
Meanwhile, the Kremlin commented on the Gulf crisis, saying that Russia does not intend to interfere with the diplomatic row between the countries. Russian Foreign Minister Sergei Lavrov said that Moscow's position is that the current diplomatic rift in the Gulf region was the concern of each country involved, adding that, while Russia understood that disputes were bound to occur, the country was "never happy" to see problems in relations between states.
Iran reacted to the incident as well. "That was likely the first crack in the [anti-Iran] coalition and the initial result of the sword dance in Riyadh," tweeted Hamid Aboutalebi, Iran's deputy chief of staff for political affairs.
Also, Iranian foreign ministry spokesman Bahram Qasemi said that the dispute should be sorted out through dialogue.
"To resolve regional disputes and the current dispute, they should adopt peaceful methods, transparent dialogue and diplomacy," Qasemi said.