Speaking at the Singapore-Turkey Business Forum Monday while on an official visit to Singapore, Prime Minister Binali Yıldırım (L) said bilateral trade between the two countries has been continuously increasing over the last 10 years and will accelerate with the free trade agreement (FTA), signed in November 2015 that will take effect by October of this year. Yıldırım also said there are great economic and commercial opportunities between Turkey and Singapore and that significant opportunities will be created in the next 10 years.

Recalling that Singapore will serve as the term chair of the Association of Southeast Asian Nations (ASEAN) next year, he said he hopes relations between Turkey and ASEAN will improve. Economy Minister Nihat Zeybekci called the FTA the most comprehensive and inclusive agreement in Turkish history on the sectoral basis, announcing that the two countries aim to reach a trade volume of $2 billion by the end of 2018.
The first of the business forums organized as a part of Yıldırım's official visit to Singapore and Vietnam from Aug. 21 to Aug. 24, was held in Singapore yesterday. Yıldırım, Zeybekci, Singapore's Trade and Industry Minister S. Iswaran, Foreign Economic Relations Board (DEİK) President Ömer Cihad Vardan, Turkey-Singapore Business Council President İ. Süha Güçsav and Turkey-Singapore Business Council Co-President David Yang, as well as close to 200 Turkish and Singaporean business figures attended the forum yesterday.
Speaking at the forum, Yıldırım said both countries continue to grow and that great opportunities will be created both in the regions where the two countries are located and in different regions in the next 10 years.
"Singapore has strong financial resources. Turkey, on the other hand, has an important accumulation of experience, especially in the field of contracting. We can do very good and great things with the combination of experience and financial facilities," Yıldırım said, stressing that despite the coup attempt on July 15 of last year, Turkey closed the past year with economic growth.
RELATIONS BETWEEN TURKEY AND ASEAN TO IMPROVE
Contending that the most stable country in the next 10 years will be Turkey, Yıldırım asserted that Turkey achieved a much more stable structure with the passage of the recent constitutional reform referendum. "The most important expectation for businesspeople to continue their business is stability and foresight. With this system, we have brought stability and foresight to our country," Yıldırım said, adding that he hoped the relations between Turkey and ASEAN will improve during Singapore's period as term chair of ASEAN.
Citing that the Turkish economy has tripled from 2002 to 2017, and that it has achieved an average annual growth rate of 5 percent to 6 percent over the last 14 years, Yıldırım said they are also planning to grow with the same rate in the next 15 years. He also said that the growth potential of 5 percent to 6 percent per year means new business and investment opportunities, which can be fulfilled by Singaporean businesses and investors with Turkish partners. "This does not have to be just in Turkey. They can be deployed in Turkey and do business in the Caucasus, Central Asia, Middle East, Africa, the Balkans and anywhere," he added.
There are direct flights from Turkey, which has a world-wide airway network to 236 destinations around the world and there are also daily flights between Singapore and Turkey. Yıldırım said that when the new airport in Istanbul opens, it will be possible to increase the number of flights even further and that sixth freedom of the air will be developed on both sides, reaching the Far East, Southeast AsiaMiddle East, Europe and Africa, through Singapore. Yıldırım said due to Turkey and Singapore's locations, the countries "have important features that resemble each other. It is possible to transform this into a synergy and added value. For this, a free trade agreement has been signed and other agreements will be reviewed."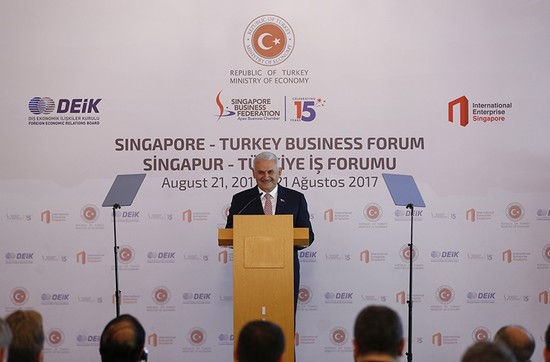 Prime Minister Yıldırım later attended to the Singapore – Turkey Business Forum.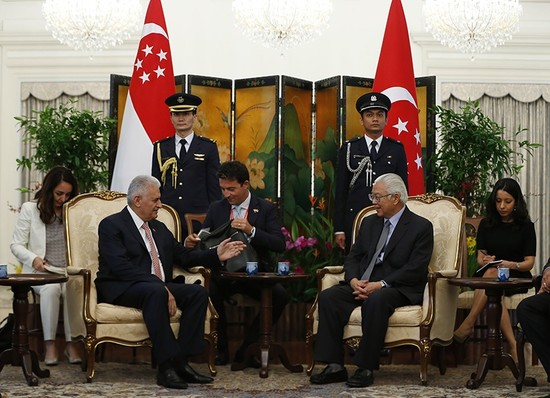 Yıldırım also met President Tony Tan Keng Yam earlier on Monday.

TRADE VOLUME TO REACH $2B BY END OF 2018
Zeybekci said that the FTA is the most comprehensive and inclusive agreement in Turkey's history on the sectoral basis and stated that they aim to reach a trade volume of $2 billion between Turkey and Singapore by the end of 2018, adding that the agreement will be a great advantage especially in terms of doing joint business in third countries. Pointing out that Turkey has gradually increased its effectiveness in the ASEAN region, Zeybekci stressed that Singapore plays an important role in this process.
"2018 will be a fresh start for Turkey and Singapore," Zeybekci said, inviting Singaporean businesses to take advantage of investment and incentives campaign initiated by Turkey.
Turkey's export value to Singapore last year totaled nearly $418 million while imports from the Asian country were $363 million in the same period, according to the Turkish Statistical Institute (TurkStat).
Turkey's exports to Singapore saw an upward trend in the first half of 2017, reaching $434 million while imports were $177.5 million in the first six months of this year.
BUSINESS WORLDS MUST PURSUE NEW OPPORTUNITIES
Iswaran said that bilateral trade volume between Turkey and Singapore has increased rapidly in recent years.
Explaining that the FTA will come into effect by October 2017, Iswaran invited Turkish and Singaporean business figures to take advantage of the opportunities the agreement offers.
Stressing that both Turkey and Singapore have great advantages stemming from their locations, he said that the contribution of the Asia-Pacific region to global growth has been multiplying, adding that mutual cooperation can also be developed in many sectors, especially in logistics, e-commerce and tourism. He recalled that in a period when the rules of the global economic order are being rewritten, the Turkish and Singapore business worlds must go beyond the traditional and customary and pursue new opportunities. Bilateral trade between Singapore and Turkey has seen a steady increase since 2007 and the trade volume between two countries exceeds $1 billion.
The FTA will be a crucial step toward strengthening ties and it will enable companies to make new investments, Iswaran said, adding that Turkey and Singapore will speed up their work in the fields of infrastructure, health systems and electronic trade.
DEİK President Vardan said the forum was held during a very important period in terms of economic relations between Turkey and Singapore, and that they are excited to see the FTA enter into force. Explaining that they can use the potential between Singapore and Turkey in economic and commercial terms with the FTA in a more efficient and productive way, Vardan said: "Turkey's rapidly shaping Asia-Pacific regional policy is also of great importance for businesspeople. We can do a lot of different things in Turkey-Singapore partnership not just between us, but also in third countries."
Turkey-Singapore Business Council President Güçsav said that Turkey offers great opportunities for a country like Singapore. Pointing out that great investment will come to Turkey from Singapore very soon, he said they want the friendship between the two countries to last forever. Turkey-Singapore Business Council Co-President Yang said the FTA is one of the new generation FTAs covering a wide range of fields such as services, intellectual property rights and public procurement, and when it goes into force, the countries will be able develop much closer economic and commercial ties on mutual gains.