President Recep Tayyip Erdoğan's three-day visit to Serbia–- the first at this level since 2007 – carries considerable importance for bilateral relations and will influence regional stability, Serbia's ambassador to Turkey told Anadolu Agency (AA).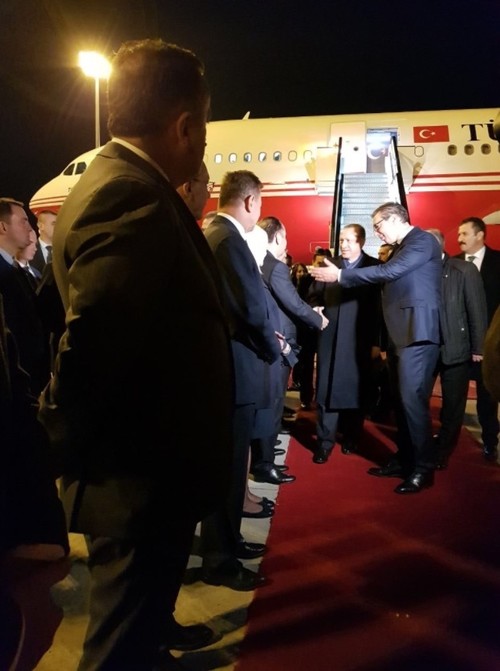 Erdoğan greeted by his Serbian counterpart Vucic and ministers upon his arrival in Belgrade
"It has huge importance and potential in the context of the continuation of the political dialogue at the highest level between our two countries as well as strengthening political, economic, cultural and overall dialogue and ties," Danilo Vucetic said of the visit, set to start yesterday.
Turkey and Serbia were able to develop ties despite their differences over Kosovo's "unilaterally proclaimed independence" in 2008, Vucetic said.
Vucetic also said Serbian President Aleksandar Vucic may visit Turkey next year, in addition to some ministerial-level visits.
"Both sides tend to develop relations to the maximum possible extent in the current and given circumstances," he said.
When asked if Turkey and Serbia can reach their goals for economic ties and mutual investment, Vucetic said: "Trade and investment are much better and deeper than even a few years ago," and that trade and investment ties between Turkey and Serbia improved, especially after the two countries signed a free trade agreement in 2010.
"With pleasure, I can say that we are witnessing the increasing interest of Turkish companies to operate in Serbia, as well as some new investments," he said.
Pointing to the annual trade volume of some $800 million and $150 million investments, Vucetic said the two countries have the potential to strengthen cooperation.
"I use this opportunity to once again invite Turkish businesspeople to come and invest in Serbia now, especially when Halkbank is operating there," he said, referring to Turkey's large, state-owned bank.