The recently inaugurated Turkish military base in the Somali capital city of Mogadishu will lay the groundwork for the country's state building process, Somali ambassador to Ankara Jama Abdullahi Mohamed has said. "For sure, the military base will contribute to the building of the Somali national military." Expressing Mogadishu's high expectations from military collaboration, Mohamed told Daily Sabah in an interview: "Opening this military training camp, particularly at this time, is a great milestone of our state building process." Mohamed is content with the progress made with the military base. "We are very pleased with the progress of the Turkish military training facility in Mogadishu," he said.
The opening of the base in Mogadishu is the Turkish Armed Forces' (TSK) biggest overseas military base. The TSK provides Somali troops with training with around 200 Turkish military personnel on duty at the compound. Over 10,000 Somali soldiers are to be trained as part of the understanding between the two countries. The official inauguration ceremony for the base was held on Sept. 30, with Chief of General Staff Gen. Hulusi Akar and Somali Prime Minister Hassan Ali Khayre in attendance.
'Turkey provides most effective support'
Mogadishu was shaken by a horrific terrorist attack on Oct. 14. A massive bombing killed at least 358 people and left as many injured. Turkey was one of the first to lend a helping hand to Somalia after devastating attack as dozens of critically injured people were flown to Turkish hospitals. "What happened on Oct. 14, was extremely horrible, which targeted civilians, we lost hundreds of our beloved people in one second and so many others injured."
Honoring Ankara's swift cooperation with Mogadishu, Mohamed said: "Turkish President Recep Tayyip Erdoğan, his government and the people of Turkey were the first and earliest to respond." He also said that the Turkish help has been "the most effective moral and physical support we had received so far in this regard," for which he is grateful. "On behalf of the Somali people and government, I would like to express heartfelt thanks for all the Turkish government and people do," he said.
The Turkish approach in the aftermath of the Oct. 14 terrorist attack is not unfamiliar to Somalia. "This is not the first time that the Turkish government and its people have supported us. The Turkish government also airlifted critical wounded people to Ankara at least two other times in the past five years," Mohamed said.
The ambassador cannot forget Erdoğan's visit to Mogadishu in 2011. "At the time that East Africa was suffering from its worst drought in 60 years Prime Minister Recep Tayyip Erdoğan and his spouse visited Mogadishu."
For Mohamed, the visit was unprecedented. "What was special in that historic visit was that the prime minister broke the idea that Mogadishu is a no-go area." He said that Erdoğan's visit set an example for others. "After that, others came following the prime minister's visit."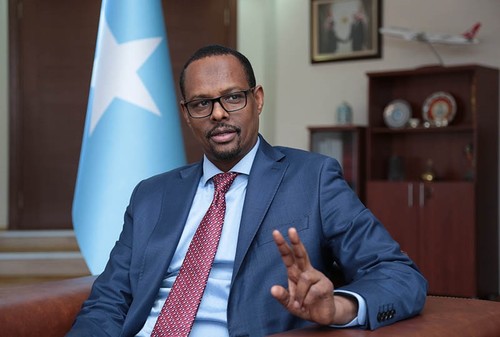 The Somali envoy to Ankara believes theTurkish military base in Mogadishu "is a great milestone of our state building process."

'Turkey has provided much aid for Somalia'
Turkey's humanitarian and development agencies have undoubtedly played a key role in Somalia. "The Turkish Cooperation and Coordination Agency [TİKA] and the Turkish Red Crescent have done much in Somalia in the last six years, including humanitarian assistance, development and infrastructure, which has contributed to strengthening in our economy," Mohamed said. Mohamed believes such humanitarian projects and development aid "make a great impact on our socio-economy, and it is more visible compared to any other of its kind."
The two organizations have been carrying out humanitarian and development projects since Ankara developed an unprecedented Somalia policy in 2011. Since then, the Turkish Red Crescent has provided humanitarian aid to the country amounting to around TL 185 million ($48 million). Furthermore, it has provided more than 70,000 tons of humanitarian aid to Somalia and has delivered more than 10,000 tents and beds.
A fully equipped hospital was opened in Mogadishu in 2015 with TİKA's efforts. The cooperation agency has also built roads, provided electricity and contributed to the welfare of the local people through various projects over the past years.