The marred ties between Turkey and Austria are likely to flourish in the upcoming period in the wake of recent reciprocal steps to put things back on track, Austrian Ambassador to Turkey Ulrike Tilly said.
Speaking to Daily Sabah in an exclusive interview, the Austrian envoy sounded hopeful of a relatively more invigorating period for bilateral ties after the two countries have verbally clashed and diplomatically hit rock bottom over the course of the last couple of years.
Drawing attention to the visit of Austrian Foreign Minister Karin Kneissl last month and her meeting with her Turkish counterpart Mevlüt Çavuşoğlu, Tilly said good days are ahead:
"The ministers had a very open and fruitful conversation on our bilateral relations and other issues at hand. Foreign Minister Çavuşoğlu accepted an invitation to visit Austria in the near future. The ministers also agreed to reactivate various bilateral consultation mechanisms at our disposal. On this basis, I am optimistic that our relations will benefit from the impetus of this first meeting between both ministers," Tilly said.
Asserting that "Austria has been an important partner for Turkey and vice versa," Tilly said enhancing bilateral cooperation will surely be one of the most crucial topics on her agenda during her term in Turkey. "For all this, good, diversified and close contacts to government, think tanks and other institutions as well as civil society are an indispensable tool of my profession in order to allow for fair and faithful information of my own authorities," she said.
Responding to a question regarding new Austrian Chancellor Sebastian Kurz, who has been known for his anti-Turkey rhetoric, Tilly said, "Austria and Turkey have different positions on a number of questions; these are well known to either side." The envoy, at the same time, stressed that the two countries work closely on many areas.
"Concerns, either way, should always be transmitted with respect, and this is certainly an approach we will follow," she added.
Austrian Chancellor Kurz, the former foreign minister, has long been calling for the end of Turkey's EU accession process. Kurz previously urged Brussels to halt the EU's accession talks with Turkey, calling it "diplomatic fiction."
AUSTRIA AWARE OF SECURITY CONCERNS AMID AFRIN OPERATION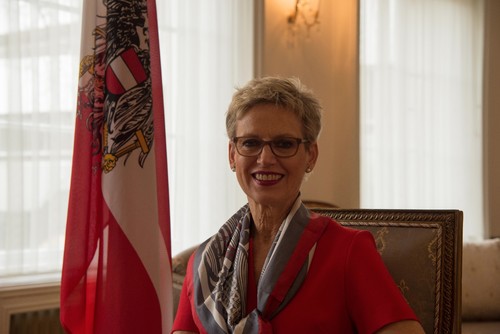 Ambassador Ulrike Tilly said Austria is aware of Ankara's security concerns amid Operation Olive Branch.
Austrian Ambassador Tilly commented on the recently-launched Operation Olive Branch against the People's Protection Units (YPG) in Syria's Afrin region, which is the Syrian affiliate of the PKK that is recognized as a terrorist group by the European Union. "As Foreign Minister Karin Kneissl said, Austria is conscious of Turkey's security concerns," Tilly said.
However, Tilly contended that the national security threat to Turkey, which is posed by the terrorist existence from and around Afrin, can be solved through dialogue and at the table. "At the same time, we follow events with great preoccupation. For us, a sustainable solution of conflicts, including the one in Syria, can only be found by way of dialogue and negotiations and not on the battlefield," she said.
The offensive was launched on Jan. 20. Since then, the Turkish army has been underscoring that the operation is being carried out under the framework of Turkey's rights within international law, U.N. Security Council resolutions, its right to self-defense under the U.N. charter and respect for Syria's territorial integrity.
PKK RALLIES IN AUSTRIA DO NOT NEED AUTHORIZATION
When asked about continuous rallies held by PKK sympathizers in the Austrian capital city of Vienna for years and whether the Austrian government will take preventive steps in this regard, Tilly said demonstrations do not need authorization in her country.
"In Austria, demonstrations have to be registered in advance, but they do not need authorization by the authorities, as the right to demonstrate is a fundamental right which can only be restricted if public safety is endangered," the envoy said, adding that legal bodies take actions should any unlawful incidents take place.
PKK demonstrations have previously strained ties on multiple instances. On one occasion, PKK supporters received permission to set up a tent in June 2016, adorned with posters of imprisoned terrorist group leader Abdullah Öcalan, and a flag for the terrorist organization, for 10 days in Vienna. The then-Austrian ambassador to Ankara was summoned to the Turkish Foreign Ministry over the incident, leading to a diplomatic squabble.
AUTHORITIES HAVE TO INTERVENE IN CASE OF DUAL CITIZENSHIP
Turks living in Austria came under unprecedented pressure last year in the media and politics. Tens of thousands of Austrian-Turks, who hold dual passports, were exposed at a time when Ankara and Vienna were on the verge of cutting off all diplomatic ties amid Turkey's Constitutional Referendum on April 16.
At the time, 75 percent of the Austrian-Turks voted in favor of the constitutional changes, and the Austrian government rolled up its sleeves to take action against dual passport holders. Nearly 108,000 Turkish citizens were eligible to cast their votes. With a turnout rate of 48.59 percent, more than 52,000 people opted to partake in the referendum. The Austrian government suddenly started pursuing illegal dual passport holders among the aforementioned 108,000 Turks.
Responding to a question in regard to the crisis, the Austrian envoy said: "An application for Austrian citizenship entails the legal requirement to renounce a former citizenship. Vice versa, the application for a foreign citizenship entails the loss of the Austrian one, i.e., Austrian law does, in general, not allow for dual citizenship."
"This provision applies to everybody and is not directed against any particular group, let alone country. In cases of unlawful dual citizenship, of course the authorities have to intervene," she concluded.