Despite the physical distance between the countries, Australia's Ambassador to Ankara Marc Innes-Brown stressed that Turkey and Australia have been enjoying warm ties since the shared historical experience in Gallipoli in 1915 and he seeks to further enhance ties.
"Our bilateral relations' foundation is the shared historical experience of Gallipoli in 1915 and since then over the years we have warm ties as we cooperate a lot in the international fora and in very recent years we have been strong partners in fight against terrorism," Innes-Brown told Daily Sabah.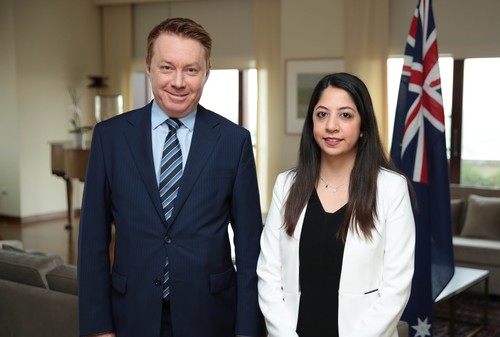 Underlining the friendly relations between the countries, Innes-Brown said that "there is a lot of good will in Australia toward Turkey because of the very careful and respectful way it acknowledges our war dead here and enable us to pay our respect in Anzac Day."
Touching on the two countries' cooperation in fight against terrorism as they are both part of the counter-Daesh coalition, the envoy highlighted that "You cannot defeat terrorism internationally without cooperating with other countries. At home we have been working hard to identify networks and individuals and the causes of terrorism."
Commenting on the Turkey's fight against terrorism, the envoy underlined that "Australia very much recognizes that Turkey has been facing terrorism threats over many years from a number of different groups. You have legitimate security concerns and we see that you are taking measures to prevent terrorism," and added that as partner of counter-Daesh coalition both sides will continue cooperation.
The Australian envoy pointed out that considering the warm relations, the two countries can take more steps to further improve economic ties. "I think the area where we can do a lot more is in the commercial area. We have a trade relationship of about $1.5 billion. There is certainly a lot of potential to expand those links for both trade and investment," Innes-Brown stressed and said he is committed to encourage businesspeople to take advantage of the various opportunities.
In relation to the Turkish community living in Australia, the ambassador said, "They are really valued part of our community and they have made a major contribution to our country as have many other migrants." Innes-Brown stated that as there was an agreement between the countries in 1967, the Turks first arrived in Australia in 1968. He added that today the number of Turkish Australians is over 100,000. "I sense they have been a bridge between the two countries and have helped facilitate people to people links," the envoy said. Innes-Brown also said a direct flight from Turkey to Australia would be significant in boosting relations.
Anzac Day focal point of our ties
As Anzac Day will be commemorated on Wednesday, 1000-2000 of Australians and New Zealanders are expected to travel to Turkey in order to pay respects to the lives lost during the Battle of Gallipoli.
It will be the 103rd anniversary of the Australian and New Zealand Army Corps' (ANZAC) landing on the shores of Gallipoli peninsula in 1915 to join the fight for Allied forces against the Ottoman Empire in World War I. The commemoration services will begin this evening.
"The Gallipoli campaign, which started in April 1915, was considered coming of age for Australia which was newly independent at the time," Australian envoy said stressing that it is a major day in the national calendar of Australia.
He added that "we lost 8,700 people in the campaign which had a major impact on the Australian nation and touched almost every family including my own." Innes-Brown also shared the story of his great uncle, William Maitland Innes who was a horse breaker and wounded in the first day in Gallipoli.
Referring to the losses during the war Innes-Brown said, "it had an incredible impact on Australian psyche over the years. Anzac Day has become more than just commemoration of that event but rather a day to acknowledge the service of Australian man and women."
"The Anzac Day and events in 1915 are actually the foundation stone of our relationship with Turkey," Innes-Brown said.
He also reminded the motto words of Mustafa Kemal Atatürk referring to the ANZACs, which says, "those heroes that shed their blood and lost their lives […] You are now lying in the soil of a friendly country. Therefore rest in peace […] You, the mothers who sent their sons from faraway countries wipe away your tears, your sons are now lying in our bosom."
Innes-Brown also underscored the enormous amount of support from the Turkish authorities enabling the Australian and New Zealand governments to commemorate in Çanakkale every year, saying that the support is appreciated.