Turkey and Germany have enjoyed close cooperation and warm ties for a very long time. Moreover, the bond between the Turkish and German people is unique. That being said, a tumultuous period for the past one-and-a-half years not only crippled bilateral trust, but also alienated the two sides.
For the past couple of months, however, things have started to look different. Tensions have relatively cooled down, and politicians have ceased their fight with each other, at least to a certain extent.
Speaking to Daily Sabah in an exclusive interview in the wake of the normalization process, Martin Erdmann, German Ambassador to Ankara, said the "ice age" between the two countries had been put behind. "Both our countries are interdependent and our societal relations are too interwoven to not be on speaking terms. That is the lesson we have learned, which has brought Berlin and Ankara to resume their contacts. But we are not yet there. In short: I would call the period that lies behind us the ice age. We are now in the de-icing period, in other words, on the way to normalizing our relations," Erdmann said, expressing his hope for the process to succeed.
"Rather sooner than later the spring sun will shine warmly again," he said. The German envoy sounded very optimistic in regard to the future of ties. "Of course, as the German Ambassador in Turkey I am an optimist by nature. We have seen in the past decades, ups and downs in our bilateral relations, but at the end of the day we stand united," he said, adding: "Let me take one very recent example: the racist killings in Solingen some 25 years ago which led to the loss of five Turkish citizens in Germany was commemorated some days ago in Solingen. Chancellor [Angela] Merkel, Foreign Minister [Heiko] Maas and Foreign Minister [Mevlüt] Çavuşoğlu participated in this commemorative event. This shows that Turkey and Germany are part of one single family and that our two countries went hand in hand in the past and will go hand in hand in the future."
'TURKEY CLEARLY PART OF EUROPE'
For a long while, critical voices within the European Union have been accusing Turkey of running away from Europe and European values with giant steps. In fact, the claim is far from acceptable in Ankara.
When asked about whether Turkey drifts away from Europe and European values or Europe pushes Turkey away from itself, Erdmann said neither is the case.
"Turkey clearly is part of Europe. There is no geostrategic alternative to this orientation," the German envoy said, however, he refused to gauge Turkey's chances of joining the EU club.
"It is a question that nobody can currently answer. We do not know how the European Union will develop in the years to come after the so-called Brexit, nor do we know which direction Turkey, in political and other terms, will take in the future. So at this moment we should not try to answer the question of a possible EU membership. It is an open process."
Contending that Turkey needs to come closer to the EU acquis, the German envoy touched on Turkey's domestic affairs, calling for an end to the state of emergency. "It harms the interests of Turkey," he said.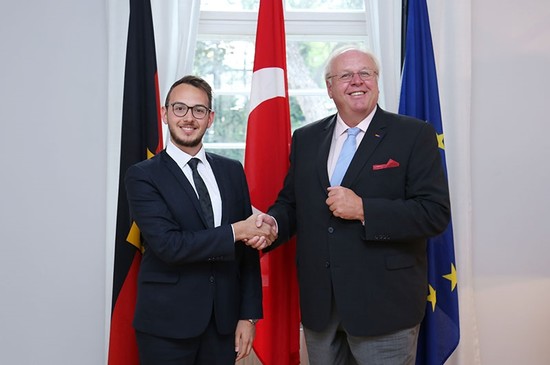 German envoy Martin Erdmann (R) Daily Sabah correspondent Yunus Paksoy.

'GERMANY NOT TURNING BLIND EYE TO PKK TERRORISM'
The activities of the PKK terrorist group on German soil are a hotbed of tensions between the two countries. Raising money for an organization that kills and terrorizes in Turkey, holding rallies and promoting terrorists in Germany without hindrance, are indeed not welcomed by Turkish authorities and harshly criticized on every occasion. Erdmann, however, is of a different opinion. "The criticism that Germany is putting a blind eye to PKK terrorism is simply not true. PKK is a listed terrorist organization in Germany and the German authorities are doing their utmost to fight illegal activities of that organization," he said. The German envoy, on the other hand, listed a precondition to fight PKK terrorism. "In our system, pursuit of terrorist and criminal acts can only be successful if enough evidence and proof for individual responsibility is put on the table. Therefore, we are committed to combating all acts related to criminal and terrorist activities."
'GERMANY SPEAKS OF GÜLEN MOVEMENT, NOT FETÖ'
The PKK, without a doubt, troubles bilateral ties. Yet, the Gülenist Terror Group (FETÖ) is as troubling for these ties. The group is accused of masterminding the July 15, 2016 coup attempt in Turkey that killed at least 250 and wounded 2,000. Following the deadly attempted coup, hundreds of FETÖ-affiliated suspects fled to Germany and a remarkable portion of them were granted asylum. In fact, Germany was once considered as a new center for the resurrection of the group, by its representative in the country, after the bloody incident.
Ankara is quite sour towards Berlin due to its alleged support for FETÖ, or at least, in other words, for its alleged indifference to the terrorist group. Erdmann, however, contested, "unlike in the case of the PKK which is listed as a terrorist organization in Germany there is no proof on our table that there is an organizational structure that refers to itself as FETÖ," he said.
According to the German envoy, FETÖ presented itself "as a forum for education and vocational training for young Turkish and German students in Germany." So, Erdmann believes: "In that respect, it has been difficult for many observers in Germany to imagine that this organization might have terrorist roots or might pursue terrorist methods in reaching its goals."
When asked about whether FETÖ could pose a threat to Germany as it did to Turkey, the German envoy pointed to the lack of evidence, saying: "It is, therefore, difficult for us to assess if there is such an organization as you describe, and whether its activities are a threat to Germany, or from Germany to Turkey. We have not seen solid proven and individual evidence for that claim. But we cooperate closely with Turkey in this field, we share information and we stand ready to be corrected in our assessment." That being said, Erdmann was affected by the July 15 coup attempt. Ensuring that Berlin understands the trauma the Turkish people experienced, Erdmann said: "I have witnessed these tragic events in Ankara personally and I was among the first Ambassadors to visit the Turkish Parliament a few days after the attack. I was deeply shocked!"
'TURKEY PART OF GERMAN, EUROPEAN PRODUCTION CHAIN'
In spite of all the crises and ultimatums between Turkey and Germany over recent years, business has run smoothly as ever. Turkish and German companies in the two countries have acted with a cool head. Erdmann agrees: "Indeed, it is a little known fact, even to many policy decision makers, that the economies of Germany and Turkey are largely intertwined. Turkey is part of the German and European production chain." Stating that there are more than 7,000 German companies in Turkey and 90,000 Turkish companies in Germany, Erdmann said: "More than nine percent of Turkish exports go to Germany; more than nine percent of Turkish imports come from Germany." Pointing to a stable investment climate, a steadfast economic policy, an independent Central Bank, the legal system and other factors, the German envoy said, "provided these elements are guaranteed, I am convinced that Turkey will have a bright economic future and will become an even more important economic partner to us."