Turkish citizen Ebru Özkan arrived in Turkey from Tel Aviv early Monday, more than a month after being detained by Israeli authorities.
Turkish Airlines flight carrying Özkan landed in Istanbul on Monday, 12:10 a.m. local time (GMT2110).
Özkan told reporters at the airport that she was glad her arrest came to end.
"Thank God it is over. I am in my country, I am at peace," Özkan said.
She also said she was aware of the support shown in Turkey while she was under arrest.
"I would like to thank our President Recep Tayyip Erdoğan, he was kind enough to be very interested in my case," she added.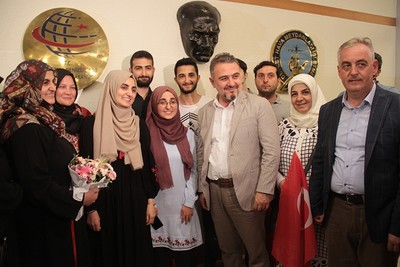 Earlier, Erdoğan called Özkan and conveyed wishes that she would recover quickly from the ordeal, according to Presidential Spokesperson Ibrahim Kalın.
Kalın had said earlier on his Twitter account that Özkan was arrested on groundless claims in Israel and was returning to Turkey.
"I congratulate her for her unshaken stance on the process and wish for her recovery," Kalın added.
Özkan was arrested on June 11 at Ben Gurion Airport for alleged links to "terrorist groups."
Omar Khamaysa said Özkan, who was released pending trial on Wednesday, was given back her passport and an international travel ban on her was lifted.
"She is going to arrive in Istanbul tonight," he said Sunday.
He went on to say that her file in Israeli courts would be closed, revealing no further details.
She left HaSharon prison near Netanya city on Wednesday accompanied by officials of Turkey's Embassy in Tel Aviv.
Özkan, 27, had appeared at a hearing earlier in the day at the Ofer military court in the Israeli-occupied West Bank.
The court ruled to release Özkan on bail set at 15,000 Israeli shekels (roughly $4,110), taking her passport. In addition, she had to visit the nearest police station. Prosecutors lodged an objection, but it was dismissed by the court.
The bill of indictment prepared by Israeli prosecutors accused Özkan of "helping and providing various services to Hamas, disturbing the peace and bringing enemy money into Israel."
After her three-day visit to Jerusalem, before she was scheduled to return to Istanbul on July 11, the Israeli police in Tel Aviv airport took Özkan into custody.
Özkan is not the first Turkish national to have been recently detained by Israeli authorities.
In January, Osman Hazır, a 46-year-old Turkish citizen, was arrested for snapping a selfie at East Jerusalem's Al-Aqsa Mosque while holding a Turkish flag.
And last December, Israel arrested Abdullah Kızılırmak and Mehmet Gargılı after they quarreled with Israeli police who had tried to bar them from entering the flashpoint holy site.
The same month, Adem Koç was arrested inside the Al-Aqsa Mosque compound for allegedly "disturbing the peace and taking part in an illegal demonstration."