The volume of collaboration between Turkish and Azerbaijani authorities in the fight against the Gülenist Terror Group (FETÖ) is tremendous, Azerbaijani Ambassador to Ankara Khazar İbrahim said.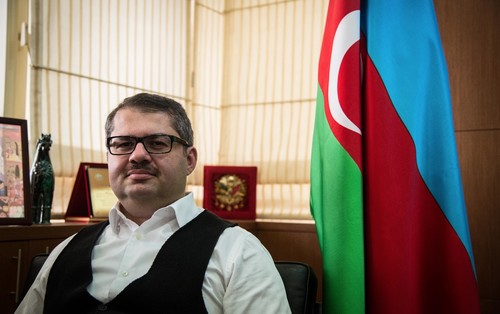 Speaking to Daily Sabah, the Azerbaijani envoy said: "There is a close relationship between the corresponding governmental institutions. Those who committed crimes are immediately captured and extradited. In all such cases, FETÖ members committing a crime will be immediately returned to Turkey."
The ambassador was responding to a question in regards to an incident earlier this month when a FETÖ militant was brought to Turkey. FETÖ militant İsa Özdemir was handed over to Turkey in an operation conducted by the National Intelligence Organization (MİT). Özdemir was reportedly responsible for the terror group's finances in Azerbaijan, managing a shell company in the construction sector. He was also known as FETÖ's "Azerbaijan safe box."
Özdemir's case drew broad attention both at home and in Azerbaijan. The Azerbaijani envoy said that his case was only the tip of the iceberg. "This is only the aspect that is seen today, however on the unseen side, large volumes of events are taking place," he asserted.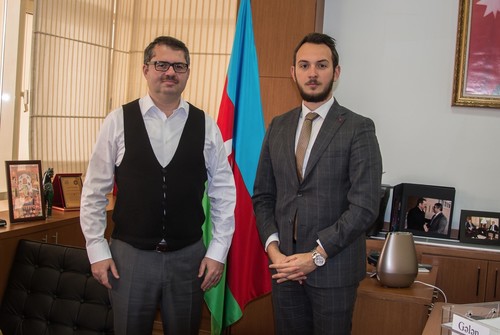 The Turkish intelligence organization has recently brought scores of FETÖ militants home. It has been revealed that the MİT brought back more than 80 members of FETÖ from 18 countries in a global manhunt. A joint operation between Kosovo security services and Turkey's MİT recently resulted in the arrest and deportation of six senior FETÖ members, who were visiting Kosovo at the time of the operation.
The operation led to heated debates in Kosovo. When asked about whether the Azerbaijani government came under similar fire for the joint operation against FETÖ, Khazar İbrahim said: "Azerbaijan cannot be compared to any other country in terms of its relations with Turkey. No negative reaction is possible." Additionally touching on the brotherhood between the two countries, İbrahim praised Turkey's backing on the issue of killed and arrested Azerbaijani civilians in territories occupied by Armenia four years ago. "Turkey has always been a supporter of Azerbaijan's fair voice. We appreciate it highly," he said.
'JOINT ACTION IN DEFENSE INDUSTRY POSSIBLE'
Turkey is certainly one of the rising stars in the field of the defense industry in the world arena. Acknowledging this fact, the Azerbaijani envoy stressed that Ankara and Baku could share their experience in this area and reciprocally build on their capacity. "[Firstly] Azerbaijan and Turkey [can continue to] conduct military exercises together. A few were conducted this year in Kars and then in Izmir. This is very important. Secondly, there may be a weapons and technology partnership," İbrahim said. The envoy spoke on the possibility of working together in areas such as the production of unmanned drones and helicopters.
"The third should be on strategic thinking. There are different threats in the region but these threats are directed at both Turkey and Azerbaijan." The ambassador gave the example of how the two countries are involved in security. "The security of the Baku-Tbilisi-Ceyhan pipeline is provided by Azerbaijan, Georgia and Turkey for example," he said. "Moreover, Turkey is a NATO member, and Azerbaijan is a partner of NATO. We are also doing some collaboration there."
'OUR DIASPORAS NEED POLITICAL COOPERATION'
Turkish and Azerbaijani citizens widely believe that Turkey and Azerbaijan are two states but they are made up of one nation. However, the cooperation of the diasporas of the two countries has not been as strong. That being said, the Azerbaijani envoy said that the trend is becoming gradually positive. Citing an instance, he said: "For example, the Armenian diaspora is very strong in the U.S. They often used to protest in front of the Embassy of Turkey or Azerbaijan. In recent years, Turkish and Azerbaijani diasporas have stood up against them together." Despite the growing awareness between the Turkish and Azerbaijani diasporas, the envoy believes that both need to engage in political activities. "In the US and Europe, our diasporas need more cooperation in the political arena."
'WE CAN EXPAND SOFT POWER ABROAD TOGETHER'
The Turkish government has been in pursuit of spreading Turkey's soft power across the world, especially in the Balkans and Africa, for a while. The efforts arguably bore fruit in some African countries such as Somalia and Balkans. Aware of these facts, the Azerbaijani envoy said that both countries could work together in this respect. "I talked with both TİKA [Turkish Cooperation and Coordination Agency] and the YTB [Presidency for Turks Abroad and Related Communities] yesterday. We talked about this with the heads of both [organizations]. They are the soft power of Turkey. I hope we can create projects," he said. Apart from joint projects directed at expanding soft power, the ambassador also stressed that Turkish and Azerbaijani companies could make joint investments abroad. "Major Azerbaijani and Turkish companies can invest jointly abroad. Both countries can strengthen each other in this manner."