President Recep Tayyip Erdoğan received an enthusiastic welcome from hundreds of Turks, Palestinians and other Muslims living in the U.S., when he attended a meeting organized by the Turkish-American Steering Committee (TASC) in New York on Sunday.
Erdoğan was greeted by cheers, as 1200 people in the meeting room and more than a thousand waiting outside carried signs and banners reading, "We love Erdoğan" and "We love Turkey."


One Palestinian, Abubakir Serag, overcome with emotion upon seeing the Turkish president, threw his arms around Erdoğan's neck in a warm hug.
"I'm so happy, this is more than a dream for me. I can't even believe this really happened. I'm 78 years old, and I've loved Erdoğan as I never loved any other leader. If I could, I would wholeheartedly give my life for his safety and well-being," Serag said after meeting the president.
"I gave him a three-page letter and told him that the whole community is behind him," he added.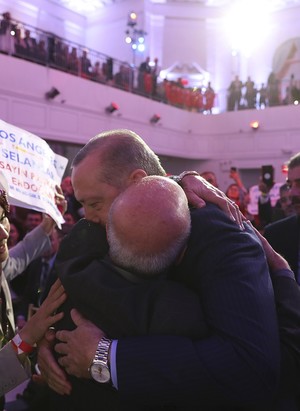 Speakers at the event applauded Erdoğan's leadership and humanitarian efforts around the globe.
"We are witnessing that some states openly support the killing of Muslims as well as crimes against humanity in the name of political interests and global problems," TASC Co-Chairman Halil Mutlu said in a speech.
"Mr. President, at this very moment, you have gained the respect and love of 100 million people worldwide, especially in the Muslim world, through your truthfulness and out-of-the-box stance that protects justice and human dignity," he said.
U.S. Council of Muslim Organizations (USCMO) Secretary-General Osama Gamal said Erdoğan is writing "his own modern history" through humanitarian support to Rohingya Muslims, in Yemen and in Syria.
"The five superpowers of the world cannot find a solution to the crisis in Idlib. You have shown that the world is really greater than five," Gamal said.
He added that Muslims in the U.S. are praying for an agreement to be reached between Turkey and the U.S. to resolve the two countries' recent tensions.
Chairman of Majlis Ash-Shura of New York, Abdel Hafid, said Muslim Americans, who continue to oppose Islamophobia and the persecution of Muslims, will take Turkey as an example on this issue.
"Turkey is the brother of all Muslims in the world," he said.
Erdoğan will be in New York until Thursday for the 73rd General Assembly of the United Nations.