Foreign Minister Mevlüt Çavuşoğlu on Thursday called for a "balanced political solution" in Syria, saying establishing a constitutional committee is the "last window of opportunity" for peace.
Speaking on the second day of the TRT World Forum in Istanbul, for which Anadolu Agency is global communication partner, Çavuşoğlu said he would meet Staffan de Mistura, U.N. Secretary-General's Special Envoy to Syria, after TRT World Forum.
"He is trying to establish a constitution committee [for Syria]. There are three lists of opposition, regime and civil society and it has to be a balanced one.
"I know some countries are trying to change this in favor of the regime [in Syria]," he said.
Çavuşoğlu stressed that a constitutional committee "is the last window of opportunity for the political solution in Syria."
His remarks came during a session titled "Transforming the Future through Regional Cooperation."
Çavuşoğlu said that Turkey takes active roles in prevention and peaceful resolution of conflicts. "Syria is one and immediate example."
On Turkey-Russia deal on Idlib, the Turkish minister said: "The memorandum we signed with Russia on Idlib did not only prevent the humanitarian catastrophe but also prevented another mass flow of migrants to the Turkish border as well towards Europe."
Following a meeting in Sochi, Russia, last month between President Recep Tayyip Erdoğan and his Russian counterpart Vladimir Putin, the two countries agreed to establish a demilitarized zone in Idlib, Syria's last opposition stronghold.
Ankara and Moscow also signed a memorandum of understanding calling for the "stabilization" of Idlib's de-escalation zone, in which acts of aggression are expressly prohibited.
'New opportunities' in EU relations
There are "new opportunities" to strengthen ties between Turkey and the EU, Çavuşoğlu said.
"We have better opportunities, more opportunities, and new opportunities to strengthen our ties with the European Union and the EU member states including the Netherlands.
"I am very happy that we are normalizing our relations [with the Netherlands] and we look forward to working together in many areas particularly in terrorism," Çavuşoğlu stated.
He also said there was a need for better intelligence and information sharing to prevent foreign terrorist actions.
During his speech, Çavuşoğlu lambasted xenophobia, racism, and anti-semitism.
"They are all on the rise. For effective multilateralism, we need better cooperation," he said.
"We need to focus on the root causes of conflicts. Humanitarian assistance and solving the problems of the people, where they are living is essential. Turkey is very successful in that regard," Çavuşoğlu asserted.
He added: "Turkey cannot sit back and watch. Turkey's foreign policy takes an enterprising and humanitarian approach. We strive to take active roles in promoting peaceful solutions to conflicts.
Recalling Erdoğan's "comprehensive reform" at the U.N., Çavuşoğlu said a reform is needed in its structures, working methods, and rules of procedures since the U.N. is not meeting the expectations of today's world.
"Peace and prosperity cannot be sustained in specific parts of the world while the rest of the world is suffering. We need to adopt a win-win approach which strengthens international institutions," he said.
Ties with the Netherlands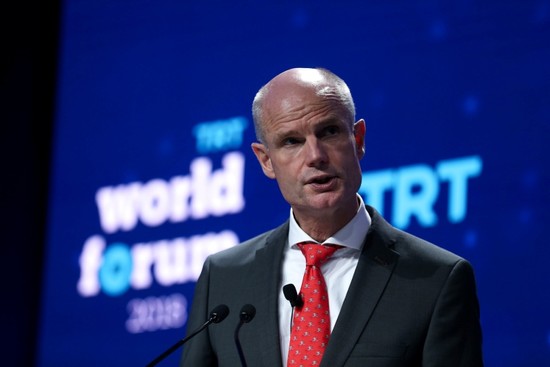 Speaking at the same event, Dutch Foreign Minister Stef Blok said that Turkey-the Netherlands relations date back to over 400 years.
"Like any relationship, we have had our ups and downs, but it is a relationship that has stood the test of time," Blok said.
He expressed hope that cooperation between the two countries will further strengthen and that they will continue bilateral negotiations.
Recalling that Turkey has been hosting some 3.5 million Syrian refugees, he said: "We truly appreciate these tremendous humanitarian efforts."
In regards to Idlib deal between Turkey and Russia, the Dutch foreign minister noted that Turkey played a positive role in Idlib, which prevented deterioration of humanitarian situation in Syria.