President Recep Tayyip Erdoğan and first lady Emine Erdoğan engaged in a lengthy discussion with U.S. President Donald Trump during a dinner Saturday evening hosted by French President Emmanuel Macron in Paris, where world leaders are gathered for Armistice Day, marking the 100th anniversary of the cease-fire that ended World War I.
Macron's dinner was attended by heads of states, governments and international institutions and their spouses who came to the French capital to join in events marking the centenary of the end of World War I.
Erdoğan and Trump were seated next to each other at dinner in honor of heads of state, government officials and international organization heads and their spouses, following an exhibition at the Musee d'Orsay.
A White House official told Reuters that the two leaders discussed response to the killing of Saudi journalist Jamal Khashoggi at the Saudi consulate in Istanbul.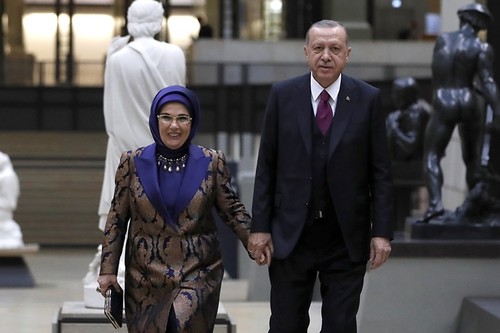 Erdoğan and the first lady also chatted with Moldovan President Igor Dodon and his wife Galina Dodon.
During the dinner, Erdoğan met Macron, German Chancellor Angela Merkel and Qatari Emir Sheikh Tamim bin Hamad Al-Thani.
Erdoğan talked with Macron and his wife Brigitte as well as Merkel.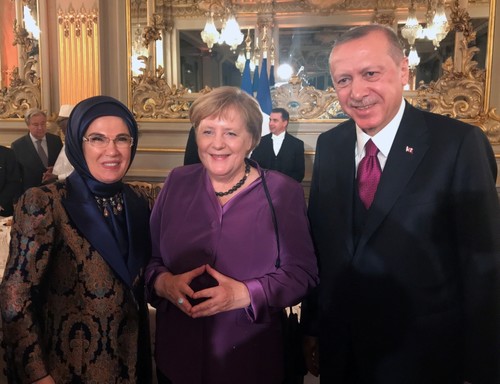 He also talked with Serbian President Aleksandar Vucic, Bosniak member of the tripartite Presidency of Bosnia and Herzegovina Bakir Izzetbegovic, Libyan Prime Minister Fayez al-Sarraj and Lebanese Prime Minister Saad Hariri.
Earlier in the day, Erdoğan met with U.N. Secretary-General Antonio Guterres at the Peninsula Hotel. The private conversation lasted about 45 minutes.
Erdoğan received a warm welcome on Saturday upon arriving in Paris. Turkish nationals holding signs honoring the president greeted the president and first lady as they arrived at the Peninsula Hotel in the French capital. The Erdoğans stopped to take pictures and talk with those who had awaited their arrival.
Foreign Minister Mevlüt Çavuşoğlu and Presidential Spokesperson Ibrahim Kalın accompanied the president.
The Armistice Day ceremonies will be attended by nearly 100 world leaders. Nov. 11 marks the 1918 end of World War I between the Allies and their opponent, Germany, on land, sea, and air.
Erdoğan was expected to meet with Trump while in Paris to discuss bilateral issues including Washington's support for the PKK-linked People's Protection Units (YPG) in Syria and the Gülenist Terror Group (FETÖ).
Erdoğan will also hold a bilateral meeting with Russian President Vladimir Putin.