Chinese stocks nosedived on Thursday, triggering the second daylong trading halt of the week and sending share markets, currencies and oil prices lower as investor jitters rippled across Asia.
The benchmark Shanghai Composite Index tumbled 7.3 percent to 3,115.89 before new "circuit breakers" suspended trading for the day. The smaller Shenzhen Composite Index slumped 8.3 percent to 1,955.88.
Government measures introduced last year to prop up share prices after a meltdown in June are being gradually withdrawn while investors are also unnerved by possible signs China's economy is in worse condition than thought.
"The sell-off in Chinese equities we have seen this week only emphasizes the point that the stock market intervention may have only delayed the sell-off," said Angus Nicholson, market analyst at IG in Melbourne, Australia.
Chinese stock trading was also suspended on Monday after a plunge that roiled Wall Street and other global markets.
The Shanghai benchmark has dropped 12 percent so far this year, which is barely a week old. Thursday's market plunge may have been exacerbated by investors rushing to sell before they were locked out, some analysts said.
The circuit breakers trip when there are big swings in the CSI 300 index. Trading halted temporarily barely 14 minutes into the morning session when stocks plunged 5 percent. When trading resumed 15 minutes later, stocks plunged further, falling more than the 7 percent limit that triggers a daylong trading freeze.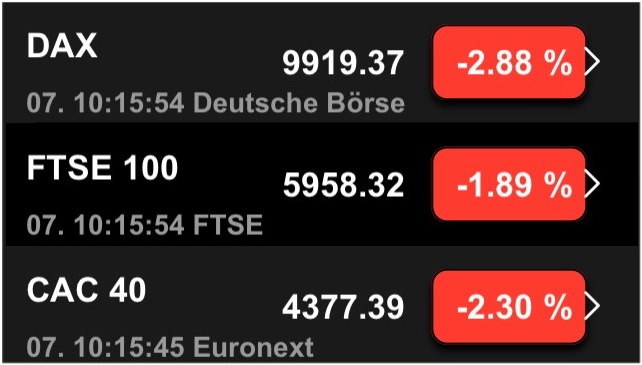 "There was some apparent panic selling with investors trying to reduce exposure before the mandatory triggers entered into effect," said Gerry Alfonso, trading head at Shenwan Hongyuan Securities in Beijing.
"Sentiment seems to be rather fragile at the moment as the soft macroeconomic environment together with the fear of not being able to sell during a market correction causing some anxiety among investors," he wrote in a note to clients.
Nicholson said, "It's difficult to see the circuit-breakers surviving long in their current form, given they only seem to be further contributing to the volatility in the Chinese market."
The latest slump comes after China's government guided the yuan sharply lower, in a sign that authorities are prepared to weaken the tightly controlled currency to boost flagging exports. The yuan rate was set Thursday morning at 6.5646 to the U.S. dollar, the weakest in nearly five years, the official Xinhua news agency reported, citing data from the China Foreign Exchange Trading System.
Among other Asian stock markets, Japan's benchmark Nikkei 225 index fell 2.3 percent to 17,771.97 and South Korea's Kospi lost 0.9 percent to 1,907.32.
Hong Kong's Hang Seng shed 2.8 percent to 20,401.54 and Australia's S&P/ASX 200 retreated 2.2 percent to 5,010.30.
Benchmarks in Taiwan, New Zealand and Southeast Asia also fell.
Oil prices touched their lowest in more than a decade. Benchmark U.S. crude futures fell 85 cents, or 2.5 percent, to $33.10, the lowest price since January 2004, in electronic trading on the New York Mercantile Exchange. The contract on Thursday dropped $2, or 5.6 percent, to settle at $33.97 a barrel. Brent crude, a benchmark for international oils, fell $1.14, or 3.3 percent, to $33.09 a barrel in London.
In currency markets, the dollar fell to 117.95 yen from 118.67 yen in the previous day's trading as investors bought the yen as a safe haven.
Some other Asian currencies retreated in concert with the yuan. The dollar gained 0.1 percent against the South Korean won and rose 0.3 percent against India's rupee. The Australian dollar fell 0.6 percent.