After months of courtship, German drug and farm chemical maker Bayer AG has finally reached an agreement to buy U.S. seed and weedkiller company Monsanto, in a deal that is valued at $66 billion and which will keep the merged entity's seed business in Monsanto's home base of St. Louis.
In a statement, Bayer said Wednesday it is paying Monsanto shareholders $128 per share — in cash. That represents a 44 percent premium over Monsanto's closing price on May 9, the day before a proposed deal was announced. The $66 billion figure put on the deal by Bayer includes net debt; the equity value is $57 billion, according to slides for an investment analyst conference call.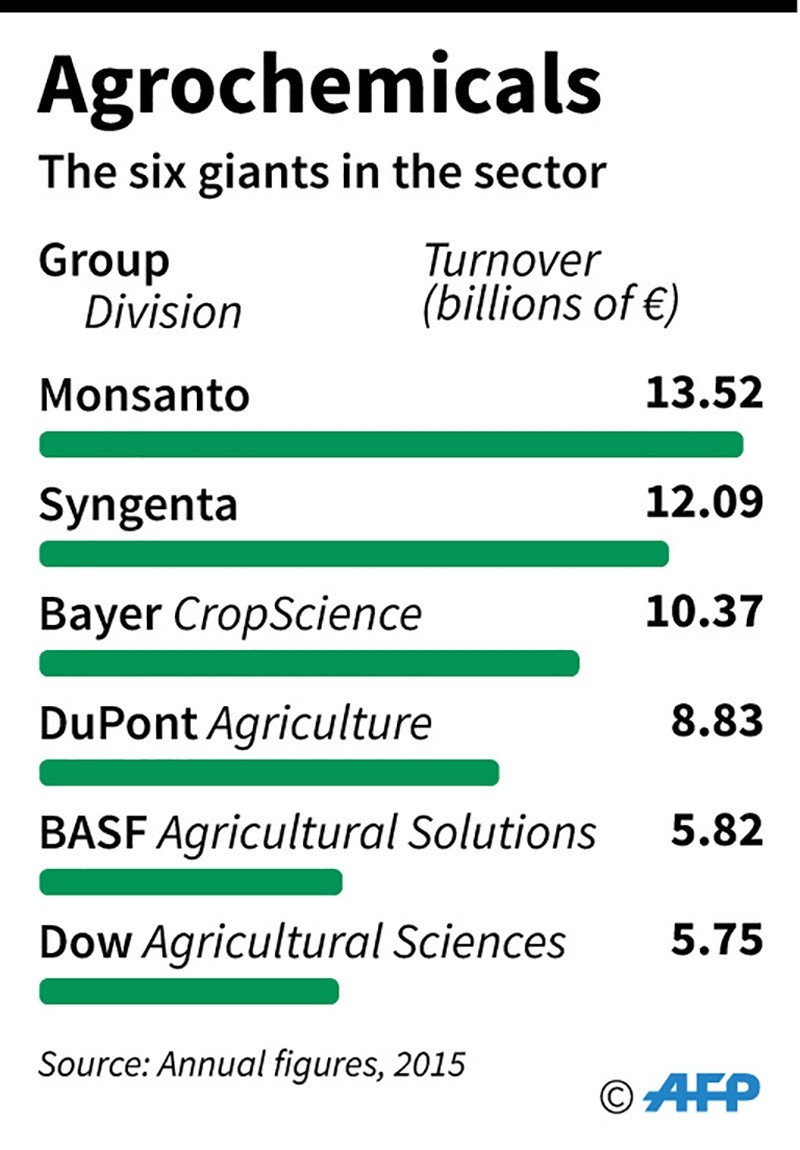 The deal, which is expected to close by the end of next year, is subject to approval by Monsanto shareholders. Anti-trust regulators are also expected to forensically scrutinize the tie-up to determine whether the new business would gain a market-dominating position in any one part of their business. Bayer indicated its confidence the deal would go through by agreeing to pay a $2 billion fee if it does not.
Bayer said the transaction brings together two different but complementary companies. Bayer makes a wide range of crop protection chemicals that kill weeds, bugs and fungus, while Monsanto is known for its seeds business and the weedkiller Glyphosate.
Leverkusen-based Bayer said the merged companies' agriculture business would have its seeds business and North American business headquarters in St. Louis, Missouri, where Monsanto is currently based.
Bayer initially offered $122 per share, only to be rebuffed by Monsanto management, and then $125 per share before reaching the deal announced Wednesday.
Monsanto Chairman and CEO Hugh Grant said the deal "represented the most compelling value for our shareholders, with the most certainty through the all-cash consideration."
Bayer said it would raise the cash to pay for Monsanto by issuing debt and $19 billion in equity, including a mandatory convertible bond and a rights issue.
Following confirmation of the deal, Bayer shares were trading 3 percent higher on the day at 96.11 euros. Monsanto shares have yet to open.
Monsanto: Genetic food monster, or innovation leader?
Seldom has a US company been so controversial. For years environmental activists have railed against the business practices of Monsanto, a leading practitioner of genetic modification based in St Louis in the mid-western US state of Missouri.
With its genetic manipulation efforts, patent infringement lawsuits, far-reaching industry position and powerful lobbying influence, Monsanto has become enemy number one for German opponents of the TTIP free trade agreement currently being negotiated.
In Germany, Monsanto is seen as the purveyor of "franken-corn" (as in the fictional monster of Frankenstein), while in the U.S. its reputation is not quite so negative.
The U.S. agriculture and food industry likes to portray itself as an innovative provider concerned with one day producing enough food for the entire world.
That is not possible with conventional farming and production methods, companies like Monsanto argue. Despite the criticism, the company describes sustainable agriculture as a core concern.
Things haven't been going especially well for Monsanto recently. In the quarter ending in February, revenue fell 13.5 per cent to 4.5 billion dollars when compared to the same period a year before.
Profit sank from 1.45 billion dollars to 1.06 billion dollars. In the last year the stock value of the company, which operates in 66 countries and has approximately 21,200 employees, fell almost 20 per cent.