As speculation grows about a possible bailout or bankruptcy for Germany's troubled banking giant Deutsche Bank, prominent Turkish economists assured that even in the case of its default, like Lehman Brothers in 2008, it would have limited effects on the Turkish banking systems thanks to solid fundamental ratios and diversified credit lines.
Germany's largest bank has been in trouble since 2014 and eventually in June of this year the International Monetary Fund (IMF) said Deutsche Bank is most likely to inflict damages on the global financial sector. Consequently, the share prices are heading toward single digits and the bank lost almost 80 percent of the market value comparing to two years ago. As the bank has already been struggling with capital requirements problems, Deutsche Bank found itself in a fight for survival after U.S. prosecutors fined the bank $14 billion over its role in the 2008 financial crisis. Thus, the question about the default of the Germany's banking giant and its destabilizing effects on the global financial system have started to be asked among finance professionals.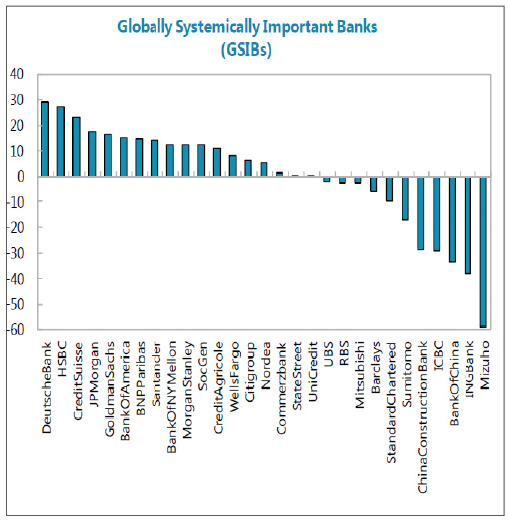 Some finance experts argue that Deutsche Bank can and may actually be a new Lehman and its default may be exponentially larger and have more devastating effects on the European banking system. Deutsche Bank's derivatives exposure is estimated around $75 trillion, which is about 10 times greater than the German gross domestic product (GDP,) and taking into consideration that the default of the Deutsche Bank would cause the collapse of the global banking system. Nevertheless, not all economists are looking on the downside. Prominent Turkish economist Prof. Kerem Alkin from Istanbul Medipol University believes that the European Union (EU) learned a lesson from the Lehman Brothers incident and will at least try to prevent Deutsche Bank's bankruptcy. "A banking crisis during this period of hardships for European SMEs will have destructive effects on Europe. Allowing Deutsche Bank to become bankrupt and the increasing need of Italian banks for bailout packages might be the beginning of the end for the EU," Alkin said, answering a question whether the default of Deutsche Bank would trigger a Eurocentric economic crisis. "However, I believe that the EU learned a lesson from the Lehman Brothers incident and will at least try to prevent Deutsche Bank's bankruptcy via possible bailout packages and mergers. In fact, the rumors about a merger between Commerzbank and Deutsche Bank indicate that Germany is trying to prevent a banking crisis," Alkin added.
Prof. Murat Yülek from Istanbul Ticaret University stresses the roles of European governments and central banks to make sure that even the default of Deutsche Bank will not trigger a domino effect. "Whether that will cause a great backlash taking other major banks in Europe with it is another issue. Though the European banking system is still ailing, it should be still able to withstand such a blow," Yülek said. "Perhaps some governmental and central bank action may also be needed to make sure such a tail event does not trigger a domino effect. In any case, if the ultimately settled amount is large there will be serious consequences for German and European banks," he added.
Besides that, economists agree that the crisis over Deutsche Bank would have negative affects both on the Turkish banking system and economy while stressing that these effects would be limited. "Such a crisis would affect Turkish banking system as well. The first effects would be the inability to rollover almost 30 percent of the loans used by the Turkish banking system. This would result in the shrinking of the loan market, which in turn would affect economic activities, employment and growth negatively," Alkin said. Likewise, Yülek drew attention that in such a case the Turkish banking system may see some effect as the Turkish banks use the European market to fund their syndications. "For a while, syndications may be more difficult and costly. But that should be the case for a relatively short period of time," Yülek added.
According to the Turkish banking watchdog, the Banking Regulation and Supervision Agency (BDDK), the capital adequacy ratio (CAR), which measures banks' solvency, is around 15 percent for Turkish banks. This figure reveals that the Turkish Banks CAR ratio exceeds the BDDK benchmark, which is at 12 percent, and even above the Basel III targets ratio of 10.5 percent, which will come into effect in 2019. On the other hand, the average CAR ratio of European banks is around 7 percent and for the Deutsche Bank this figure is just around 3 percent.