Turkey's consumer price index rose by 1.64 percent in December, bringing the annual inflation rate in 2016 to 8.53 percent, significantly above predictions made for 2016, according to the report of Turkish Statistical Institute (Turkstat) released on Tuesday. The increase in consumer price index (CPI) was 7.78 percent on the twelve months moving averages basis.
Amid a significant increase in food prices, the inflation rate was 8.81 percent in 2015. Despite the successful measures taken to curb food prices, tight monetary policy and fiscal measures, inflation rate only slightly dropped compared to last year.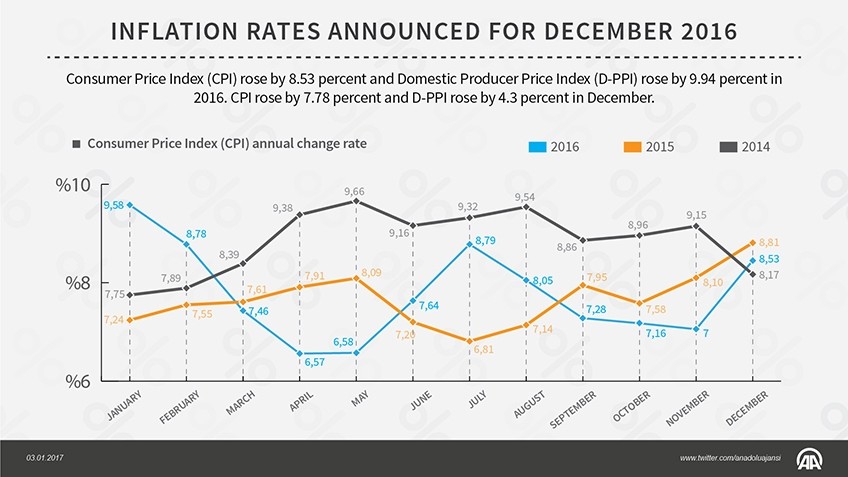 The Central Bank of the Republic of Turkey (CBRT) had predicted that the year-end inflation rate for 2016 would be 7.5 percent, while the government also raised its inflation prediction laid out in the Medium-Term Economic Program (OVP) covering the period between 2015 and 2018 from 6.5 percent to 7.5 percent in January.
After higher-than-expected inflation rate was announced, Turkish lira weakened to a record low at 3.60 against U.S. dollar after started trading at 3.53 level early in the morning amid a fast rise in global dollar index.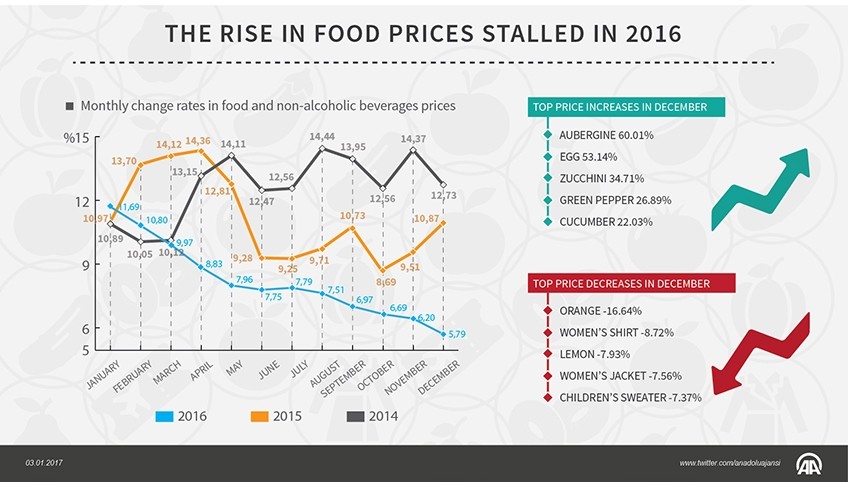 The highest monthly increase was 3.29 percent in alcoholic beverages and tobacco category, which saw a raise in taxes in December. Transportation, recreation and culture and furnishing and household equipment were other categories in which prices rose by 1.97, 1.42 and 1.28 percent, respectively. The highest monthly decrease was in clothing and footwear category with 2.55 percent. Prices in communication category also decreased by 0.14 percent.
The highest annual increase was in alcoholic beverages and tobacco category with 31.59 percent, followed by transportation with 12.36 percent, miscellaneous goods and services with 11.08 percent, health with 9.73 percent, education with 9.47 percent.

Within average prices of 417 items in the index, average prices of 48 items remained unchanged in December, while average prices of 272 items increased and average prices of 97 items decreased.
As interest rates exceed expectations, eyes turn to Central Bank
With the higher-than-expected inflation rate, eyes have turned toward the first interest rate meeting of the CBRT Monetary Policy Committee.
The committee will hold its first meeting to decide on the country's interest rates on Jan. 24.
Experts forecast no possible interest rate hike by the CBRT but the decision of the committee will convey important information to the markets regarding inflation and the stance of the CBRT.
Speaking to the Dünya daily, Enver Erkan, Kapital FX research deputy manager, stated that questions as to whether the CBRT will decide on an interest rate hike or not will be raised, saying: "The CBRT, which decided to raise interest rates in November, also decided to keep interest rates unchanged in December. In an environment where inflation stands at 8.53 percent and the policy interest rate is 8 percent, the real interest rate of Turkey is -0.49, which means that we are standing in a negative real interest rate."
The cautionary stance of the CBRT contains the risks for upward movements in inflation; therefore, it does not seem possible that the meeting on Jan. 24 will result in an interest rate hike, Erkan noted. However, he stated, market and currency movements within the next 15 days as well as the market outlook after Jan. 20 may bring front-end loading action. He further added that if the inflation rate rises above 9 percent, the CBRT may take action.
Gizem Albantlı, the chief analyst at IşıkFX, expressed her view to Dünya daily and underscored that the decision of the CBRT on Jan. 24 will be important, noting that the increasing expectation for the loan demand, in addition to the increasing domestic demand, may create an upside risk regarding inflation. Nalbantlı stated that the CBRT may pass January amid expectations for a surge in inflation but may have to decide on interest rate hikes in February and March.