During President Recep Tayyip Erdoğan's visit to Russia to meet his counterpart Vladimir Putin in Sochi on May 3, embargoes imposed by Russia on imports of Turkish tomatoes and visa restrictions related to Turkish nationals were among the main issues discussed. President Erdoğan said the two leaders agreed on everything except tomatoes. It was also said that a new formula for tomato sales to Russia could be introduced soon, according to seasonal tomato exports. Moreover, the tomatoes Russia currently buys from neighboring countries are all Turkish tomatoes, but are being sold to Russia for a higher price.
Seasonal export
According to Habertürk daily, Turkey will ask Russia to open its market for tomato exports in the winter months. Turkey will also specify that the exports could be closed in the period of greenhouse tomatoes in Russia. Pointing out that greenhouses cannot produce tomatoes 12 months a year and that climate and sunshine are important as well as heating conditions, officials said: "For example, we will ask them to open exports between December and March and close them during other months. We will sit down and discuss the details. This will be our offer." It was also said that Deputy Prime Minister Mehmet Şimşek would meet again with the Russian deputy prime minister in the upcoming days and submit a new proposal.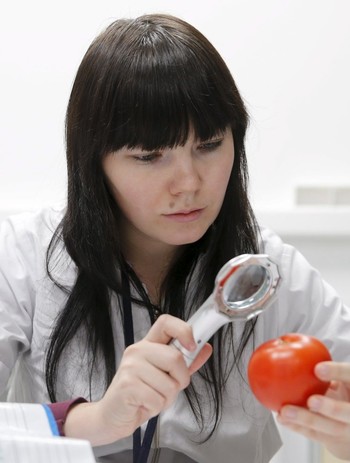 A technician of a center for plant quarantine, a laboratory which functions under the guidance of ROSSELKHOZNADZOR (Federal Service for Veterinary and Phytosanitary Surveillance), inspects a tomato, imported from Turkey according to representatives of the center, in the settlement of Bykovo, Moscow region.
Speaking to Turkish reporters aboard his plane flying back from the meeting in the Black Sea resort of Sochi, President Erdoğan made statements regarding the tomato restrictions. Regarding the statement by Russian President Putin that they removed many restrictions except on tomatoes, Erdoğan said they can find alternative markets if necessary, adding: "The decision is to protect the produce there." At a joint press conference with President Erdoğan, Putin said: "We cannot close our market forever to Turkish tomatoes. I understand that tomatoes produced in Turkey are cheaper, but Russia needs to develop its own agricultural sector."
Increase in exports and price
In the January-April period of 2016, Turkey exported 227,619 thousand tons of tomatoes valued at $120 million. In the same period this year, 267,482 million tons were exported. The value of these exports was $161 million. Officials stated that Turkey's tomato exports increased by 18 percent compared to the previous year, saying there was a value-based increase of 34 percent. They also said that tomatoes are entering the Russian market in some way.
Moreover, Russian President Putin, who discussed a number of issues related to economy with President Erdoğan during their meeting, said the restrictions regarding tomato exports would be lifted over time.
Following the ban by the Russian government, Turkey's exports of tomatoes increased by 500 percent to Belarus, 200 percent to Poland, 200 percent to Azerbaijan and 130 percent to Nakhichevan. In addition, producers and exporters, regarding an increase in the tomato exports to countries neighboring Russia, said they are buying from them and selling to Russia.
Indicating that the price they were selling tomatoes to Russia before the crisis was around TL 4-5 ($1.12-1.41), Turkey's Greenhouse Investors' and Manufacturers' Association (SERA BİR) Chairman Müslüm Yılmaz said: "After the crisis, the tomato price in Russia is TL 13. Russian citizens consume tomatoes at a price that is three times higher."