As construction works on Istanbul New Airport, which is planned to be opened on Oct. 29, 2018, continue at full speed, the latest reports say that over 61 percent of the airport has been completed, while an increase was also seen in the number of workers. According to a report by Turkish daily Habertürk, over 61 percent of the construction of Istanbul New Airport, which will have six runways once all stages are finished, has been completed. Also, the target of 30,000 employees set in the beginning of 2017 has been exceeded, as the number of workers has reached 31,000. Transportation, Maritime Affairs and Communications Minister Ahmet Arslan previously said they now aim to increase the number of workers to 35,000.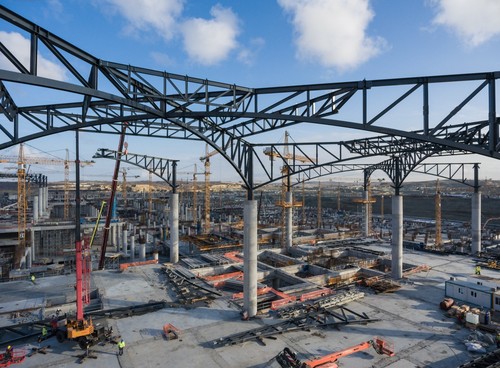 When the first phase of the airport is completed, it will have a capacity for 90 million passengers. With a completion of four stages, the airport is expected to serve 150 million passengers and to provide opportunities for flights to more than 350 destinations for nearly 100 airline companies. According to the best-case scenario, as of 2025, a total of 120 million passengers, including 35.5 million domestic flights and 84.9 million international flights, were expected to be operated in and out the airport.
Istanbul New Airport, which is expected to be the largest airport in the world when fully completed in 2023, will serve as Turkey's primary airport and a hub for connecting flights between Europe and Asia.
Moreover, the structural construction work of the airport's air traffic control tower, which is a candidate to be one of the most important icons representing Istanbul, was also completed, while the facade and roofing works are ongoing.
The tower, which was designed by Pininfarina and Aecom, will be 90 meters high and will have 17 floors.
The tower, which won the "2016 International Architecture Award" given by the Chicago Athenaeum Architecture and Design Museum and European Center for Architectural Design and Urban Research, will have a tulip-inspired shape, which is a beautiful reference to the centuries-old Turkish history.
Furthermore, 16 staff members are expected to work at the tower, which will have a total construction area of 6,085 square meters. The tower will also have a cafeteria, gym, offices, recreational rooms, seminar rooms and meeting rooms.